A delicious tortilla española can solve any woe…..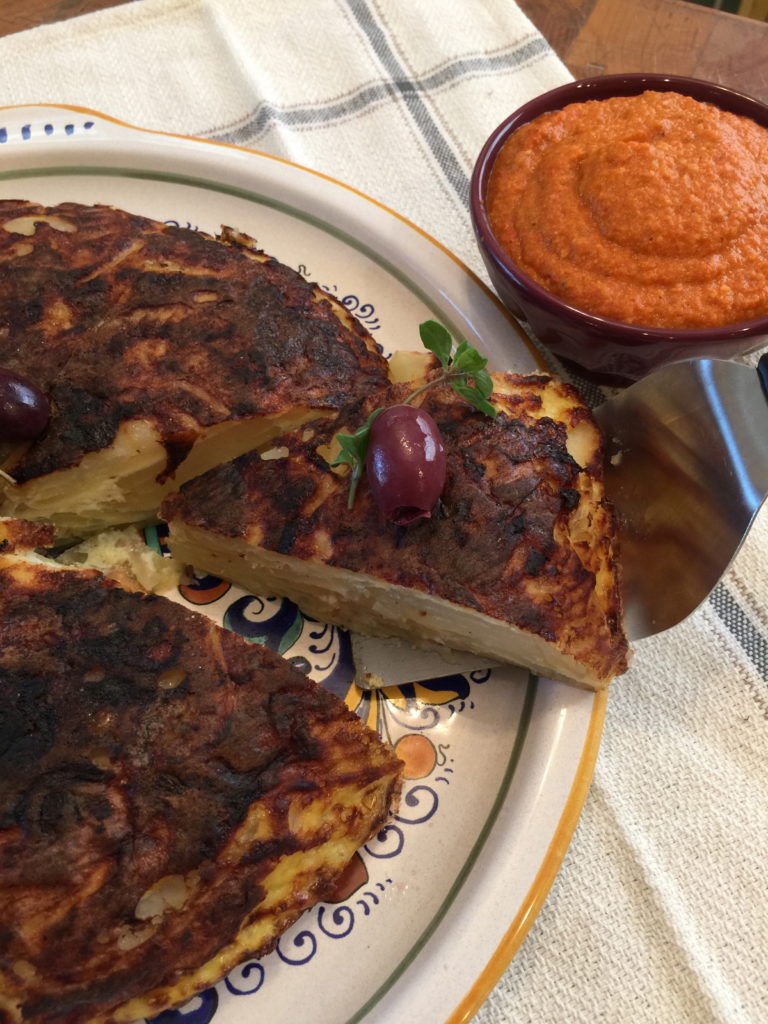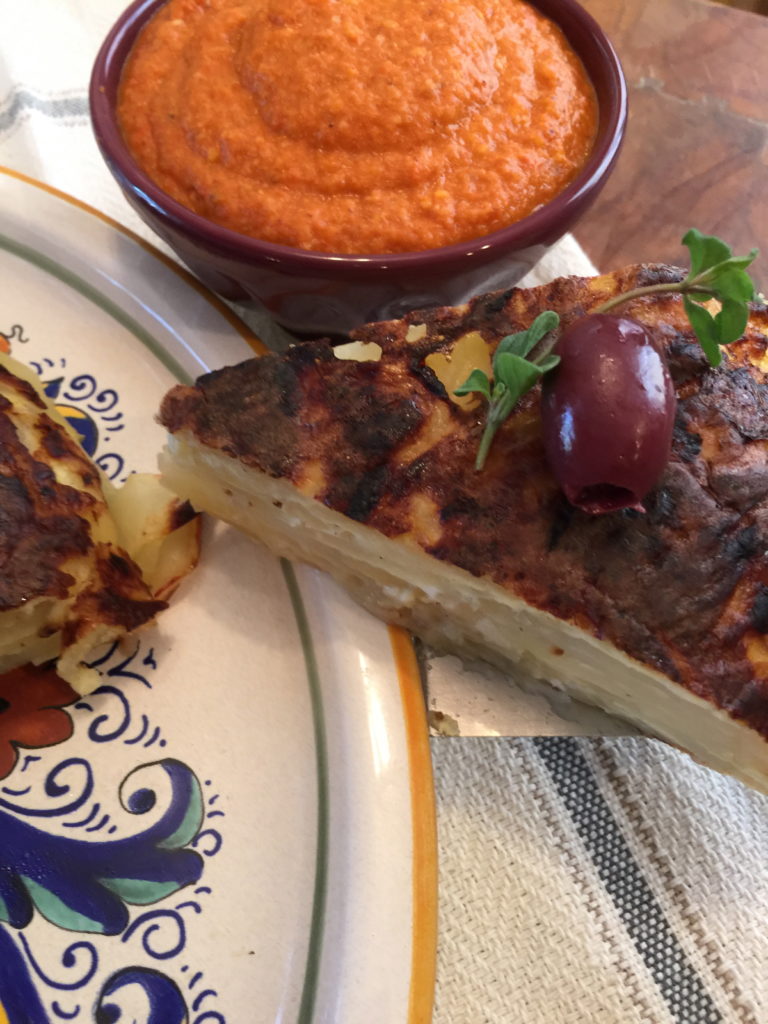 I think it was in Barcelona sometime around autumn of 2005 when we stumbled upon our favorite tapa bar near the Picasso Museum. When I say stumbled, I mean literally. We had just finished drinking in the wonder of the various works of Picasso which hung in a small, wooden building with old crooked windows and shutters that still worked to shade the sunbeams whose dance threatened the very livelihood of some his greatest pieces.
I am not sure if we were so awestruck by the expanse of his repertoire or we dallied so long through the maze of paintings being transported and lost in both time and space or maybe it was both because when we submerged it was evident we had blissfully forgotten to handle the groaning of our hungry stomachs.
Problem? Shouldn't be, after all we are in the pulse of Barcelona, gastronomy heaven and tapa bar paradise. But WHERE we were was in Europe and they don't thrive on "oras continuas" and allow a few famished tourists to break a thousand-year old tradition called "siesta". Yes, that's correct, siesta; the fabulous mid-day break for 3 hours where all things "stop" and everyone curls up inside to digest their mid-day feast and refurbish their soul. This wonderful "tradition" happened to slip past the dazed minds of a couple of foreign travelers.
Despite the numerous eateries within a small radius, our luck was outweighed by the tug of the 2 o'clock hour and weary proprietors who were noshing on delicacies before drifting off in slumber.
I think it was the last window we peered in while testing the door in hopes we might magically discover an unlocked entrance and an array of treats. As we glanced around the restaurant our eyes locked with the elderly lady inside who was making her way to a solo table with a tray of tapa delights. Her eyes softened with a motherly instinct and she waved her crooked hand and summoned us to enter through the side door. There wasn't a moment of hesitation as we rushed around the building and entered the small, rustic restaurant.
We gladly sat down and breathed a sigh of relief as her daughter brought us a carafe of house sangria and a basket of fresh bread. The grandmother had disappeared but only to remerge shortly with round, flat shaped delight which at first glance somewhat resembled some sort of soufflé with fresh oregano, a few olives, and a side of a bright orange-red sauce. I had no idea what this mystery plate was and the hunger pains were overriding my normal interrogation of curiosity. Instead I was affixed on her methodical slicing into perfect wedges and finishing with a dollop of sauce and a handful of olives.
I nodded my head in deep gratitude and sliced my fork through what I could see of layers of thinly sliced potatoes and onions encased in a baked egg mixture. My mouth was watering as I could smell the aroma of this intriguing dish. As I allowed my senses to distinguish all the flavors inside my mouth, first savory and then a hint of smoke and then slight sweetness from the sauce, the subtle textures made up a perfect harmonic bite.
I opened my eyes and glanced at the elderly woman who stood so proudly as the creator of this dish and the answer to our hungry woes. I smiled and said from the depths of gratitude, "Gracias, signora, gracias", I think the pleasure on my face said how deep it went…..
I'll never forget my first tortilla espanola from the heart of my new Spanish friend.

Tortilla Espanola
Author:
Michelle Michelotti-Martinez
Ingredients
6 - Yukon Potatoes, peeled and thinly sliced
2 - Sweet Onions, thinly sliced
7 - Large Eggs, whisked
Olive Oil
Sea Salt
Fresh Ground Black Pepper
Instructions
Preheat oven to 350.
In a oven-proof casserole dish, add potatoes and toss with a generous amount of olive oil (these are going to "poach" in the oven). Cover and cook for 20 min.
In a medium sized saute pan, add some olive oil and onions. Cook until translucent and "sweet" (don't caramelize). Remove from stove and add to potatoes, re-cover and cook another 20 minutes. Remove and cool to room temp. Fold in egg mixture and season with salt.
In another medium sized sauté pan, line with parchment paper and heat on high for a couple minutes. Add potato/egg mixture and reduce to medium heat. Cook until firm and set, about 15-20 minutes. Make sure bottom browns but not burns.
Turn oven to high broil and add sauté pan and broil for 5 minutes or until golden spots form on top. Remove from oven and invert onto a platter and remove parchment paper. Cool to room temperature, slice and serve with romesco sauce.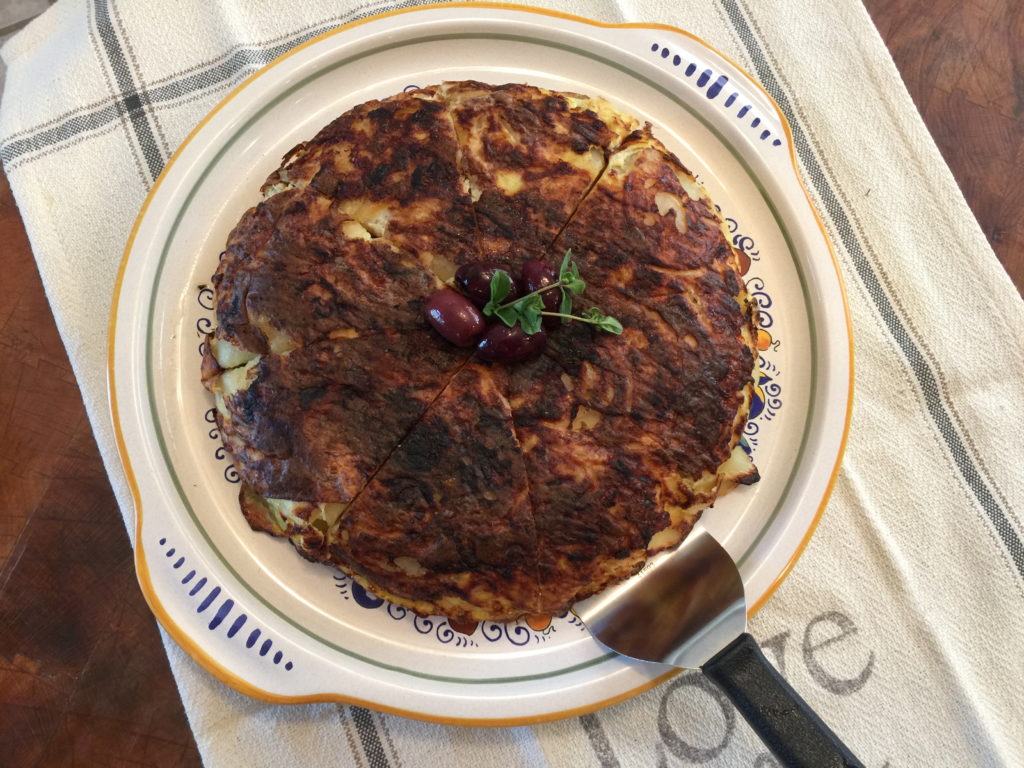 Related posts you like: