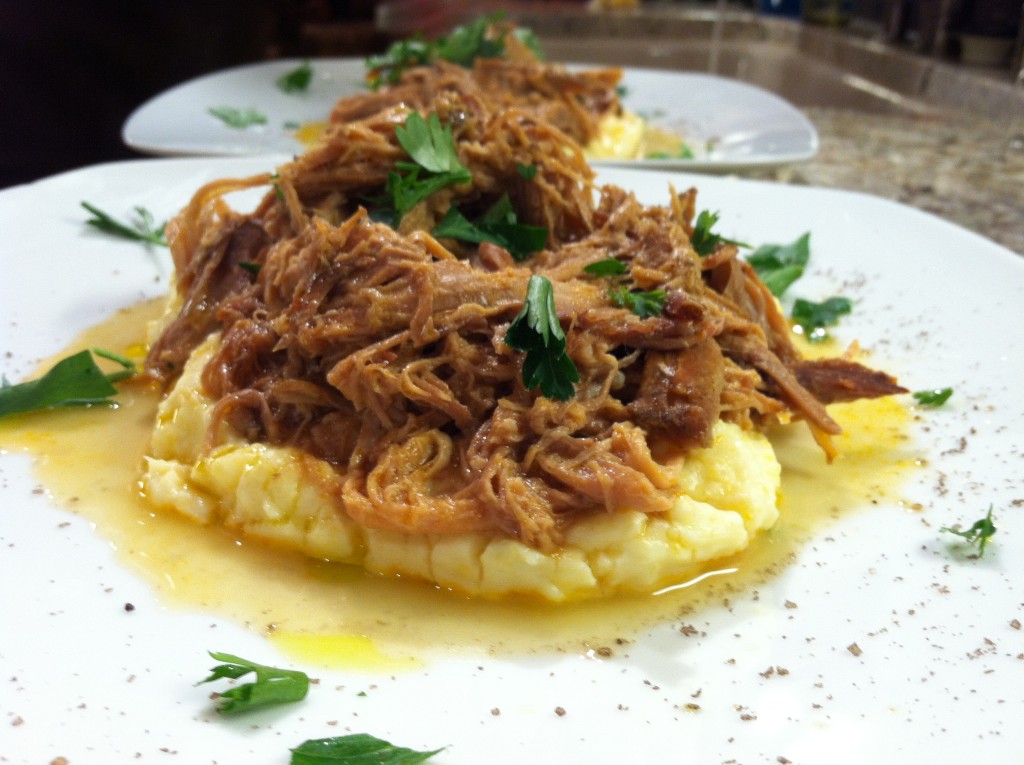 I can still remember the first time I REALLY had GOOD polenta; I mean AWESOME polenta. Maybe it was the fact we were in Italy, high in the mountains, at our original family hometown in a restaurant operated by a close relative and 8 courses of the most MAGNIFICENT food I had ever tasted or maybe I just developed a certain affiliation for the "staple food" my family was raised on, I don't know. Honestly, I believe it was the former……that quaint, rustic, family restaurant up in the mountains where all of our cares were left behind……in fact I know it was there.
During one of those 8 courses, my mother had asked to try polenta. She hadn't really "loved" the dish and since we were not only in polenta "country" but also with our family, she decided it was time to retry the beloved dish.
When it came time for the polenta course, out came a large, copper pot, well used and piping hot; the pot itself was a masterpiece as I can't imagine how old it was and the stories it could tell but inside was the beautiful yellow creamy polenta bubbling with local cheeses melted on top and a layer of a smoky pork ragu. The smell itself could have filled me but I wasn't in a million years going to pass on a huge helping of this especially after I learned the "polenta process" of both time and ingredients. It isn't a dish that can be prepared in a 20 minute meal, at least if it's done right, that is for sure.
The chef filled our bowls with the deliciousness and while doing so explained his venture on finding the special cheeses that morning along with the local pork meat. He was inspired to create the ragu as it was not quite cold enough for the hearty Bolognese sauce of winter but just brisk enough to want something of a similar comfort. This was the most intriguing sauce I had ever eaten because while it sounded so rich, I actually found it balanced so perfectly and the "smoky" flavor from the wood oven infiltrated the meat with such a beautiful flavor. Between this and the nuisances of the cheeses, my palate was bursting with the sexiest of food profiles and each layer brought a new sensation.
This memory still lingers along with the other 7 courses we ate that memorable evening and upon returning home, I decided I had to attempt to recreate the polenta and pork dish. This wasn't an easy task especially because the ingredients aren't an exact equal but the wonderful choices we have allowed the food profile to take on its own characteristics which didn't disappoint….so here is my take on the "perfect polenta comfort dish", I hope you enjoy it as much as I do!
Recently, we decided to have a table polenta party and served 3 different sauces for guests to choose from; we poured the polenta down the middle of a covered table and served the sauces along side. It was a total blast and the ragu was one of the choices to top off the polenta…..if you haven't hosted a table polenta party, I highly recommend it, your guests and you will have the time of your lives and maybe you will transport for awhile to that restaurant up in the mountains of our Italian hometown….

Smokey Pork Ragu
Author:
Michelle Michelotti-Martinez
Ingredients
For Smokey Pork Ragu:
One 4-pound piece of boneless pork shoulder
Smoked sea salt
2 tablespoons olive oil
1 Granny Smith apple, cut into 1-inch dice
1 medium onion, cut into 1-inch dice
1 carrot, cut into 1-inch dice
1 celery rib, cut into 1-inch dice
2 garlic cloves, crushed
3 thyme sprigs
½ cup tomato paste
1 cup dry white wine
4 cups chicken stock or low-sodium broth
⅓ cup Champagne vinegar
3 tablespoons honey
3 tablespoons mascarpone cheese
Freshly ground pepper
1 tablespoon chopped flat-leaf parsley
Extra-virgin olive oil, for drizzling
For Creamy Polenta:
Ingredients
6 cups chicken stock
2 cups whole milk
¾ teaspoon salt
Pinch ground white pepper
2 cups polenta
½ cup freshly grated Fontina or Telme
½ cup freshly grated Parmesan, plus extra for dusting
Instructions
For Smokey Pork Ragu:
Preheat the oven to 300°. Season the pork with 1½ tablespoons of smoked salt. In a medium, enameled cast-iron casserole, heat the canola oil until shimmering. Add the pork and cook over moderately high heat, turning, until browned on all sides, 15 minutes. Transfer the pork to a plate.
Add the apple, onion, carrot, celery, garlic and thyme to the casserole and cook over moderate heat until beginning to brown, about 6 minutes. Add the tomato paste and cook, stirring, until it deepens in color, about 2 minutes. Add the wine and bring to a boil. Add the chicken stock, vinegar and honey and bring to a simmer. Add the pork, cover and transfer the casserole to the oven. Braise the pork for about 3 hours, turning once halfway through, until very tender.
Transfer the pork to a plate. Strain the sauce into a large bowl, gently pressing on the solids. Pour the sauce back into the pot. Using 2 forks, shred the pork; discard any large pieces of fat. Transfer the shredded pork to the sauce and stir in the mascarpone. Season the sauce with smoked salt and pepper. Cover and keep warm.
For Creamy Polenta:
In a heavy saucepan, combine the stock and milk, and bring to a boil. Add the salt. Whisk in the polenta and cook over low heat for about 30 minutes, stirring often, until the grains are soft. Fold in the cheeses. Serve immediately or reserve.
To encourage polenta to come cleanly out of the pan, cook over medium heat. Run a spatula or wooden spoon around the sides of the pan to clean off the polenta. Do not stir, but wait and watch for a few seconds until a large bubble begins to form and pushes the polenta upward. Pour immediately into a warm dish.
The polenta can be made ahead and reheated: add ¼ to ½ cupstock, cover the dish, and reheat over low heat. Whisk well before serving. Grate a dusting of Parmesan over the top just before serving.
Related posts you like: