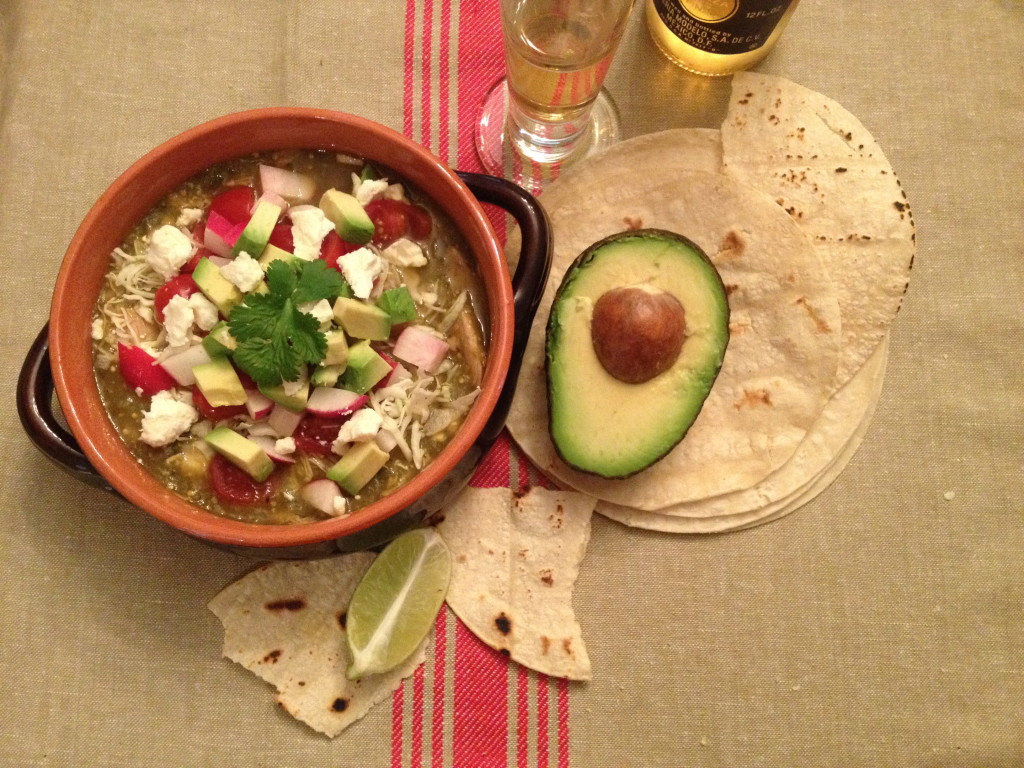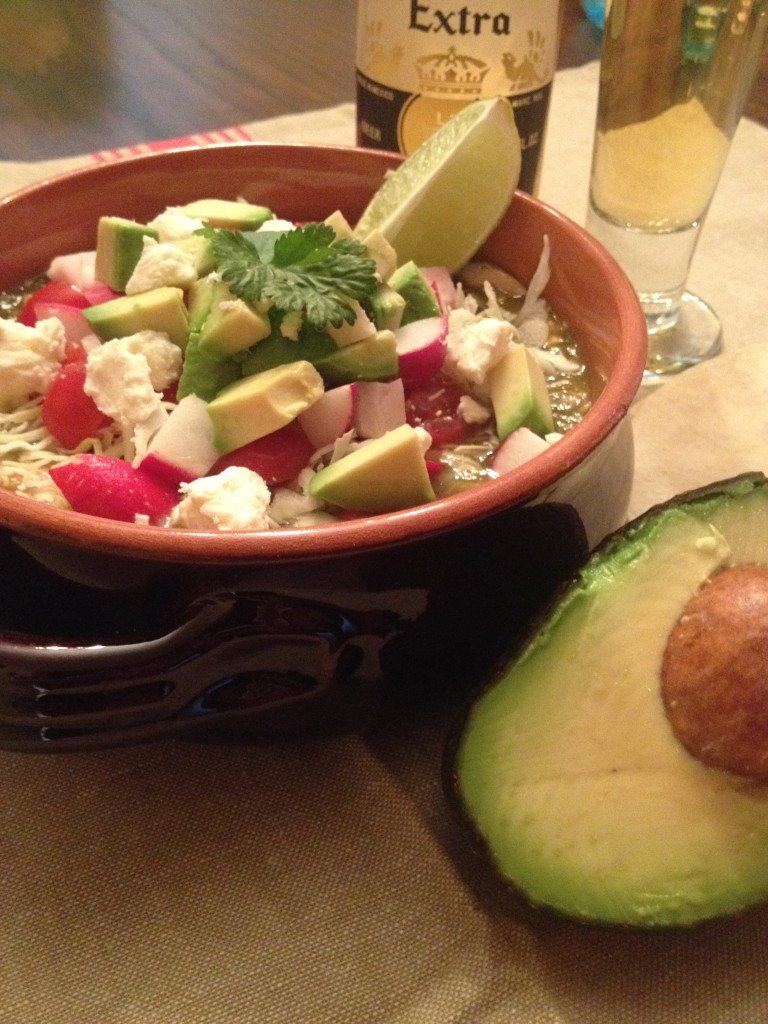 How is it when harvesting during the fall there is a "sure" feeling that come winter all this deliciousness will run out? Yet after the holiday indulgence there seems to be PLENTLY left to fold out into winter recipes and carry us into the beginnings of growing season again. Life is so good.
A favorite New Year's resolution for me is to make a conscious effort to cook most of our meals with ALL the yummy goodies we spent hours putting up, either by freezing or by canning. Funny, when we are going through the harvesting process we are absolutely SURE we will never forget the labor of love put in but as the months pass, somehow the time spent fades in our memory….
It was a Sunday afternoon and I went out to refresh my memory on what treasures were hidden away. As I hung over the side of my deep freezer digging away, I saw an entire box of frozen roasted tomatillo sauce I had completely forgotten about! For us, this is one of the easiest things to grow and if I didn't figure a use, I could easily see filling another 20 jars next year….
Since we are a soup lovin family, I decided I wanted to make posole. I LOVE traditional posole but this time I wanted a bit of a change and these frozen tomatillos would be perfect! I would make posole verde and add some shredded roasted chicken and then pile on a bunch of fresh crunchies such as radish, cabbage, tomato, and avocado! I was starting to drool….it sounded so fresh and delish!
In I went and prepped the chicken to roast. While it was roasting, I pulled out some poblano chiles, jalapenos, onion, and garlic; these were the perfect sofrito for the posole. I love to get that "char" on the skins of the chile and infiltrate the broth with that flavor…ooohhhhh I was getting jazzed!
Once those flavors melded, I added the oregano and cilantro and seasoned with salt and pepper. Then came the chicken stock and hominy. It was looking awesome! Now for the star of the show, straight from our garden, the roasted tomatillo sauce, the smell brought me right back to harvest, right back to the memories of those long days preserving our garden treasures…
Lastly I put in the shredded chicken, you could leave this out and add it along with the garnishing's on top, but I decided to marry all the flavors and fold it in. I seasoned a bit more and heated it through.
I hadn't told Enrique what I had made so when dinnertime came, I served it up in big bowls and topped it with the fresh goodies and toasted up some fresh corn tortillas. I brought it to him and his eyes got as big as saucers, this is his soul food and when I shared that the base was all of our tomatillos, he grinned from ear to ear…….
It's nights like this, many months later that I easily see the circle of life……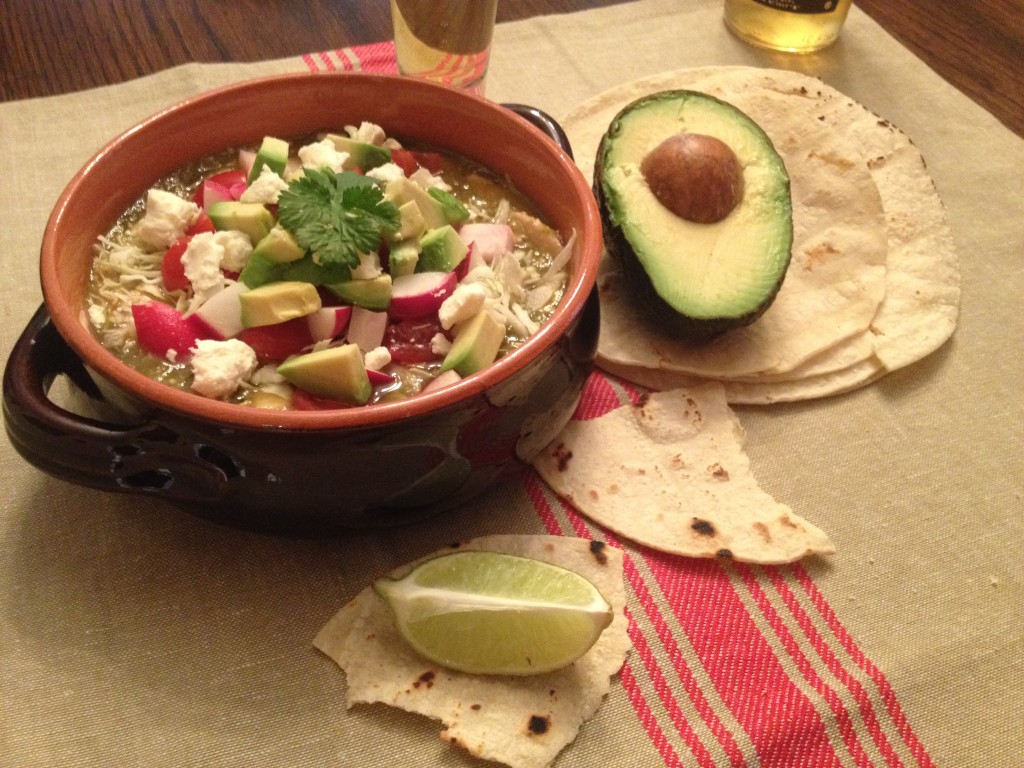 Posole Verde with Roasted Chicken
Author:
Michelle Michelotti-Martinez
Ingredients
1 whole chicken, roasted
1 T butter
8 cups chicken stock or low-sodium broth
2 pounds tomatillos, husked and halved
1 small onion, quartered
2 poblano chiles—cored, seeded and diced
2 jalapeños, seeded and diced
4 large garlic cloves, smashed
½ cup chopped cilantro
1 tablespoon oregano leaves
Salt and freshly ground black pepper
1 tablespoon vegetable oil
Three 15-ounce cans of white hominy, drained
Finely shredded cabbage, sliced radishes, chopped onion, diced avocado, queso fresco, corn tortillas, and lime wedges, for serving
Instructions
Preheat oven to 350 degrees. Rinse chicken and throughly dry. Melt 1 T of butter and coat chicken and brush all over and cover with salt and pepper. Roast for 1 hour and 30 min. Remove and allow to cool and shred meat into separate bowl, discard bones and skin.
Put husked tomatillos on a parchment-lined baking sheet and roast in oven for 30 minutes or until soft. Put into a blender or food processor and puree until smooth. Set aside.
In a large, dutch oven, heat 1 T of vegetable oil until hot. Add onion, poblanos, and jalapeños. Add oregano, cilantro, salt, and pepper. Cook until soft and chiles have a little "char" on skin.
Add the tomatillo puree and cook over moderate heat, stirring occasionally, until the sauce turns a deep green, about 12 minutes, Add chicken broth and hominy. Season with salt and pepper.
Add the shredded chicken to the stew and cook just until heated through.
Serve the posole in deep bowls, passing the cabbage, radishes, onion, avocado, queso fresco, corn tortillas and lime wedges at the table.
Related posts you like: