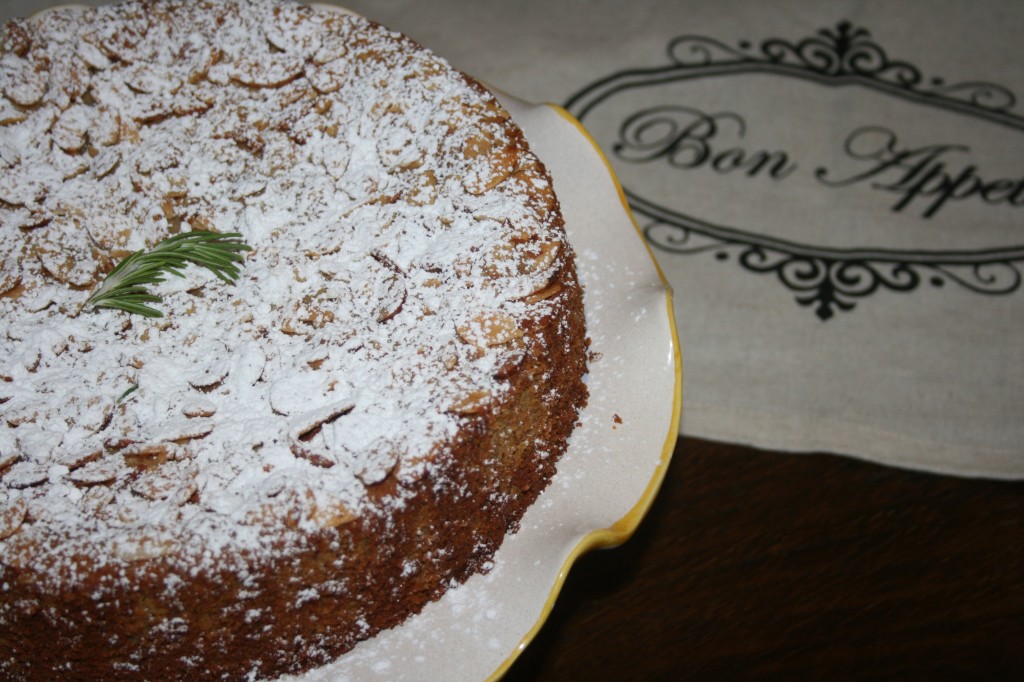 This is just one of those cakes that you can keep stashed at a continuum, the perfect balance of lemon, almond, and raw sugar. All to satisfy that mid-afternoon or late evening sweet tooth attack. Another awesome addition (if it's a concern) it's gluten-free. To me, that's a free pass to "GO" for a second helping!
I stumbled across this recipe from Cakelets and Doilies (www.cakeletsanddoilies) while looking for inspiration to re-create a recipe my Italian great aunt used to make every summer during my childhood on our annual visits.
I fondly remember those trips and the family gathering at her modest home where she lived with my grandpa, her brother. Its one of those great little houses, yellow with a white picket fence, front porch, big backyard with a garden, and a basement. The basement was my grandpas "man cave" where he brewed wine and grappa but I'll leave that venture for another post!
The inside was decorated with religious pictures and favorite saints and the doors were sliding accordion-style screens. The color was simple and the furniture was covered in fabrics of various patterns. She always had bowl after bowl of licorice candies with chewy coatings, the penny ones, pretty colors and all different sizes and shapes but in the middle was black licorice, my favorite.
There was always one evening where she invited the entire Italian side of my mom's family to dinner and prayed for no rain; so thankful for those houseful of saints, I'm sure they pulled some extra weight when asking for the favor. There had to be 30+ of us and if we were to be forced inside, it would be similar to the game "how many people can you fit in your VW bug"? Yeah, you remember the one and some of them I didn't feel like getting so "up close and personal" if you know what I mean.
The meal was always the same, homemade Italian red rice with meat sauce, roasted chicken, homemade bread, salad, and desserts. There were always 2 store bought cakes, a chocolate and a white with gooey Crisco frosting (a super artery clogger but a LOVE when you're a kid) and then the lemon ricotta cake from her childhood. I always ate the frosting from the store bought cakes to not hurt her feelings but I was smart enough to hold out and be first in line for the homemade lemon wonder.
I still think my favorite part (other than the cake) was bolting through the front door to be met with the intense aroma of the red meat sauce that filled the air and brought me comfort and satisfaction immediately. Imagine waiting 365 days each year for the initial hit…now that's a food addict.
It usually took her 2 days to make the dinner and we ate it in 2 minutes. Now I personally understand what a complement to a cook that really is, no wonder she never changed the menu.
So here's to my Aunt Mary, I'm sure there was some different "secret ingredients" but this is as close to perfect as I remember. Hope you're smiling from above….

Lemon, Ricotta and Almond Flourless Cake
This is great the next day, after it's completely chilled, and the flavor and texture seems to get better with time. Serve it with a glass of Vin Santo or Moscato.
Author:
Adapted from Cakelets and Doilies
Ingredients
1 stick unsalted butter, softened
1⅓ cups cane sugar
1 vanilla bean, split and seeds scraped
¼ cup lemon zest
4 eggs, separated and at room temperature
2½ cups almond meal
10½ oz fresh ricotta
Flaked almonds, to decorated
Icing sugar, for dusting
Instructions
Heat oven to 350 degrees. Line the base and sides of a 9 inch round springform pan with parchment paper and set aside.
Place the butter, 1 cup cane sugar, vanilla seeds and lemon zest in an electric mixer and beat for 8-10 minutes or until pale and creamy. Scrap down the sides of the bowl, then gradually add the egg yolks, one at a time, continuing to beat until fully combined. Add the almond meal and beat to combine. Fold ricotta through the almond meal mixture.
Beat the egg whites in a clean bowl with a hand-held electric mixer until soft peaks form. Gradually add the remaining sugar to the egg whites mixture and whisk until stiff peaks form. Gently fold a third of the egg whites into the cake mixture. Repeat with the rest of the egg whites.
Pour the mixture into the prepared cake tin, smooth the tops with a palette knife, decorate the cake with almond flakes, and bake for 45-50 minutes or until cooked and firm to touch. Allow to cool completely in the cake tin. Dust with icing sugar to serve.
Related posts you like: