Some like it SPICY and some like it HOT but I like it spicy hot!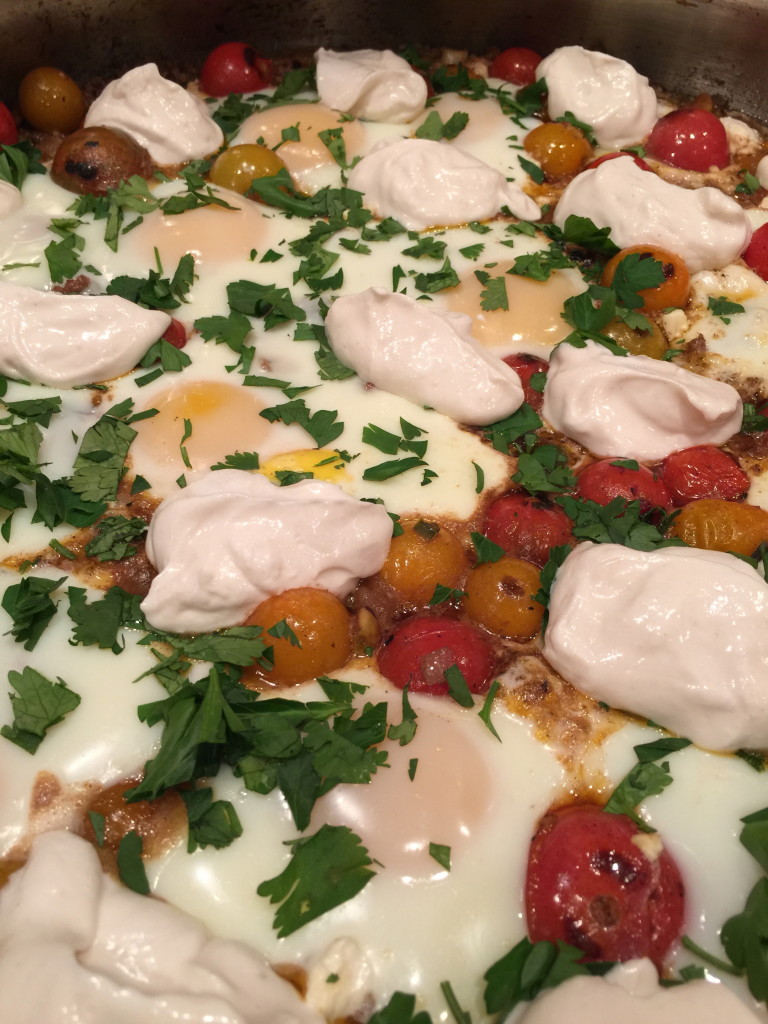 I mean it makes me do the happy dance when ALL those delicious middle eastern spice combinations blend together and marry into a pan of ground lamb, ground beef and blistered tomatoes making your kitchen smells like a spice shop in the marketplace of downtown Istanbul! Put the icing on the cake and finish the dish with braised eggs, fresh herbs, and a cool yogurt-tahini mixture and I'm done; it's like an opera happening right in my mouth!
I think the first time I experimented with all these complex flavors was after our trip to Rhonda, Spain. I know, I know, you are probably saying "Spain"? What? Well, because Rhonda is really close to Morocco, a lot of the flavor profile is rolled into the cuisine and OMG it is heavenly…seriously heavenly.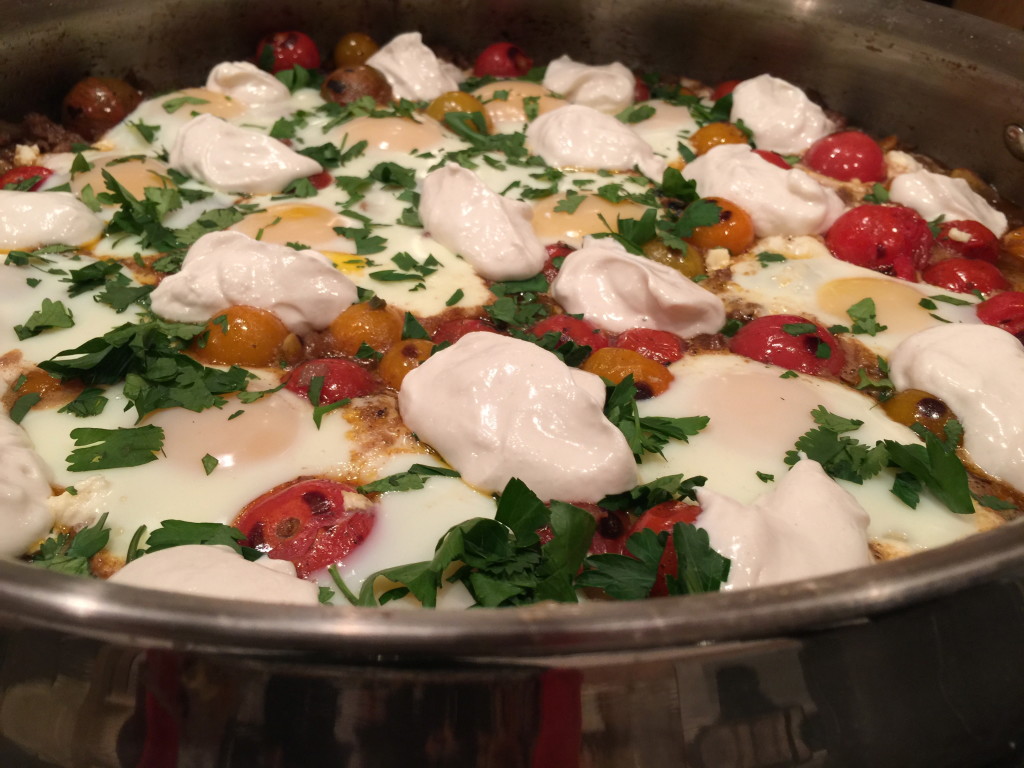 After coming home I was so inspired that I went down and purchased a TON of spices to attempt to recreate the dishes at home. Has this ever happened to you? Your on vacation in a magical destination, you are completely engulfed in the culture and experience….eating incredible food and drinking delicious wine. Then at the end of the meal, you ask to speak to the chef and have him explain the preparation (after a bottle of wine and dessert drinks #notwise and you are CONVINCED you will remember EVERY detail! After two weeks and several more meals and bottles of wine, you're home and ready to conquer……good luck. I can't remember yesterday much less more than that so, I had to rely on my pallet, some research, and a lot of memories of special nights tucked away in the magic of the restaurants in Rhonda.
Several, I mean several attempts at this particular dish, I was happy (or maybe just ready to be happy) either way, it tasted good…really good and at least as close as I could get to the flavor profile tucked away in my memory……fondly tucked away.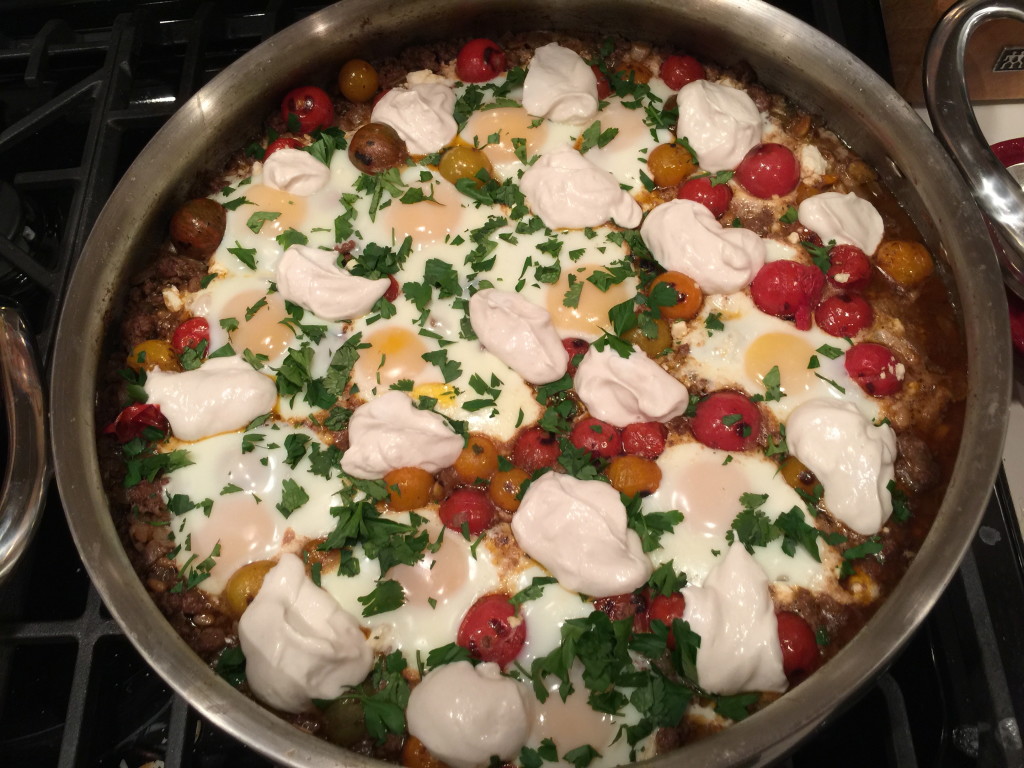 If you decide to make this, it is SO important to make sure your spices are FRESH and that you cook it together for awhile…nothing can replace time and slow cooking to tenderize the meat and create flavor depth, nothing…..so make sure you have great ingredients and an afternoon (and a bottle of wine) and just enjoy the magic of being transported somewhere across the pond…..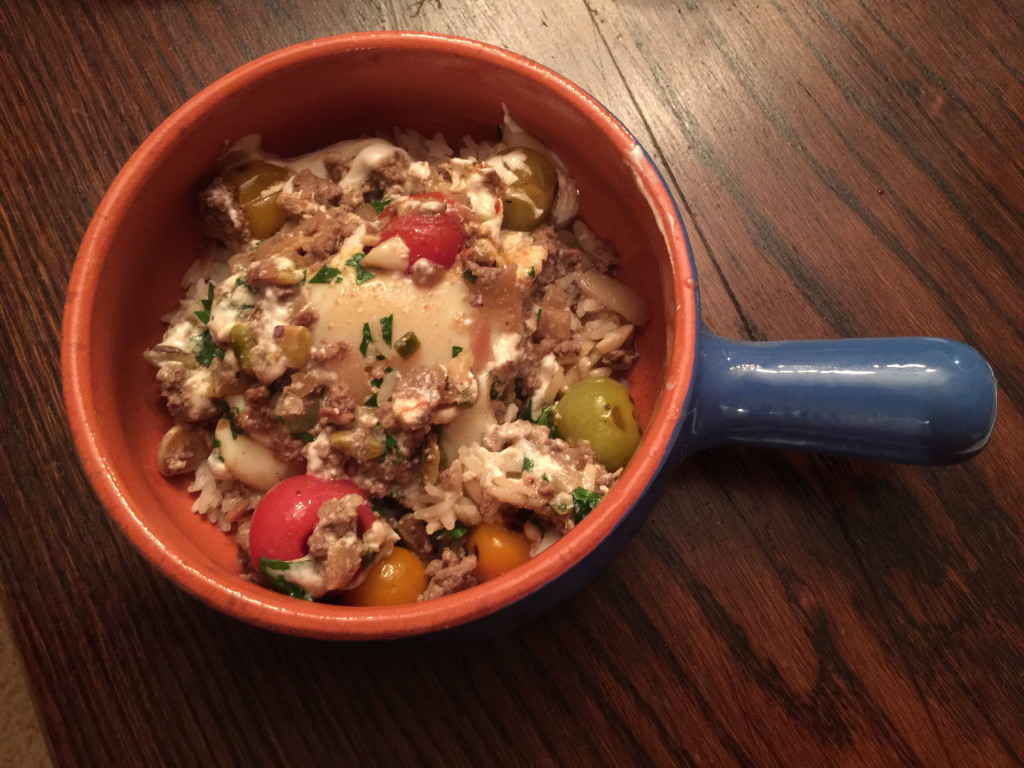 Lamb With Blistered Tomatoes, Braised Eggs, and Tahini
Author:
Michelle Michelotti-Martinez Adapted from Yotam Ottolenghi's book Jerusalem
Ingredients
1 tablespoon olive oil
2 large onion, finely chopped
1 jalapeño, chopped fine and seeds removed
12 cloves garlic, thinly sliced
1 lb ground lamb
½ lb ground beef
2 teaspoons coriander, plus extra to garnish
¼ teaspoon ground cloves
½ teaspoon ground cardamon
1 teaspoon ground cumin
1 teaspoon sugar
1 cup toasted, unsalted pistachios, coarsely chopped
½ cup toasted pine nuts
2 teaspoons harissa powder (store-bought)
1 tablespoon finely chopped preserved lemon peel (store-bought )
2½ cups baby heirloom tomatoes
1 cup chicken stock
8large free-range eggs
¼ cup cilantro leaves
¼ cup parsley leaves
Salt and freshly ground black pepper
Yogurt Sauce:
1 cup Greek yogurt
1½ tablespoonstahini paste
2 tablespoons freshly squeezed lemon juice
1 tablespoon water
Instructions
Turn oven to 375
Heat the olive oil over medium-high heat in a medium, heavy-bottomed frying pan for which you have a tight-fitting lid. Add the onion, jalapeño, and garlic and sauté for 6 minutes to soften and color a bit. Raise the heat to high, add the lamb and beef, and brown well, 5 to 6 minutes. Season with the coriander, cumin, clove, cardamon, sugar, some salt, and some black pepper and turn to simmer, add ½ cup of chicken stock and cook for 30 minutes, covered. Turn off the heat, stir in the nuts, harissa, and preserved lemon and set aside.
While the onion is cooking, heat a separate small cast-iron or other heavy pan over high heat. Once piping hot, add the cherry tomatoes and char for 4 to 6 minutes, tossing them in the pan occasionally, until slightly blackened on the outside. Set aside.
Prepare the yogurt sauce by whisking together all the ingredients with a pinch of salt. It needs to be thick and rich, but you may need to add a splash of water if it is stiff.
You can leave the meat, tomatoes, and sauce at this stage for up to an hour. When you are ready to serve, reheat the meat, add the rest of chicken stock, and bring to a boil. Make 8 small wells in the mix and break an egg into each well. Cover the pan and cook the eggs place in an oven at 375 degrees for 8-10 minutes. Place the tomatoes on top, avoiding the yolks
Remove from the heat and dot with dollops of the yogurt sauce, sprinkle with a little coriander, and finish with the cilantro and parsley. Serve at once with warm naan bread and white rice.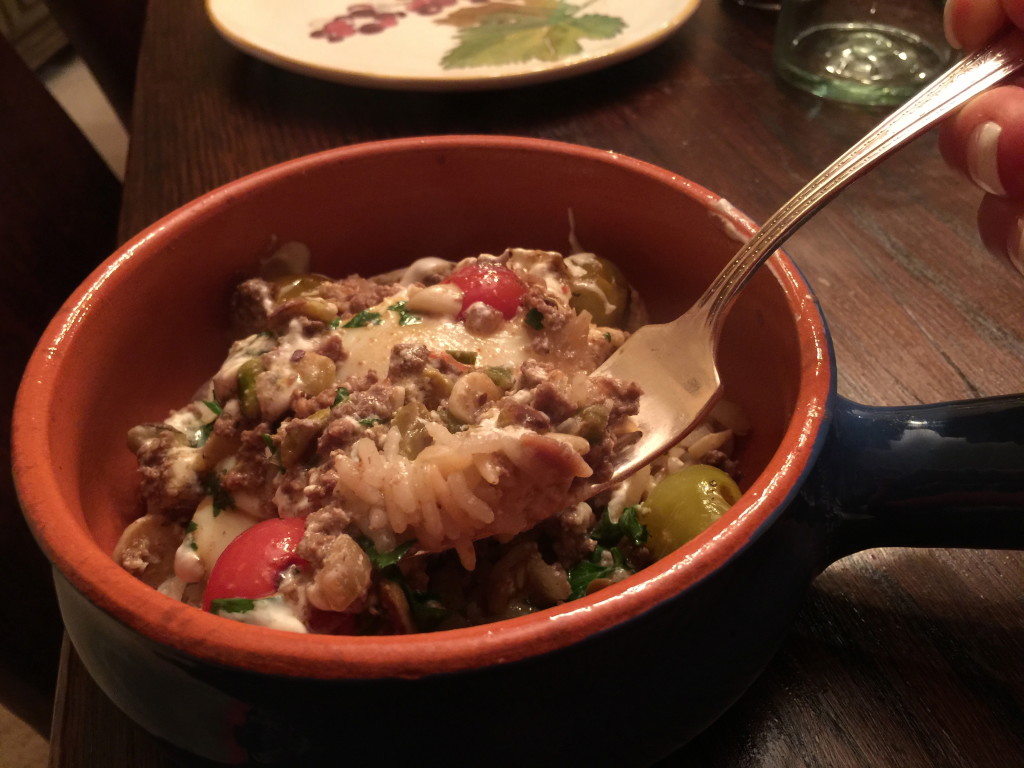 Related posts you like: