Sometimes I just overcomplicate the simple things, I really do.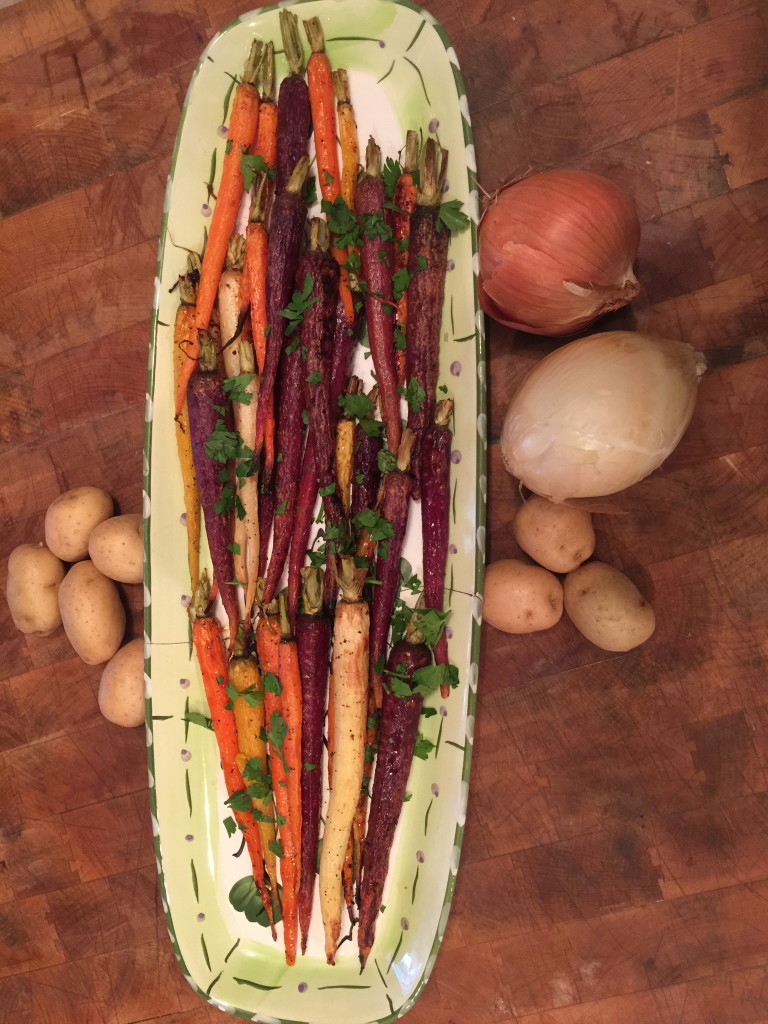 Why is it that the side dishes can be the most daunting at times and why is it so easy for me to forget how good something like honey-glazed roasted carrots can be? I guess that's why I need to memory jolt as much as anybody…..oh how I wish I could blame age….damn!
As I was putting together this year's Easter meal, I MADE myself hold back on making 10 courses, I honestly did. I mean after all the indulgence of chocolate, morning sweets, coffee, and mimosas, there seriously isn't enough hours in the day to fit much more food down our pie holes! I mean my God why is it that with holidays we just think we need to eat like its our last meal? I am SO guilty and SO trained…
Nevertheless, I decided to make a fantastic main dish, a beautiful side, and our traditional pane di paqua (Easter bread) and then I quickly reminded myself to "BASTA!" (which means enough in Italian, ENOUGH!).
Since I had a great idea for the main dish, for the veggie side dish, I wanted to stay festive and what is more festive than carrots on Easter, I mean REALLY??? Nature is totally perfect…..
For the main dish I made cavatelli pasta with a delicious braised chicken, leek, and pea sauce so a slightly sweet roasted side dish just sounded like the perfect complement. Plus, if I was making pasta and bread I really needed something easy or out the window goes my fabulous new philosophy of doing less on during these holiday affairs.
As for the recipe, honestly it doesn't need any extra explaining but just make sure the honey-sauce has the right balance of acid and sweet for your taste buds. Oh and don't forget the parsley at the end as the green really looks pretty over the carrots and I am ALWAYS about pretty, always.
Now, I do realize that this recipe is showing up a week AFTER Easter BUT I must remind myself that Spring is just beginning and carrots are in season for a while so I don't feel too bad for posting it late…….well, maybe a little but I'll get over it, I'm sure.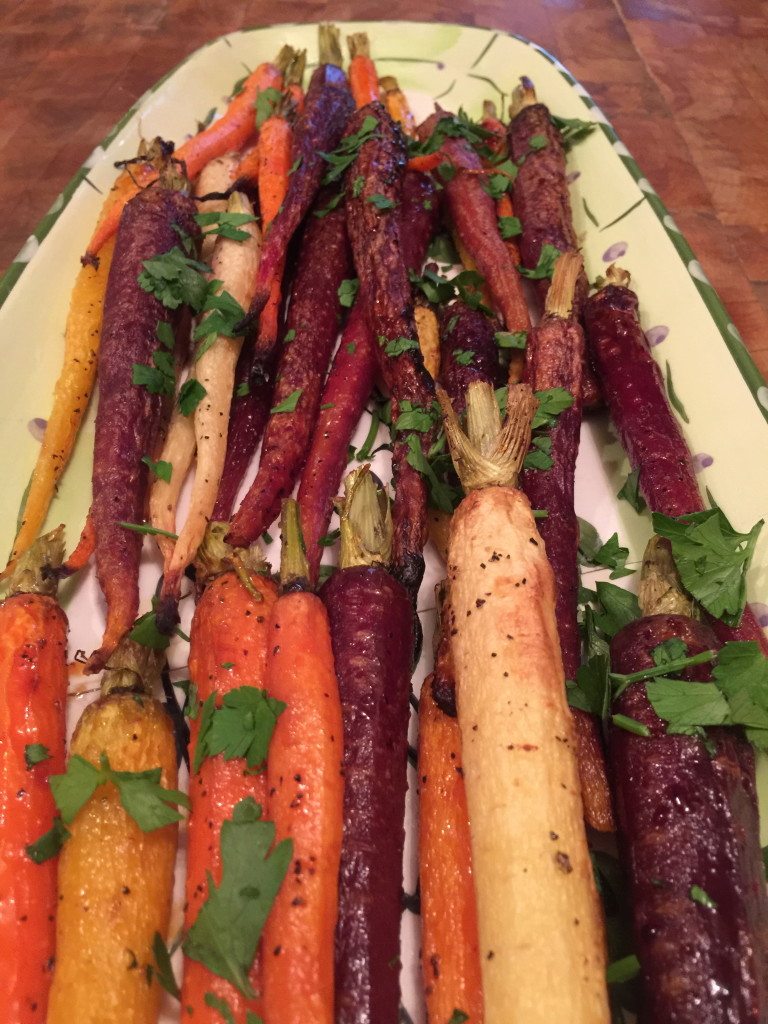 Honey-Glazed Roasted Rainbow Carrots
Author:
Michelle Michelotti-Martinez
Ingredients
5 bunches of rainbow carrots, peeled and tops removed except about an inch
olive oil
sea salt
pepper
1 lemon
2 - 3 T honey
water
chopped parsley for garnish
Instructions
Preheat oven to 400
Line 2 baking sheets with parchment paper. Peel carrots and rinse and put on sheets in individual layer
Pour olive oil, salt, and pepper and roll around to coat
Put in oven for 25-30 or until roasted and tender when pierced
While carrots are roasting in a glass container mix honey and ½ a lemon. Whisk together and add a little water. Taste and adjust as needed, want a little sweet but not too overwhelming.
When carrots have 5 minutes left, pour glaze over them and return to oven to finish
Remove from oven, put on platter, and top with parsley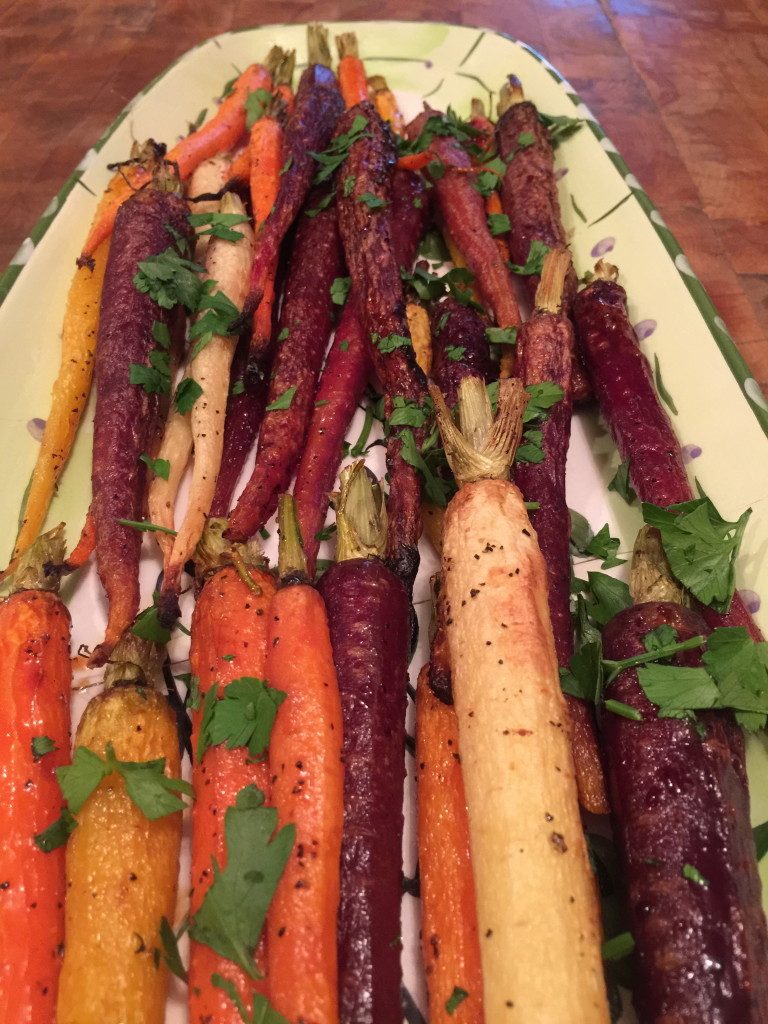 Related posts you like: