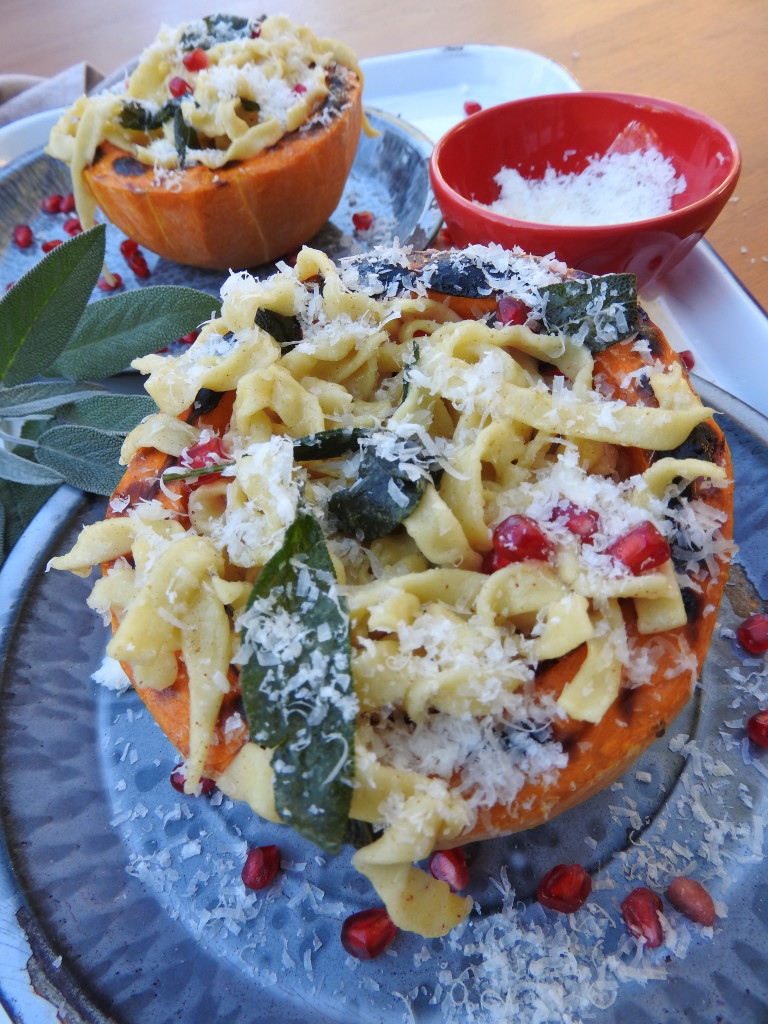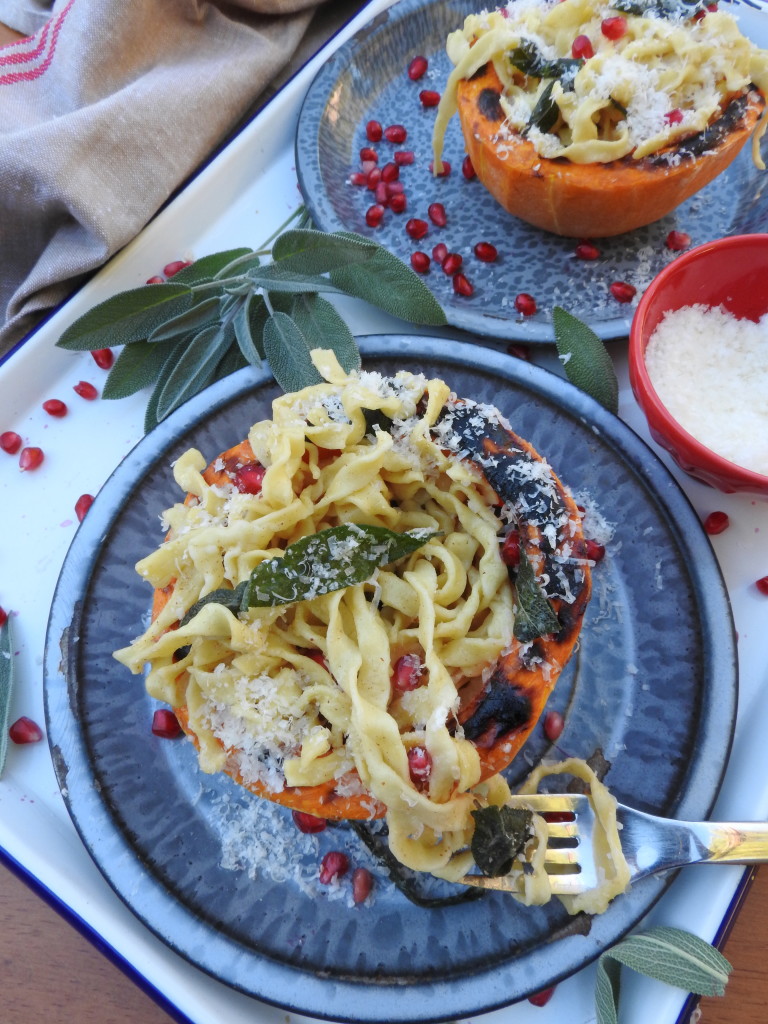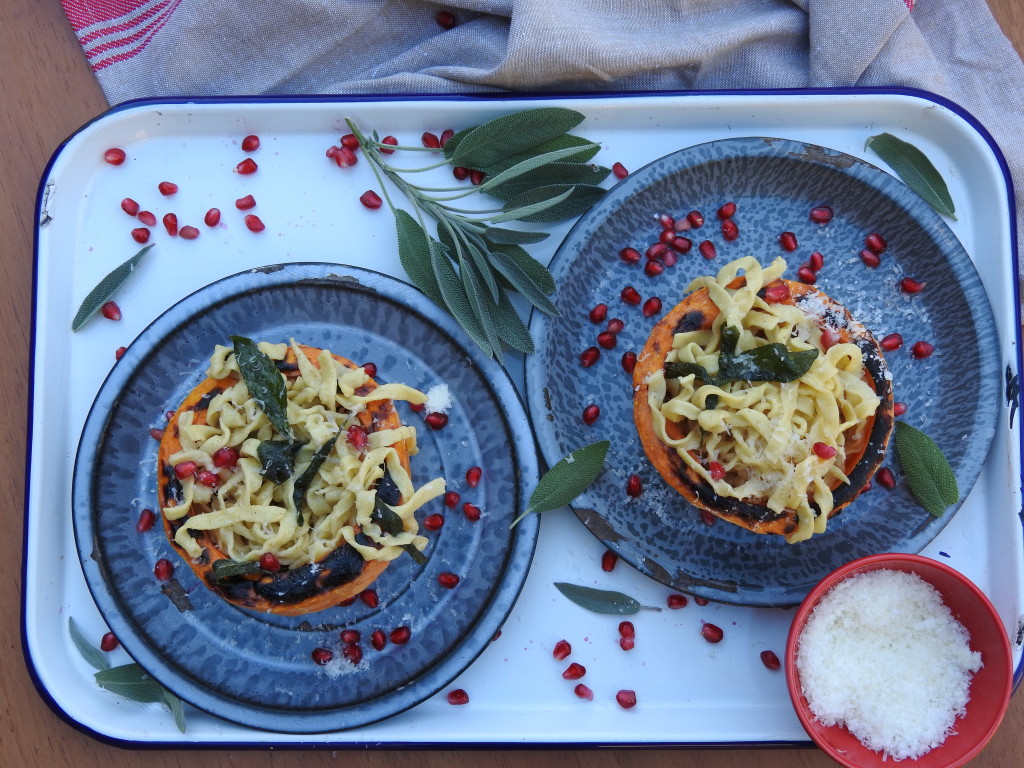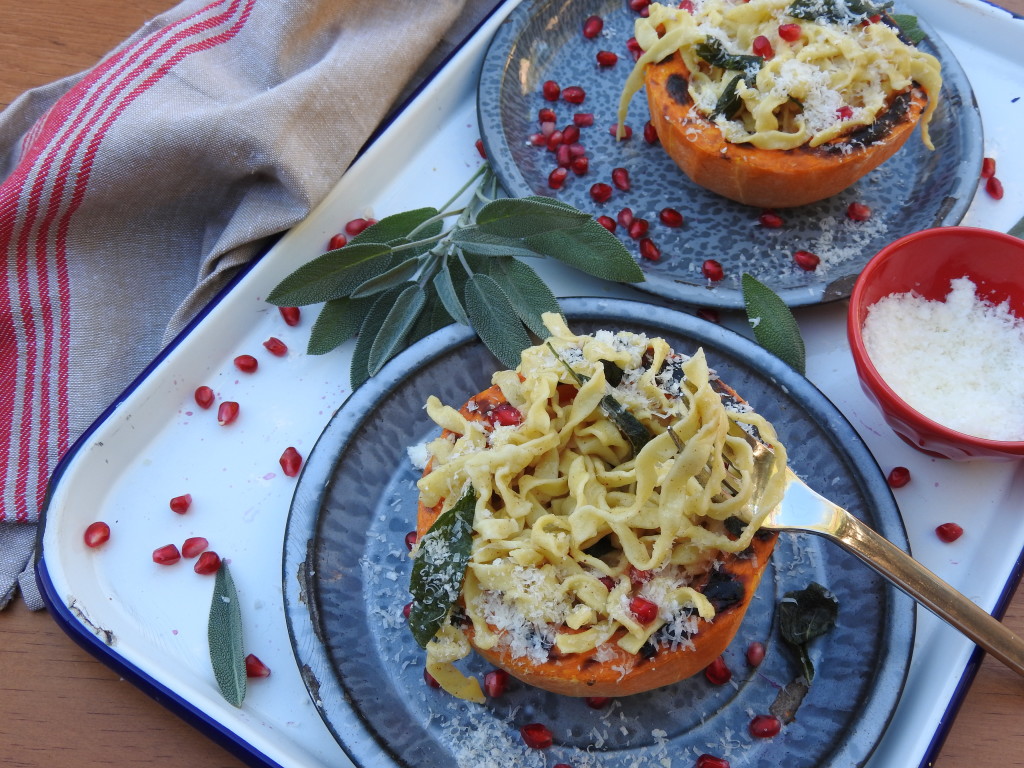 It's November, it is really November; clocks even went back so we know we are full on now….only 20 days till Turkey time and the gorging bliss of the holidays begin!
I don't know why but all this has taken me by surprise. BUT (always gotta jump into the positive aspect) after my post about duck breasts last week and all the comfy food talk, I'm ready to keep embracing the fall flavor profile and post one of my absolute favorite pasta recipes…..fettuccine with butter and sage! If I want it to sound REALLY yummy (and a little sexier) I would say fettuccine con burro e salvia (because everything sounds better in Italian)!
Okay enough with the Italian lesson as we have fettuccine con burro e salvia to talk about! Yep, essentially, flour, egg, butter, sage, parmigiano. Would you ever think that 5 ingredients could create SUCH MAGIC? Well they do and with ALL the pasta I have had over the years with ALL the different sauces, this one reigns at the top. It is perfect (of course it's perfect, it's pasta) but seriously, in my little world it's perfect.
For me, the key to this recipe is to brown the butter and grow your own sage. I know, maybe the growing sage is a stretch but if you have ANY urge to be a little farmer like myself, growing herbs is an awesome starting point.
Why brown the butter? Well, the nutty flavor infuses into the pasta with the sage and the combination is INCREDIBLE, I mean INCREDIBLE! Just be careful not to overbrown because it can get a "burnt" flavor. What I do is to just get it to a "light" brown color and pull it off the burner. Then while the pasta is cooking for a couple minutes in the pot (cuz I like fresh pasta) I put the butter back on to brown up some more and add fresh sage leaves. If you leave them whole, they make a really pretty statement. Remember sage is a strong herb so use on the lighter side. (If you don't want to make your own pasta, of course fresh pasta from the store works as does dried).
The last KEY step with this (or any pasta dish) is to put the semi-cooked pasta in the saucepan with the butter (or sauce) and let it finish cooking with the sauce (always add a little pasta water to help bind together).
I made this dish for my sister's birthday dinner last week and served it out of roasted butternut squash bowls. After filling these cute bowls (which when pulled out of the oven are an ingenious way to keep the pasta nice and warm), I just sprinkled the top of the pasta with parmigiano cheese and a hunk of dense, artisanal bread with butter. I presented them to the table and time stopped, it was perfection.

Homemade Fettuccine with Brown Butter and Sage
Author:
Michelle Michelotti-Martinez
Ingredients
Fresh Egg Pasta:
4 cups all purpose flour or caputo semolina flour (found on amazon)
4 -5 large eggs
½ teaspoon salt
water as needed
2 sticks of butter
Handful of sage
Parmigiano cheese
Instructions
To Make Fresh Pasta:
Make a mound of the flour in the center of a large wooden cutting board or in a bowl, whichever is more comfortable to you. Make a well in the middle of the flour and add the eggs and salt. Using a fork, beat together the eggs and begin to incorporate the flour starting with the inner rim of the well. As you expand the well, keep pushing the flour up to retain the well shape. Do not worry that this initial phase looks messy. The dough will come together when ½ of the flour is incorporated. If using a bowl, turn out onto a wooden cutting board now and start kneading the dough with both hands, using the palms of your hands primarily. Once you have a dough ball, remove its rom the board and scrape up any left over crusty bits. Lightly flour the board and continue kneading for 3 more minutes. If dry, add 1 T of water at a time and incorporate. The dough should be elastic and a little sticky. Continue to knead for another 3 minutes, remembering to dust your board when necessary. Wrap the dough in plastic and allow to rest for 30 minutes at room temperature. Note: do not skip the kneading or resting portion of this recipe, they are essential for a light pasta.
To cut pasta:
With a hand crank machine or kitchen aide attachment start with setting 1. Cut off ¼ of the ball and flatten out. Dust with flour as to not let it stick while passing through machine (you may have to do this periodically). Pass through once and then fold in thirds, turn and pass again. Do this 2 more times and then pass it straight through an additional 2 times. Put on setting 2 and pass through twice. Repeat with setting 3 and 4. When you get to setting 5, put through once and set sheet aside and repeat with remaining dough.
Put sheets through fettuccine cutter and put onto a floured cookie sheet. Toss to keep strands separate. Do this periodically while drying and add a little flour each time if necessary.
To make brown butter sauce:
In a large sauce pan, place butter. On medium heat cook until a slightly brown color begins. Remove until ready to cook pasta. While pasta is cooking partially (1-2 min), return to heat and add sage. Watch as to not over brown.
To boil:
In a large dutch oven, fill three-quarters of the way full with water and put in salt (salty as the sea). Bring to a boil and add pasta. Cook 1-2 minutes and drain (reserving 2 cups of water) and put immediately into browned butter to finish cooking, about 1-2 minutes more. Serve immediately topped with parmigiano cheese and more to pass at table.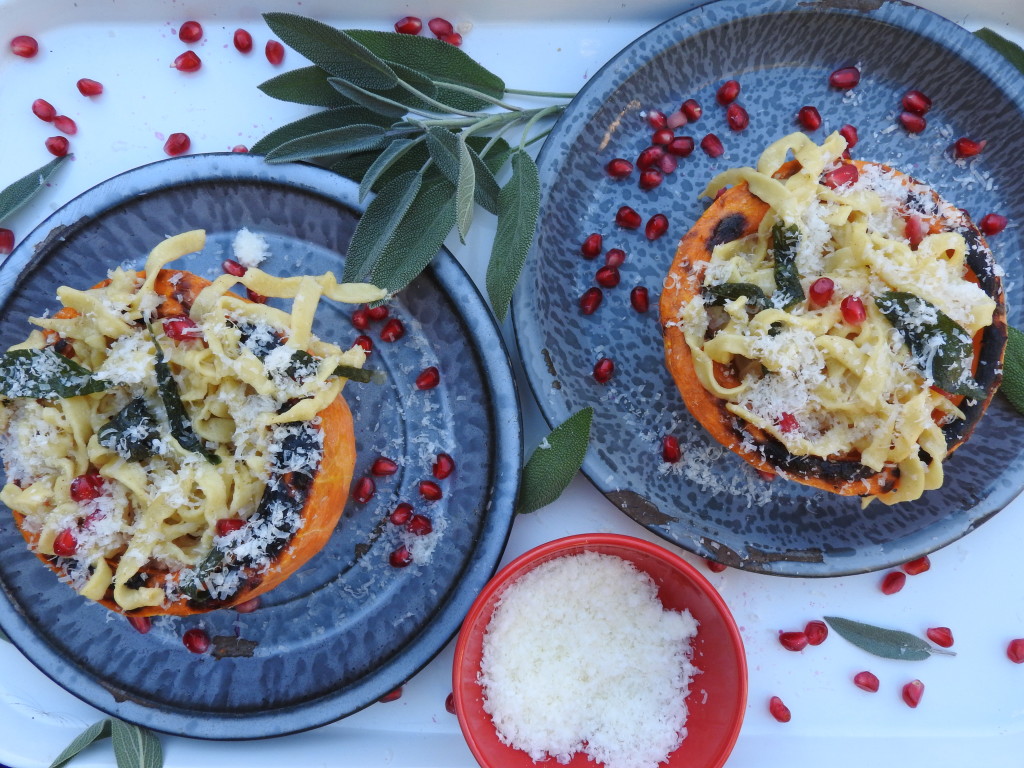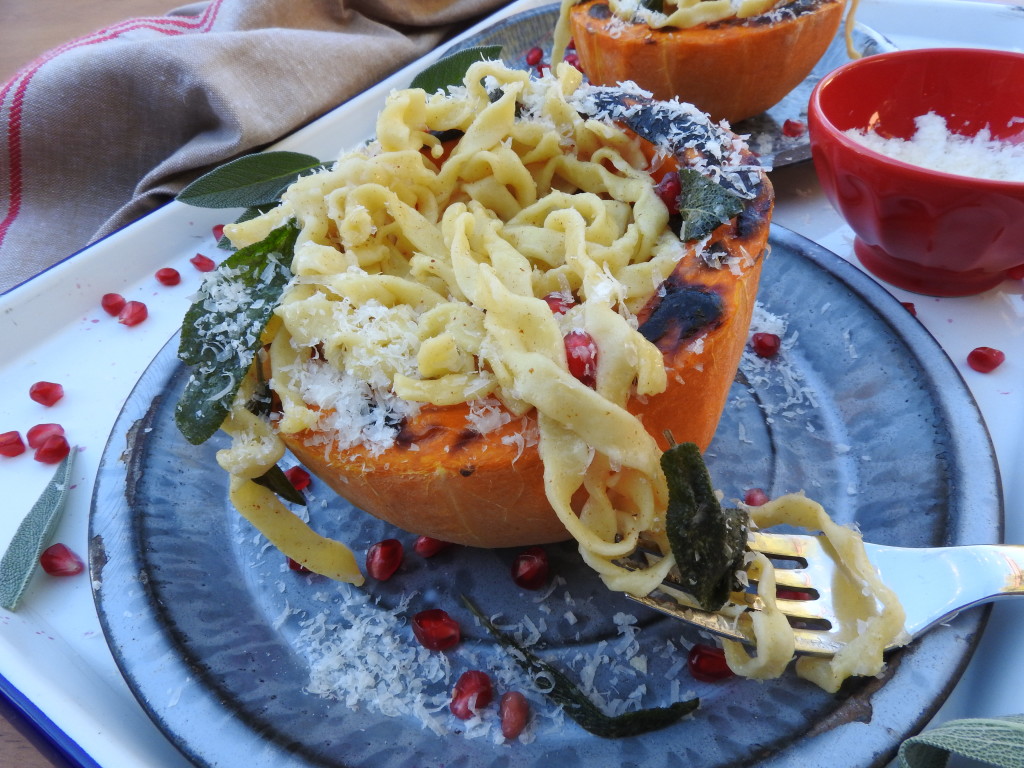 Related posts you like: