Isn't grilling just one of the 7 wonders of life?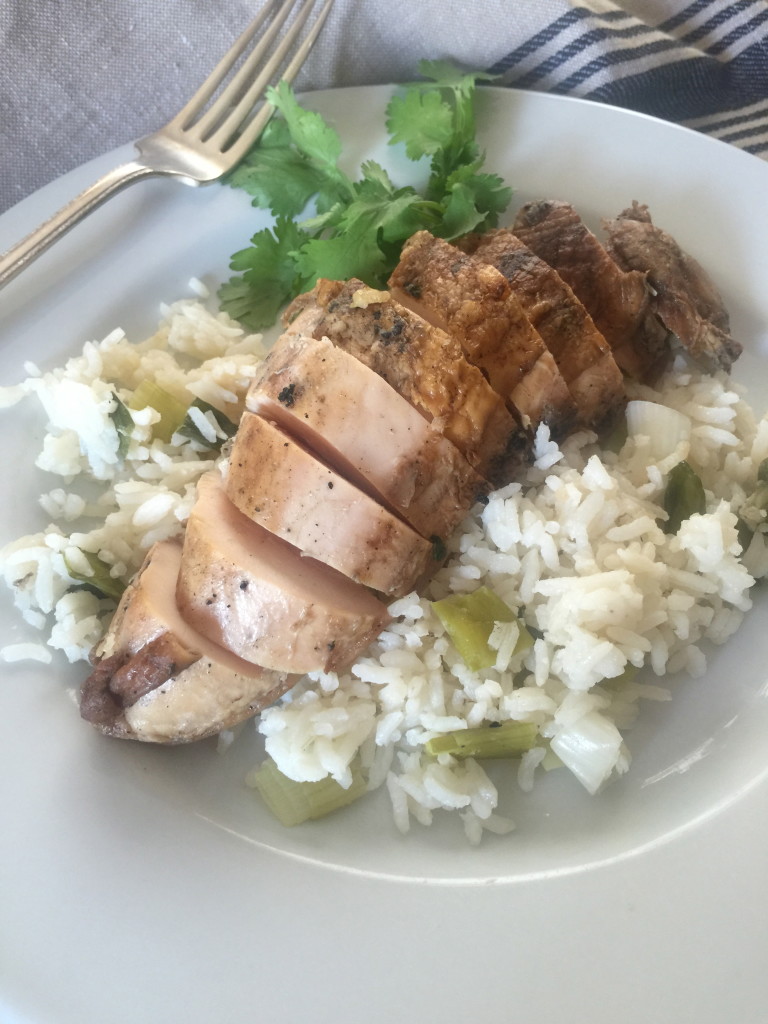 The smell of the food, the sounds of the sizzle on the grill, the taste only outdoor cooking can give, and most of all the time of year, SUMMER!!! Couple grilling with the longer days, the warmer nights and ahhhh can I really handle the constant pleasure of this time of year? I think so, it makes me feel like a kid in a candy store; free, indulgent, and full of excitement…what a wonderous experience!
I know it technically isn't summer but the weather is being a major tease and running havoc on my"itch" to be outside breaking in the grill for the season and putting in our garden.
Last Sunday was a BEAUTIFUL 75 degrees and there was just NO WAY I was going to let the opportunity slip away to indulge ourselves to our favorite flavors and satisfying our taste buds; which BTW, were screaming for some grilled Vietnamese chicken along with scallion white rice. (Oh AND we snuck in a fantastic rose to kick the season off but we can talk about that in another post otherwise I'll get sidetracked and not finish getting this recipe out to you….seriously).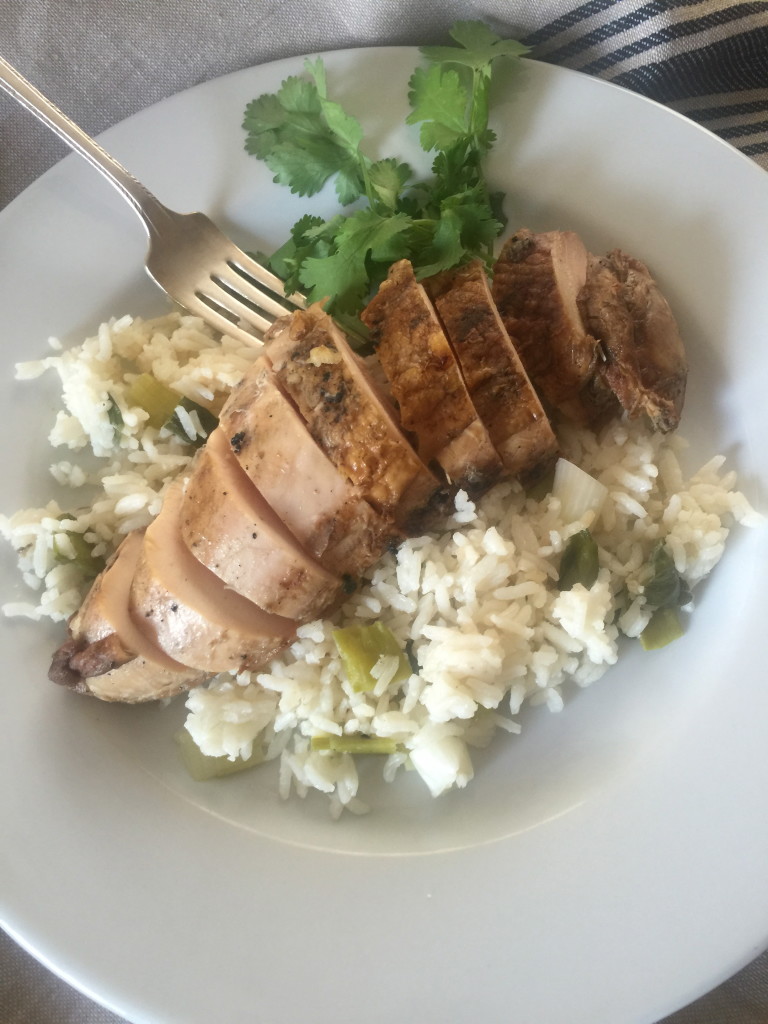 Thank God I had looked at the forecast and prepped the chicken 24 hours ahead in a delicious marinade because that is the secret to this simple but super flavorful dish. You REALLY need to marinate it for 24 hours, the flavors develop so intensely while breaking down the protein in the chicken and this leaves it sooo moist and yummy….you absolutely CAN'T skip this step…
Now, since I had done MY job, I figured I could kick back (with that rose, did I mention that?) and cheer Enrique on while he cleaned up the grill from the winter slumber (aren't I just the most supportive wife?). It was needing some attention as it rode through some tough weather days and frigid nights but nothing a little TLC couldn't fix…..honestly, it really didn't take too long to get it ready and besides we were so happy outdoors, it didn't matter if it had.
The old grill started up like a champ and the chicken was ready so the time had come to test out the flame and kick back with a cigar. Ohhh, the first smell of the grill and the first sound of the sizzle for the season is probably my favorite and I just wanted to be there all the while the chicken cooked away.
I set the table outside, put candle in the middle and a bouquet of fresh flowers. We kicked back and chatted, giggled, indulged, and reminded ourselves that we were just at the beginning of the this magical summer season…

Grilled Vietnamese Chicken over Scallion Rice
Author:
Michelle Michelotti-Martinez
Ingredients
6 Chicken Breast, Bone-In
2 Bunch of Scallions, Sliced
1 Small Piece of Ginger, Minced
4 Cloves of Garlic, Minced
2 Stalks of Lemongrass, Sliced
1 Small Bunch of Cilantro, Roughly Chopped
1½ C of Soy Sauce (I use Braggs)
¼ C Olive Oil
2 T Sesame Oil
3 T Chinese Black Vinegar
2 C Jasmine Rice
4 C Low Sodium Chicken Broth (Preferably Home-made)
Instructions
Night Before:
In a ziplock bag, combine soy sauce, vinegar, olive oil, sesame oil, garlic, ginger, lemongrass, small handful of scallions, and cilantro. Put in chicken breasts and mix around well. Set in a glass container (in case it leaks) and put in fridge for 24 hours.
Day of Preparation:
Remove chicken, put on tray, and discard marinade. Take off any large pieces of cilantro, lemongrass, and scallion. Leave out for 30-40 minutes to bring to room temperature.
While chicken is coming to temperature, heat grill on high. Before putting chicken on, turn down to medium and brush grill with a papertowel soaked in olive oil so chicken won't stick. Start with skin side down and grill, turning frequently until done, about 30-35 minutes.
While chicken is grilling, put rice to a pot on stove and add broth and a pinch of salt, stir. When broth comes to boil add scallions, stir, cover, and turn down to simmer until broth is absorbed, about 30-35 minutes (check absorption starting at 20 minutes). Once broth is absorbed, quickly open cover and put on a dishcloth, cover again, and turn off heat and leave on stove for 10 minutes.
When chicken is done, let rest for 10-15 minutes. Slice into medallions slices and put over scallion rice. Serve with additional soy sauce for those that want it.
*Note - Don't add salt or pepper to this recipe, marinating breaks down proteins to keep chicken moist AND adds a lot of salt.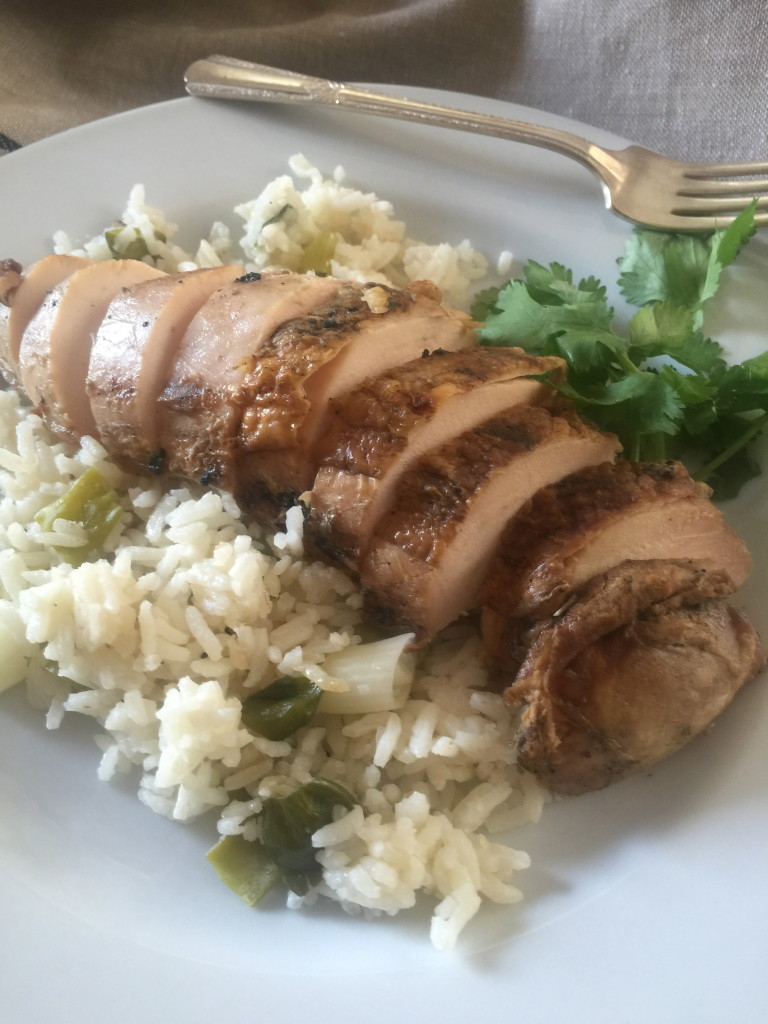 Related posts you like: