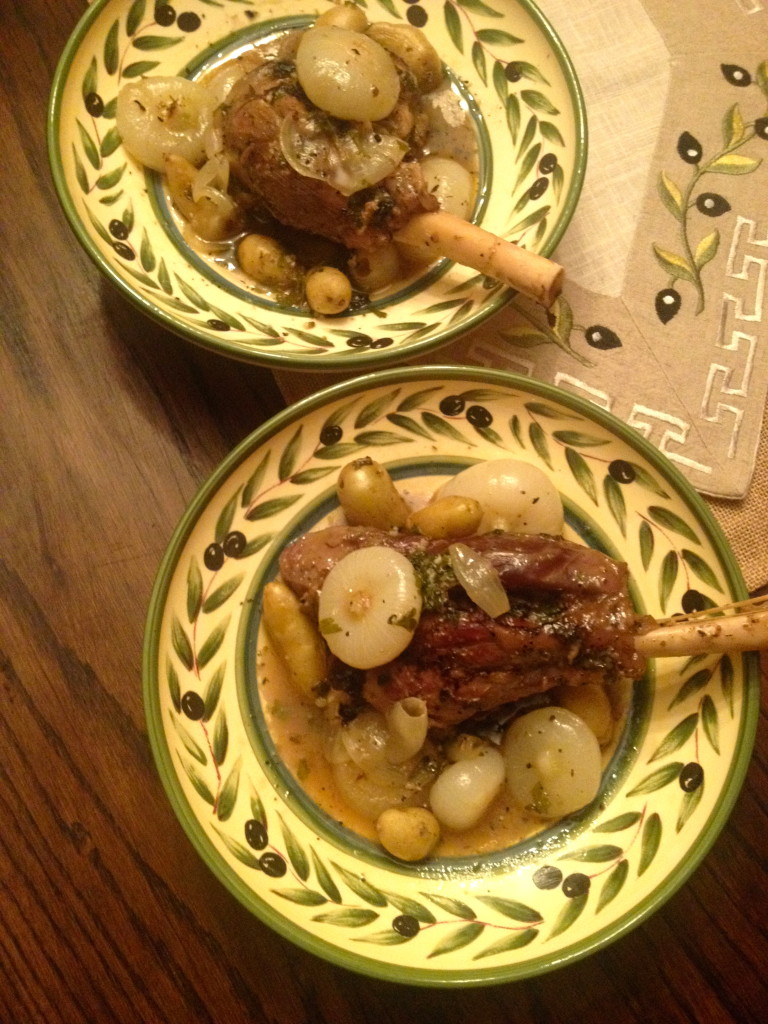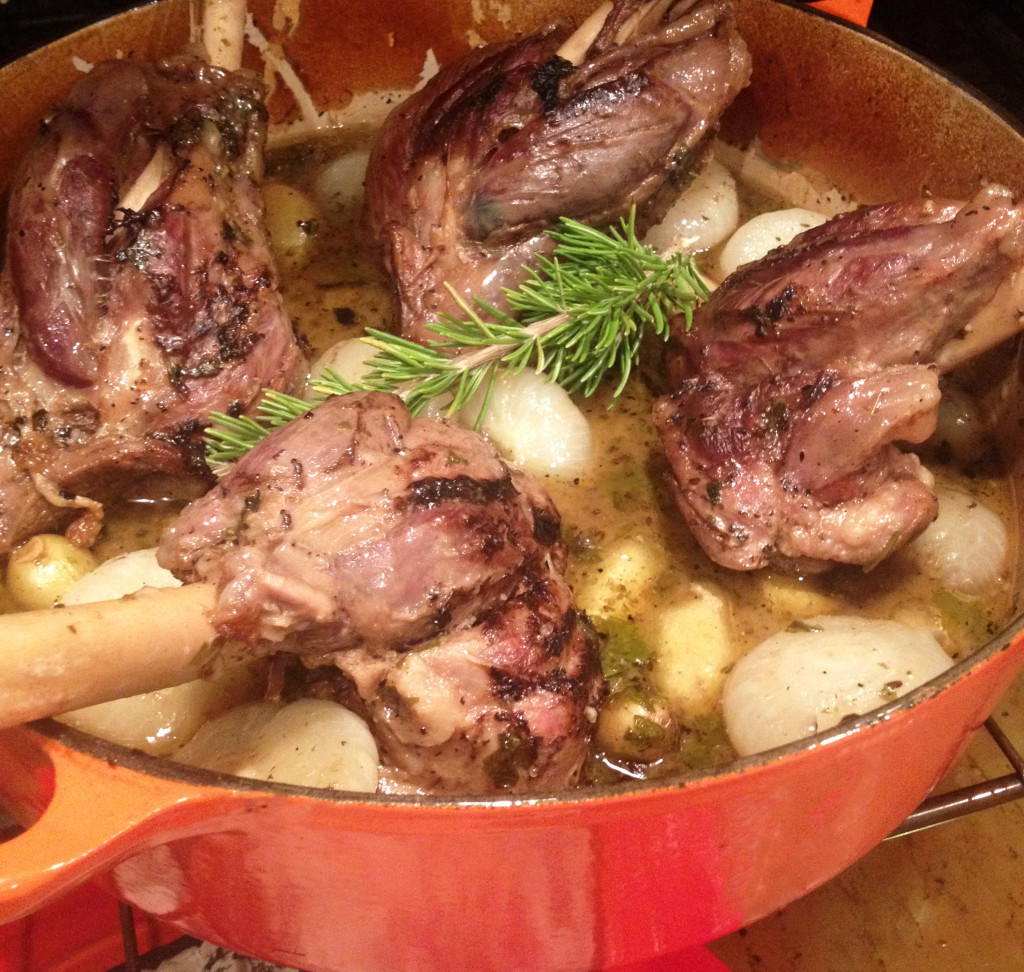 Whenever I ask Enrique what special meal he wants on a Sunday, 9 times out of 10 he asks for this recipe. It really is quite the marriage of flavors and couple that with "fall off the bone tenderness" and you truly have a magical experience.
Since I know how often the request for this recipe is coming, I always have some shanks in my freezer. I have an awesome local source that makes this dish that much more amazing; gotta love these farmers and purveyors!
Another special element that highlights this dish is when I remember all the amazing lamb dishes we have had when we travel. I could eat lamb everyday and in everyway but infused with lemon, white wine, and fresh herbs is probably one of my most favorite preparations. I think for both of us, some of this fondness comes from our 8th anniversary spent in Greece.
We were on the Island of Santorini for 1 of the 2 weeks we spent in this amazing country. If you haven't been to Santorini, you need to put it on your bucket list immediately! If you have been to Santorini, you already know how completely enchanting this island is so you won't be surprised that we had a delightful anniversary dinner in a small, local restaurant on the second floor with our own balcony overlooking the sea. I probably could have been fed rocks and dirt and been in bliss completely due to the ambience…. but top it off with a delicious Grecian dinner and I think we probably were transported to Heaven's main gate; in fact, I am positive we were.
The evening began with 2 appetizers of various fresh fishes, simply prepared both fried and grilled and combined with fresh herbs and local olive oil. Next was a simple salad topped with grilled Mediterranean vegetables and fresh lemon juice. I couldn't have imagined anything could get better until they served us the lamb shank prepared in the outside wood burning oven with herbs, white wine, lemon, and olive oil. It was succulent, rich, and decadent. Dessert was fresh fruit and local cheeses. Simply divine and one of the best anniversary dinners we ever had…..
So this recipe is my interpretation of that memorable lamb dish overlooking the sea in Santorini…..try this for Valentine's Day and transport yourself….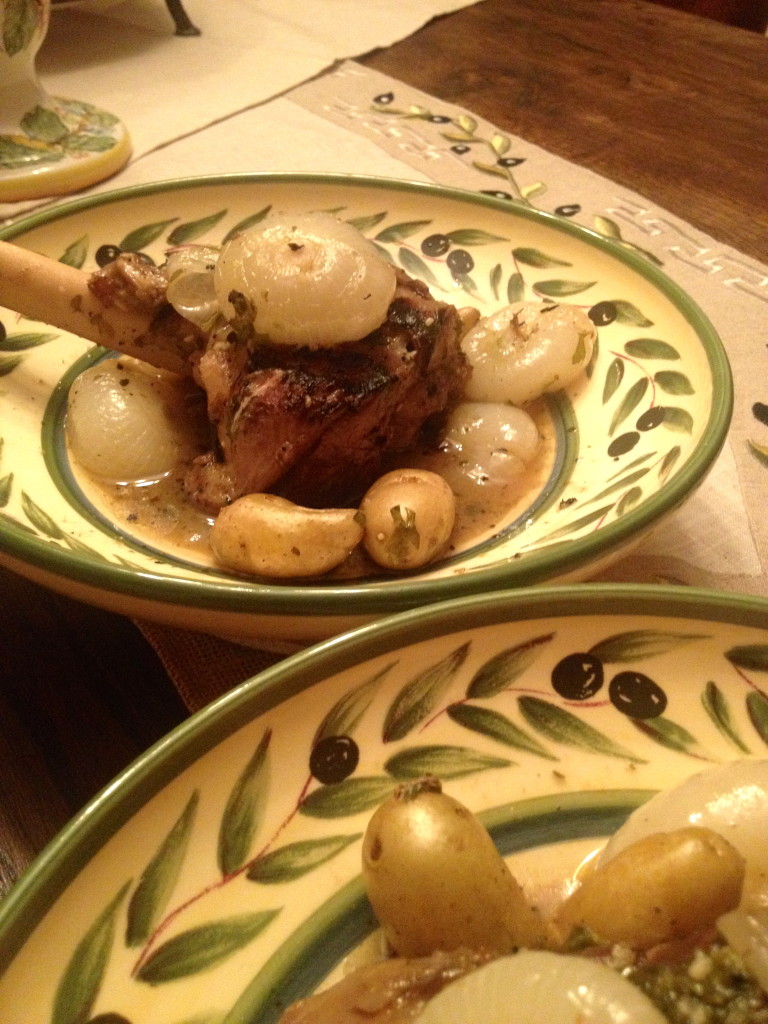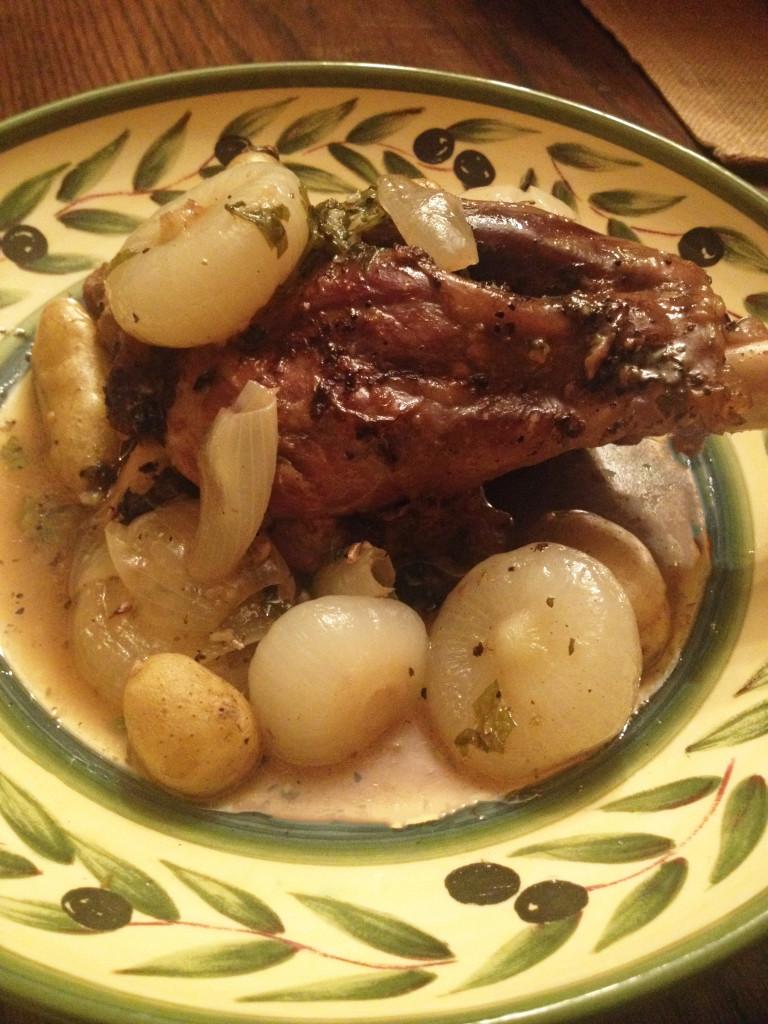 Greek Lamb Shanks
Author:
Michelle Michelotti-Martinez
Ingredients
4 Lamb Shanks (each about 1¼ lbs., 1 shank is a portion)
Parsley Leaves, lightly packed
4 T Dried Oregano
8 Garlic Cloves, minced
4 Lemons, juiced
Olive Oil
Salt and Pepper
1 Cup White Wine
Chicken Stock
1 lb. Small Potatoes
12 Cippolini Onions or 4 Sweet Onions, quartered
Instructions
Squeeze lemon should be about ½ cup total
In a food processor, add ½ garlic, 2 T oregano, bunch of parsley and a little oil, blend together. Rub lamb shanks with mixture, set aside.
In same food processor, repeat process above. In a bowl, add onion and potatoes and toss with mixture. Add salt and pepper and set aside.
Heat oven to 375
Heat dutch oven and salt and pepper the shanks and then brown all over med-high heat. Add lemon juice and white wine, reduce by half.
Add back shanks and add chicken broth until ½ way up sides of meat and add bay leaf. Put in oven for 1½ hours. After 1½ hours, reduce oven to 350 for another 30 minutes.
Remove shanks from oven and pull out of dutch oven. Add potato onion, juices, salt, and pepper. Add back shanks and more chicken broth, if needed. Reduce heat to 325 and cook for another 1½ hours.
Serve with naan and a greek salad
Related posts you like: