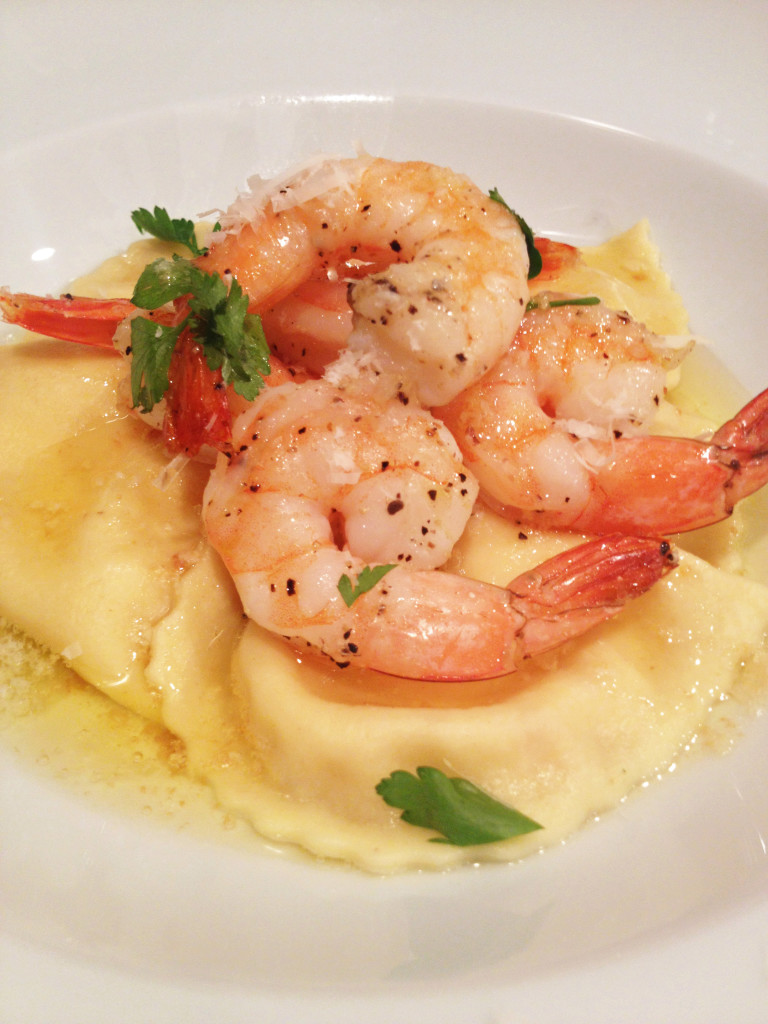 I will always go back to pasta whenever I can….. just simply for my personal comfort food bliss. My fixation with ravioli borders obsessive because of the ENDLESS possibilities for the fillings (well and the dough for that matter). I love to work from the inside out when it comes to creating these little masterpieces, it's almost like building a little sculpture, or at least in my mind…..
Growing up, my family made traditional ravioli that were filled with ricotta and parmigiano cheese and topped with a beef ragu. We didn't have much variation to choose from and while I still LOVE these, I really dig the endless creations today.
My infatuation with ravioli really began when I owned my fresh pasta manufacturing company. Customers were requesting fresh ravioli so I actually purchased a ravioli machine. My fears and hesitations toward making them were conquered by the purchase of this machine, no doubt. To say the least, the learning curve itself was frustrating but when I made delicious fillings from what the farmers had for the week, it was ALL worth it. It was here where the creative juices birthed and put me out of the box regarding possibilities, it is where the fun began. Then each week I headed to the market and sold them to our awesome customers who reported amazing dishes they prepared, this was nothing short of addicting.
So when thinking which ravioli to post, I remembered my journey and decided that I would marry my heritage with a twist on innovation for the filling and then top with a decadent shrimp sauce. I also decided to try my hand at angolotti because if you don't want to invest in a ravioli stamp or cutter to form the pasta, these can be finished with a knife and a fork and have a really pretty half moon shape, plus I really like the name….I have a tendency to pick wine this same way, let me see the label, is it pretty? Perfect, I'll take it! How many of you can relate?
Anyway, if you haven't made ravioli before or are a seasoned pro, these are simply delish and while its winter outside and a little more time on our hands, give these a try…….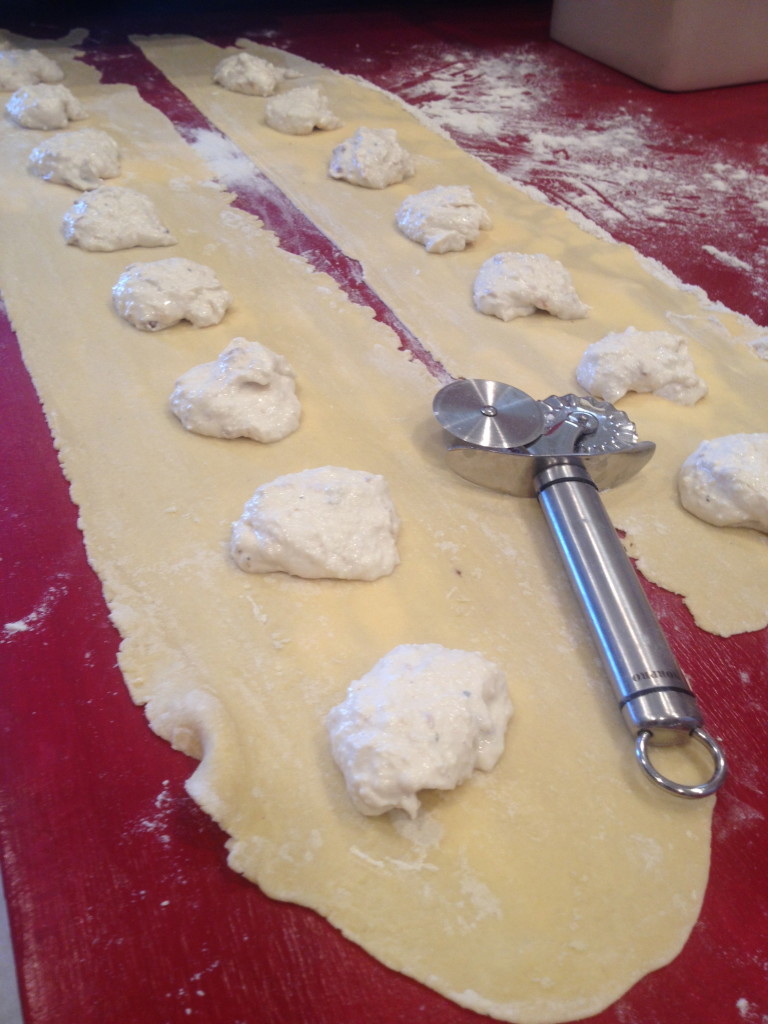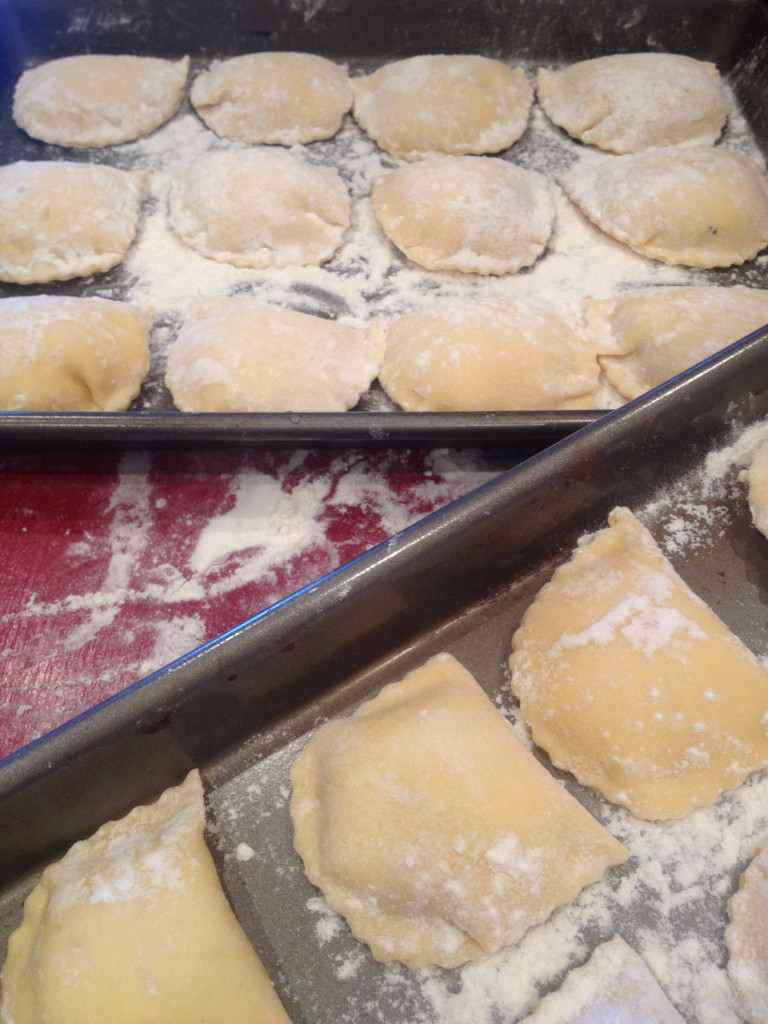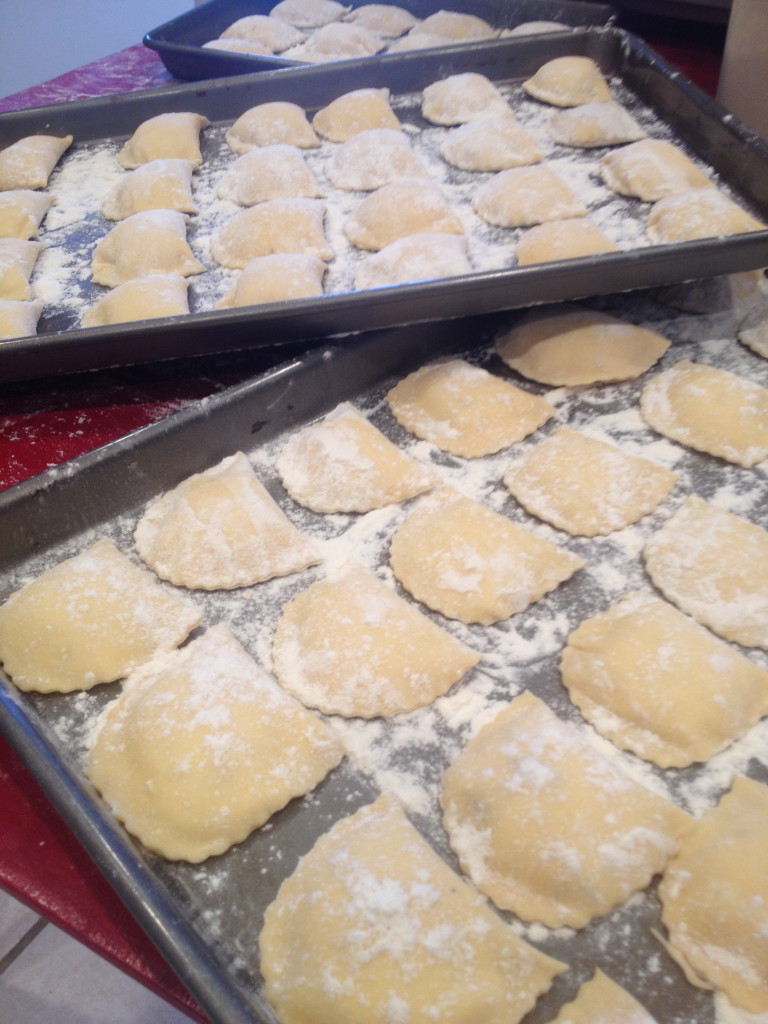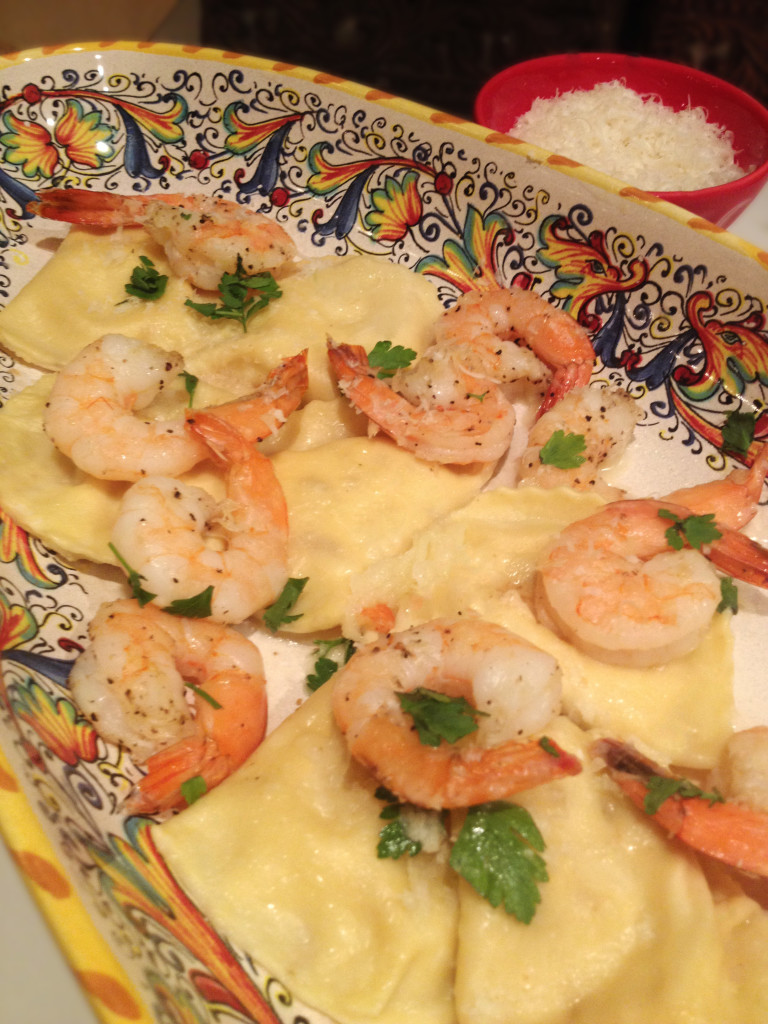 Fresh Ricotta and Caramelized Marsala Shallot Angolotti with Shrimp Butter Sauce
Author:
Michelle Michelotti-Martinez adapted from Lucinda Scala
Ingredients
Filling:
2 T butter
3-4 shallots, thinly sliced
¼ cup ricotta, preferably homemade, recipe below
Sauce:
2 sticks of butter
1½ lbs shrimp, shelled and devined
Olive oil
Salt and pepper
1 recipe basic pasta, rolled to second to the thinnest setting on machine, recipe bellows
1 bunch Italian parsley, finely chopped to yield ¼ cup
¼ cup grated Parmigiano-Reggiano
Fresh Ricotta:
6 cups organic whole milk
2 cups organic heavy cream
1 tsp salt
3 T organic white wine vinegar
Fresh Egg Pasta:
4 cups all purpose flour or caputo semolina flour (found on amazon)
4 -5 large eggs
½ teaspoon salt
water as needed
Instructions
To Make Fresh Pasta:
Make a mound of the flour in the center of a large wooden cutting board or in a bowl, whichever is more comfortable to you. Make a well in the middle of the flour and add the eggs and salt. Using a fork, beat together the eggs and begin to incorporate the flour starting with the inner rim of the well. As you expand the well, keep pushing the flour up to retain the well shape. Do not worry that this initial phase looks messy. The dough will come together when ½ of the flour is incorporated. If using a bowl, turn out onto a wooden cutting board now and start kneading the dough with both hands, using the palms of your hands primarily. Once you have a dough ball, remove its rom the board and scrape up any left over crusty bits. Lightly flour the board and continue kneading for 3 more minutes. If dry, add 1 T of water at a time and incorporate. The dough should be elastic and a little sticky. Continue to knead for another 3 minutes, remembering to dust your board when necessary. Wrap the dough in plastic and allow to rest for 30 minutes at room temperature. Note: do not skip the kneading or resting portion of this recipe, they are essential for a light pasta.
To Make Filling:
In a saucepan on stove over medium heat, put in the milk, cream, salt, and vinegar. Bring to a medium heat and boil where it starts to separate. Put in a mesh colander over a bowl until liquid is drained.
On stove top, heat medium sauté pan and add 2 T butter and melt. Add shallots and cook down. Add ⅛ cup of marsala wine and cook until caramelized.
Take ricotta and put in a bowl and fold in caramelized shallots. Mixture shouldn't need salt and pepper but season to taste. If it is a little "thin" fold in some freshly grated parmigiano cheese as you don't want a "runny filling".
To Make Angolotti:
Cut dough into 8 sections and cover unused portion with damp cloth to avoid drying out. With a hand pasta machine or kitchen aide attachment set at widest setting, take a piece of pasta and press flat and pass through rollers, dust with flour and repeat on same setting, fold in half and repeat again, change setting to next smallest and run pasta through twice. Dust pasta if needed and repeat process on all until pass through second to last setting. Repeat this for all of the pasta and put the strips on a floured work surface.
To form agnolotti, take a strip of pasta and place 1 tablespoon of filling 1 inch from the edge and 2-3 inches apart down the pasta strip. Brush pasta dough edges and in-between filling lightly with water. Take the pasta and fold op of over filling and pinch closed. Press dough flat between lumps of filling. Using a pastry/pasta cutter, preferably fluted, cut half moons using folded part as flat side of moon. If your cutter is smooth or you are using a knife, go back and press lightly with a fork to make indents. Continue until pasta and filling are finished and put on floured trays.
To Make Shrimp Sauce:
Preheat oven to 400. Rinse shrimp and add to bowl. Put in some olive oil and salt and pepper and toss together. About 5 minutes before boiling ravioli, spread shrimp on a cookie sheet and put in oven for 10-11 minutes.
On stove top in a medium sauce pan, add 2 sticks of butter (can add more if needed and depending on serving amount), melt on medium-low until starts to become a brown butter. Don't do this step too soon or the butter will continue to brown and get burnt. If you do ahead, pour into a bowl and then reheat when ready.
When shrimp are done, add to butter and cover to keep warm while angolotti are cooking.
To Cook Angolotti:
In a wide dutch oven pot, fill about ¾ full with water and bring to a boil. Add salt (salty as the sea) and carefully put in angolotti. Becareful NOT to overcrowd so do in batches if necessary. Cook about 5 - 7 minutes or until tender and remove with a slotted spoon onto a tray or into pasta bowls. If using pasta bowls, heat them slightly in microwave so that pasta isn't going into cool bowl. Repeat until done. Spoon over shrimp sauce and top with fresh parmigiano and fresh parsley. Serve immediately.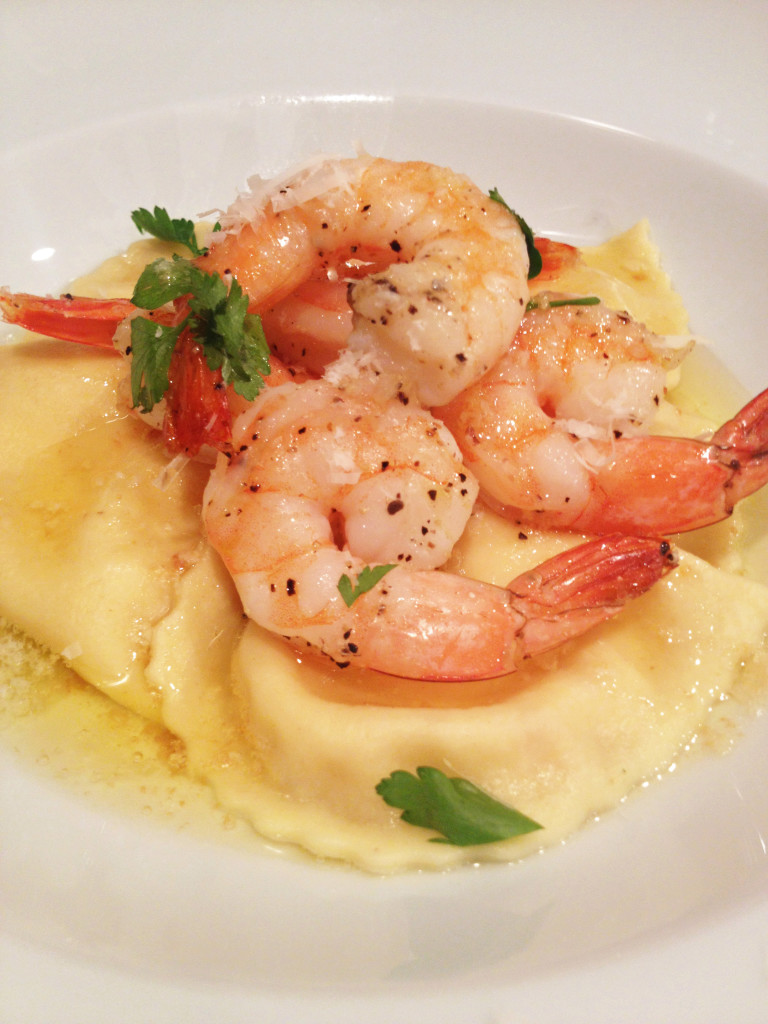 Related posts you like: