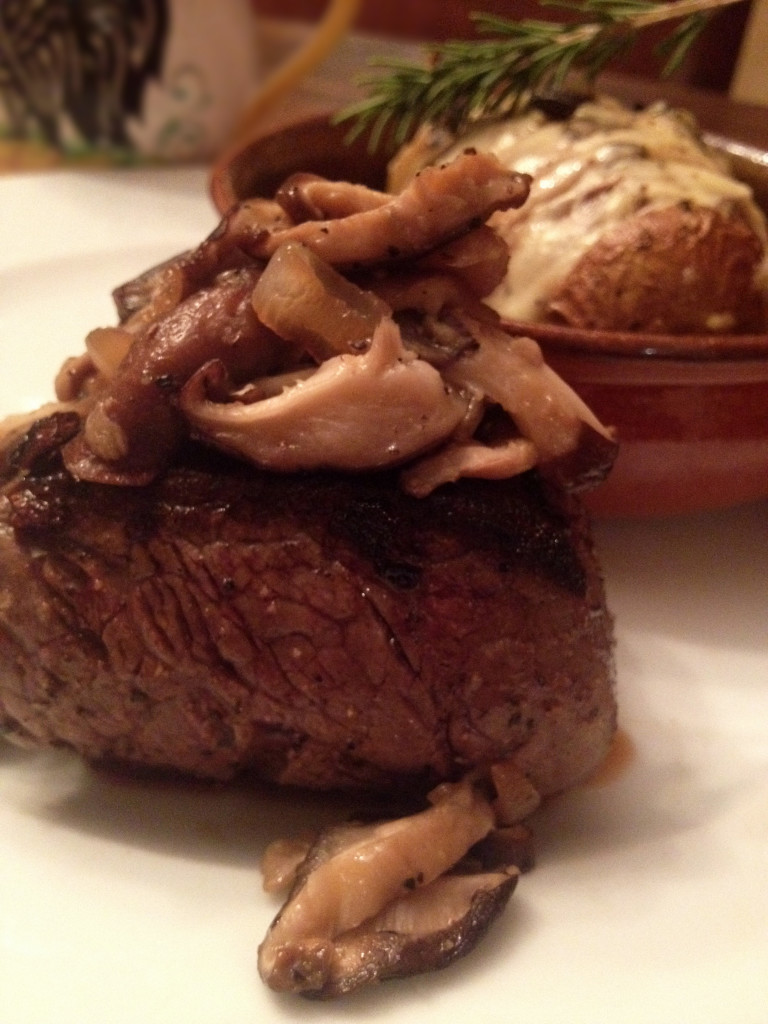 What makes the perfect steak? Is it the accompaniments or the preparation? Is it both? Is it using a classic preparation or an innovative one?
So much to ponder…..the perfect steak. I have completely shied away from this simple yet not easy skill. For me it's a classic preparation with innovative accompaniments. I would call this is the perfect steak or shall I say the perfect steak meal.
So why the resistance? Ummmmmm well, I am not a "grill-girl" nor do I have the perfect gas stove and oven to create the optimal cooking environment. But that is true of any of the dishes I create in my kitchen and I don't resist them so why the "all American signature dish?"
It came clear, I was intimidated because I didn't trust my ability to "hone in" and make it all come together, to put aside the chatter and just take the information I researched and go down into my inner chef and let her rock and roll!
It was my husband's birthday weekend and I couldn't think of a more perfect time. It's in January, right after the holidays, cold and dark outside but a perfect evening for a steak palapolozza even though it is just the 2 of us….perfect time for a coming out party!
This year his birthday was on a Saturday so I had plenty of time to shop and prepare. First, I went to the butcher for the perfect cut of filet minion, 2 – 8 ounces of sheer bliss…..From there, off to my local sources for the accompaniments of potatoes, green beans, and wild mushrooms. Oh, I can't forget the wine, my God no its my right hand to get me through this…….so down to the local wine shop for a great 2007 brunello. Now I am ready to begin the maiden voyage….let's first start with a glass of the fabulous wine….
Since I make my own compound butters I decided to jazz up the potatoes and filets. Roasted garlic butter sounded divine for the sliced baked potatoes then top them off with fresh herbs and raclette cheese. For the filets, bagna cauda butter sounded exquisite, a wonderful combination of garlic, anchovy, and butter….the PERFECT basting sauce.
The mushrooms were calling for caramelized shallots with marsala wine and the green beans wanted to float in a garlic oil bath. I felt like a musical was happening in our house as everything was singing so incredibly together, I'm sure the wine was helping me to hear….
I set the cast iron skillet on top of the stove and preheated the oil. It was go time, everything else was prepared and done and it was the moment to cook the steaks…..I tapped my inner chef and we began…..I seasoned the filets with salt and pepper and set them down into the pan, SIZZLE….it was music to my ears……I then put in some bagna cauda butter to melt and fresh rosemary. I spooned some over the top while the filets seared and then flipped them over. So far so good (whew) and now to finish in the oven, the magical moment where it all comes together (or not) and then off to rest for 15.
I served up a beautiful presentation, the filets in the middle of a big white plate topped high with sautéed mushrooms and a terra-cotta bowl nestled alongside for the potato. Time for another glass of wine as it was the hour of truth…..
I took a bite and so did he, we looked at each other and said just one word……PERFECT……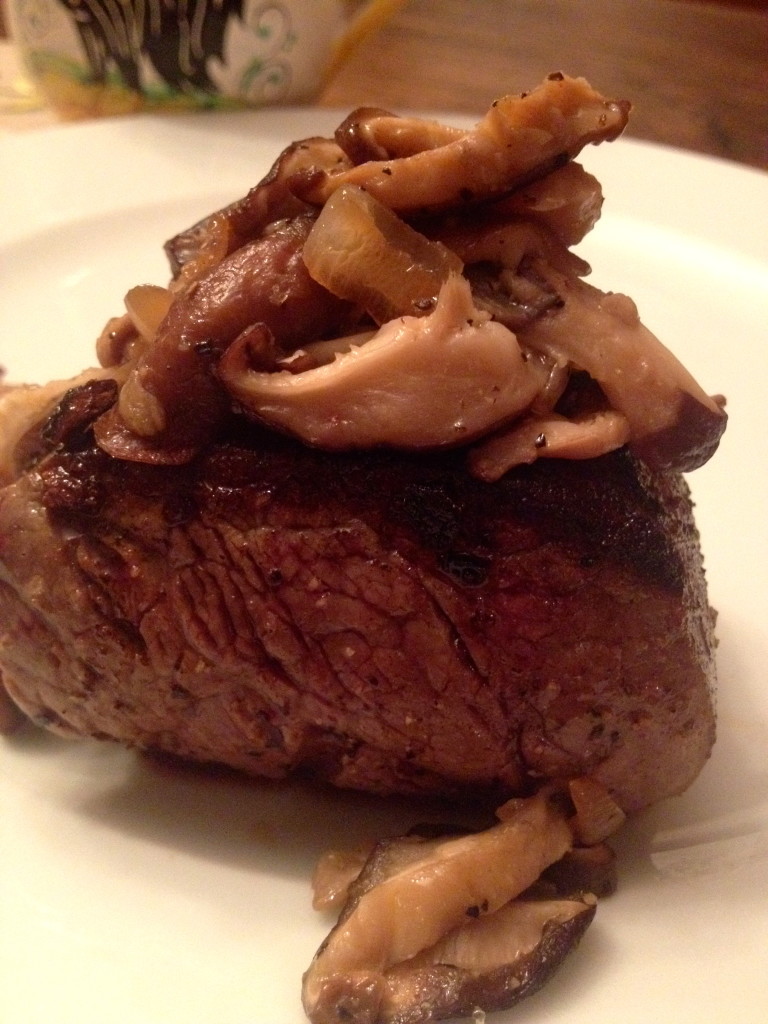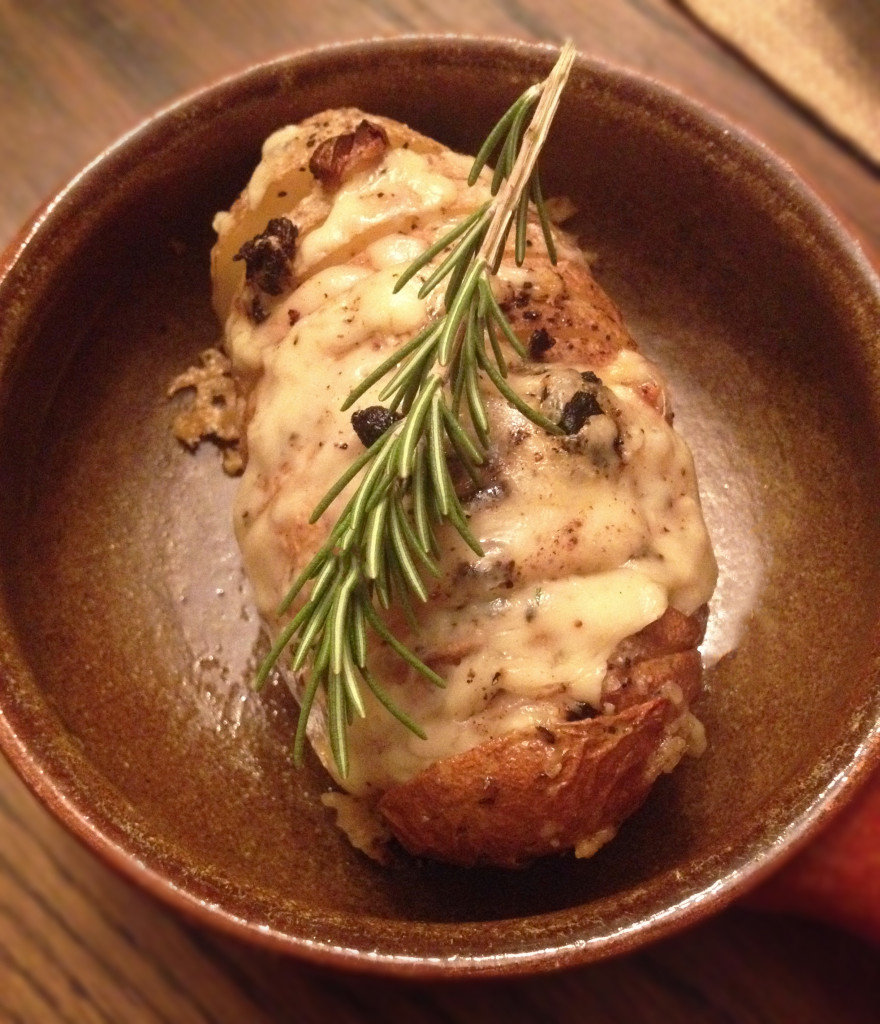 Filet Mignon with Bagna Cauda Butter, Sauteed Marsala Mushrooms and Sliced Baked Potatoes
What makes the perfect steak? Is it using a classic preparation or an innovative one? For me it's a classic preparation with innovative accompaniments.
Author:
Michelle Michelotti-Martinez
Ingredients
2 - 8 ounce center-cut tenderloin steaks, at least 2-3 inches thick
2 sprigs of fresh rosemary
8 ounces of shitake mushrooms, sliced
1 shallot, thinly sliced
⅛ - ¼ cup marsala wine
2 medium russet potatoes
3 ounces of shredded raclette cheese, or any sharp cheese
bunch of parsley chopped
2 heads of garlic, roasted and chopped
2 sticks of butter
1 small jar of anchovies, finely chopped
8 cloves of garlic, minced
Olive oil
Salt and pepper
Instructions
Roasted Garlic:
Take 2 heads of garlic and put in foil. Top with oil, salt, pepper, a few small chunks of butter. Roast at 350 for about 45 minutes or until golden. Take out of oven and remove cloves, chop.
For the roasted garlic butter:
Bring 1 stick of butter to room temperature, soft enough to stir with a wooden spoon.
Stir in the roasted garlic, blend well.
For the bagna cauda butter:
Bring 1 stick of butter to room temperature, soft enough to stir with a wooden spoon.
Stir in garlic and anchovies, blend well
For mushrooms:
In a medium saucepan on stovetop, put in 2 T olive oil and add shallots. Stir and cook until slightly caramelize. Add marsala wine and cook for 2 minutes. Add mushrooms and a little more olive oil or butter and cook until mushrooms are soft. Season with salt and pepper and keep warm.
For potatoes:
Preheat oven to 400
Peel potatoes and rinse. Cut into thin slices but NOT all the way through and slightly spread part.
Put potatoes in a baking dish
Melt some of the roasted garlic butter, about 3 T, and spoon over top of potato along with salt, pepper, and herbs, getting some between each slice.
Bake for 45 minutes or until done. Once or twice during cooking, spoon melted butter from the bottom of the pan over potatoes. Top with cheese and bake an additional 10 minutes.
For filet minions:
minutes before cooking, pull filets out and bring to room temperature. Season with salt and pepper.
In a medium cast-iron skillet over medium high heat, heat 3T of olive oil until hot. Add steaks and some bagna cauda butter and 2 sprigs of fresh rosemary. Spoon some butter over top and cook for 3 minutes. Flip over, put in another area of pan for equal heat, and cook another 3 minutes and spoon over butter. Immediately place in 400 degree oven for 8 minutes. Every 3 minutes baste with butter. Remove and let rest for 15 minutes.
Notes:
Remaining compound butters can be stored either in a container in fridge or placed on a sheet of saran wrap and formed into a log and stored in fridge.
If you want filets to be done same time as potatoes, time accordingly as they cook at same temperatures and be sure to include 15 minutes of resting time for filets.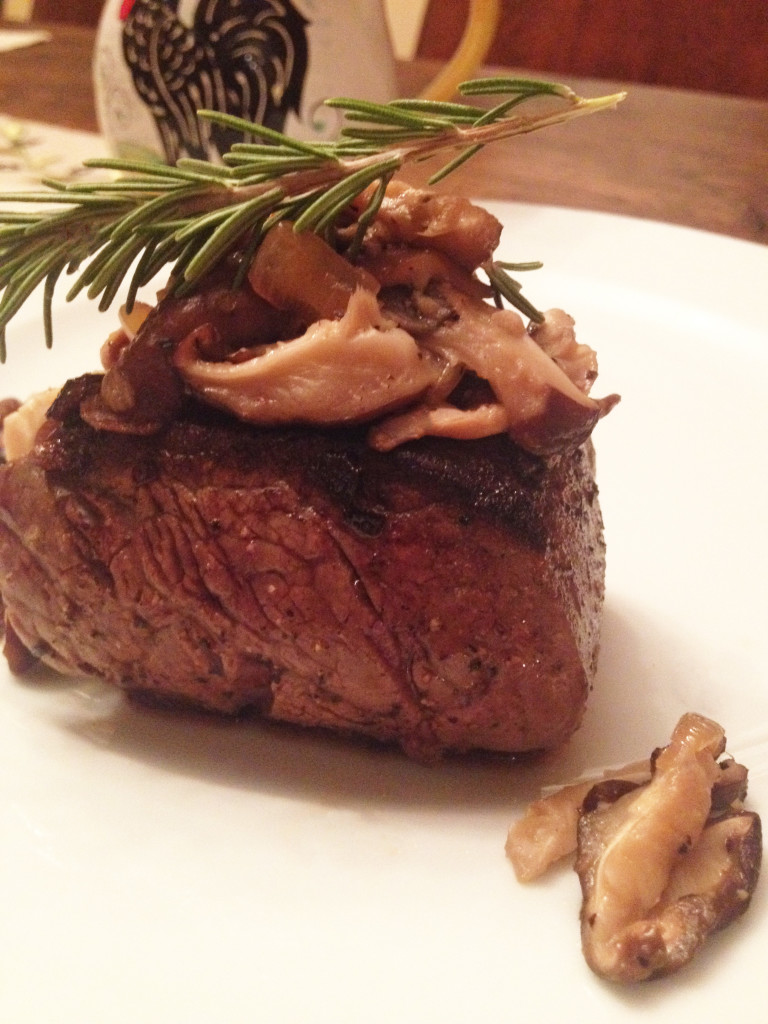 Related posts you like: