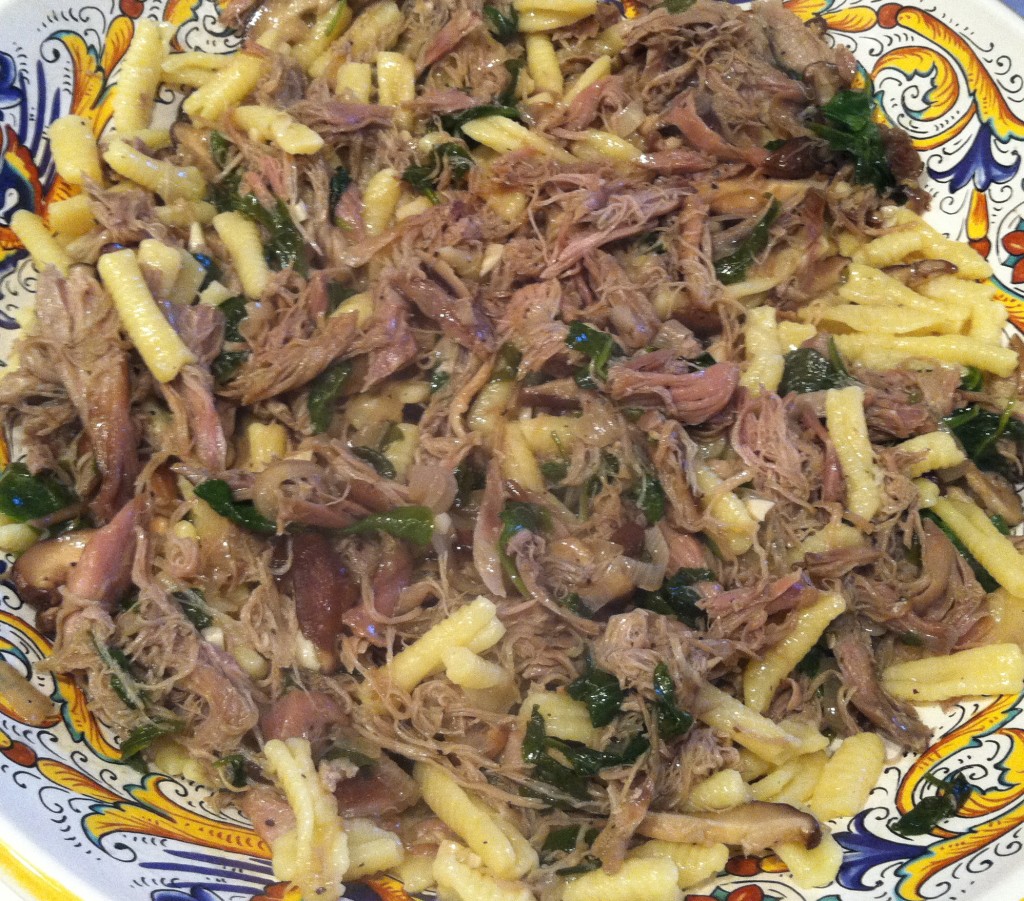 Duck marinated and cooked in its own fat in a low oven for 14 hours, falling off the bone and dense with flavor, doesn't this just sound so unappetizing? I mean really and then served over homemade cavatelli or pappardelle pasta accompanied by a scrumptious glass of brunello? Or perhaps mixed with sautéed wild mushrooms over caramelized shallot potato au gratin and a glass of burgundy……ahhh the endless possibilities of torture.
It was in the Normandy area of France where I was introduced to this legendary fowl. Never before was I drawn toward this delicacy, I don't really know why. Maybe it was because I really never had it growing up or perhaps it has come into fashion more in recent years or maybe I just didn't want too. I don't know but what I do know and will never forget is the story of our first encounter.
We had just arrived from the U.S in Paris, 14 hours of flight time and little sleep only to hop into our rented car and head west toward our destination. Thank GOD the adrenaline of the beginning of vacation overrides any sense of exhaustion otherwise we would have collapsed in Charles de Gaulle airport walkway and woke up 3 days later into our blissful getaway…
Getting out of the city and onto the back roads is always our favorite pathway, especially in Europe. It is such an amazing experience and the scenery is mesmerizing.
It was a winding road through a small village and I, the co-pilot, was navigating the way attempting to find a short cut to our magical destination, a 14th century priory converted to a bed and breakfast by a retired Parisian couple. I couldn't wait arrive!!
As I studied the photo of the property dotted with stone buildings built by artisan masons and the vast area filled with flower gardens and lily ponds, I fantasized about the mornings where we would feast on warm croissants with homemade butter and strawberry jam accompanied with a café au lait when suddenly I was jolted out of my dream-like state by my wonderful other half who had spotted a white rectangle object along side the road and decided as we are passing at 50 MPH to hang a U-turn and investigate.
Before I could ask "what the….?" we had jumped out of the car to discover the front of the rectangle box was actually a mobile butcher shop. We gasped like children in a penny candy store and oohed and awed at the fresh selections. There was rabbit, pheasant, duck, and local cheeses…..As we scanned down the row pointing, giggling, and drooling, you would have thought we were shopping at Hermes on the Champs Elysees, we both suddenly stopped, held our breath, and shouted a victory scream! There is was…..8 choices of FRESH PATE, handmade by the maestro himself! OMG, how do we choose? We decided no one in their right mind should EVER have to choose so, we didn't and bought all 8! If we can't eat it all, we could always bathe in it or use it as lotion. I mean, how bad can that be, smelling like fresh duck pate all day? I can think of worse things.
So you can take your imagination from here and fill in the blanks with guessing how many boulangerie's were woven into the vacation for the purchase of the scrupmtous fresh baguettes as well as the sampling of several bottles of wine in order to discover the perfect combination, After all, we owed it to the legendary 8.
Ever since that roadside wonder, I have been obsessed with duck prepared in a number of ways. This is one of my all time favorites and a go to when I just need to return to that rectangle box.

Duck Confit
What's NOT TO LOVE about duck confit? Here is an EASY recipe to make this delicacy at home. Honestly, the hardest thing about this recipe is the time it takes to marinate and then cook. Just plan accordingly and I promise, you won't be disappointed!
Author:
Michelle Michelotti-Martinez
Ingredients
4 duck leg portions with thighs attached, (about 2 pounds) excess fat trimmed and reserved
1 tablespoon plus ⅛ teaspoon kosher salt
½ teaspoon freshly ground black pepper
10 garlic cloves
4 bay leaves
4 sprigs fresh thyme
1½ teaspoon black peppercorns
½ teaspoon table salt
4 cups olive oil
1 lb shitake mushrooms, sliced
3 shallots, thinly sliced
6 garlic cloved, diced
5 sliced of pancetta, diced thin
1 bag of spinach
Chicken Broth
Duck Fat
Instructions
For the Duck Confit (Prep day ahead)
Lay the leg portions on a platter, skin side down. Sprinkle with 1 tablespoon of the kosher salt and the black pepper. Place the garlic cloves, bay leaves, and sprigs of thyme on each of 2 leg portions. Lay the remaining 2 leg portions, flesh to flesh, on top. Put the reserved fat from the ducks in the bottom of a glass or plastic container. Top with the sandwiched leg portions. Sprinkle with the remaining ⅛ teaspoon kosher salt. Cover and refrigerate for 12 hours.
Preheat the oven to 200 degrees F.
Remove the duck from the refrigerator. Remove the garlic, bay leaves, thyme, and duck fat and reserve. Rinse the duck with cool water, rubbing off some of the salt and pepper. Pat dry with paper towels.
Put the reserved garlic, bay leaves, thyme, and duck fat in the bottom of an enameled cast iron pot. Sprinkle evenly with the peppercorns and table salt. Lay the duck on top, skin side down. Add the olive oil. Cover and bake for 12 to 14 hours, or until the meat pulls away from the bone.
Remove the duck from the fat. Strain the fat and reserve. To store the duck confit, place the duck leg portions in a container, cover with the reserved cooking fat, and store in the refrigerator. Alternately, pick the meat from the bones and place it in a stoneware container. Cover the meat with a thin layer of some of the strained fat. The duck confit can be stored in the refrigerator for up to 1 month.
The excess oil can be stored in an airtight container in the refrigerator and used like butter for cooking. The tinge of duck taste in the oil is wonderful.
To Make the Sauce:
Heat 3 T of the duck fat in a skillet on stovetop. Add shallot and cook until caramelized. Add pancetta, cook for 3-4 min and add garlic, cook 1 min. Add 3 T more duck fat and add mushrooms. Cook until softened and add ½ cup chicken broth. Toss in Spinach and wilt. Add ½ cup chicken and 3 T more duck fat. Salt and pepper to taste. Note - Depending on what you are making this for, may want to add more liquid, chicken broth or duck fat, your choice!
Related posts you like: