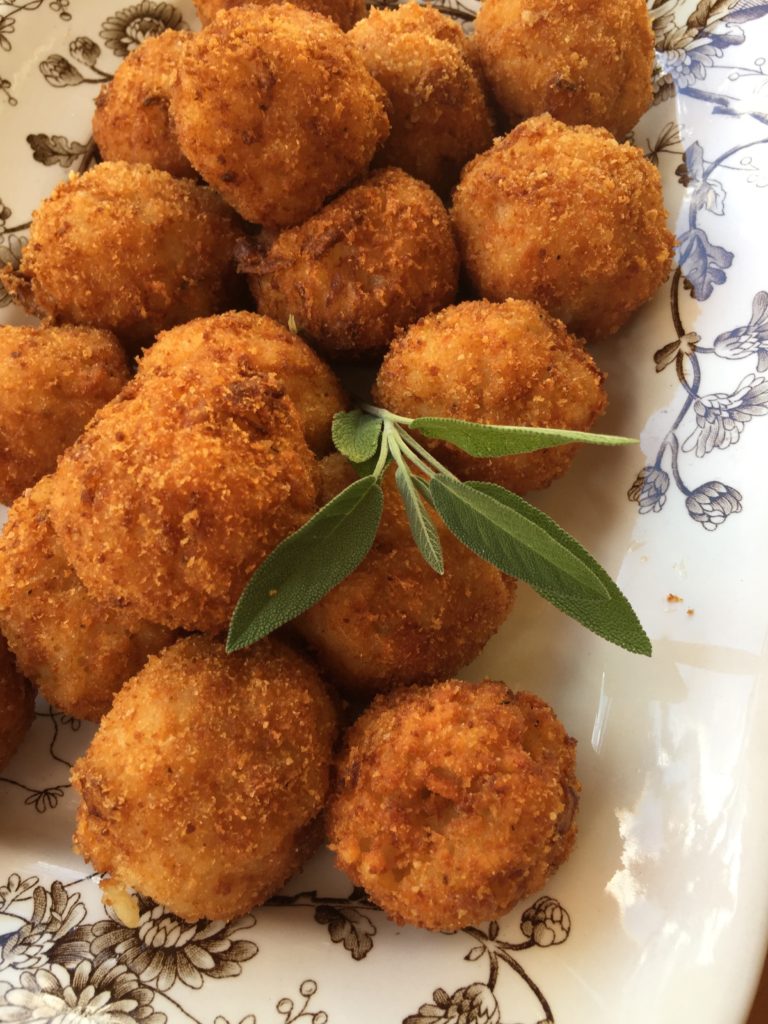 Arancini, risotto rolled into a ball and filled with gorgonzola dolce cheese and fried. The memory takes me right back to Roma and my favorite food vendor, Gabriel. Each day, he was parked close to the infamous Spanish Steps and the enticing aromas floating from his wooden cart, drew me as we passed by.
After our exchange of friendly greetings, he would offer me one of his hand made arancini balls, the famous fried rice balls of the area. In his thick but seductive accent, he would describe these heavenly bites he made fresh each day. Each time I took a bite, the crunch coupled with the soft melted cheese and al dente risotto created a melody in my mouth one can only experience. Simple but utterly delicious, I looked forward each day to sample (and of course purchase) his famous arancini.
We became fast friends, exchanging stories of travel and his recommendations of sights to see, all of which never failed as we were directed to the local delights in both food and culture. Our days directed us because of Gabriel and my pre-planned itinerary was quickly erased upon the realization that there is no google search for the memories he helped create for us. I will never forget the experience.
So as I write the blog and recipe for these arancini, I fondly remember Gabriel and our journey through Roma and happiness he and his wooden cart gave to all that took the time to stop, sample, and listen. Grazie Gabriel, this is an ode to you…..

Arancini
Author:
Michelle Michelotti-Martinez
Ingredients
For Risotto:
Extra-virgin olive oil
1 Large Onion, cut into ¼-inch dice
Kosher salt
2 cups Carnaroli or Arborio rice
4 cups Chicken Stock, kept HOT
1 to 1½ cups Dry White Wine
2 tablespoons Butter
¾ cup grated Parmigiano-Reggiano
For Arancini:
Canola oil for frying
Breadcrumbs
4 ounces Gorgonzola Dolce
fryer or dutch oven with 3 inches of oil and heated to 375
Instructions
For Risotto:
Coat a large saucepan generously with olive oil over medium heat. Add the onions and salt and sweat them until translucent, about 5 minutes. Bring the pan to a medium-high heat. Add the rice and cook for 3 to 4 minutes, letting the rice slightly stick to the bottom of the pan and scraping it off. It should also sound crackly.
Add the wine to the pan until it covers the surface of the rice. Season with salt and cook over a medium-high heat, stirring continuously until the wine has absorbed into the rice. Add chicken stock, 1 cup at a time, to the pan. Cook over a medium-high heat, stirring continuously until the stock has absorbed into the rice. Repeat this process with the hot saffron chicken stock.
When the third addition of the stock has absorbed and the rice is very creamy, bite a couple grains of rice to be sure it is cooked perfectly. If it is still a little crunchy, add a little more stock and cook the rice for another couple of minutes. When the rice is cooked perfectly, remove it from the heat. (Want it al-dente)
Toss in the butter and Parmigiano-Reggiano and "whip it". The rice should be creamy but still flow and hold its own shape. Cool and refrigerate 4 hours or upto overnight.
For Arancini:
Take risotto out of fridge. Heat oil in dutch oven or heat fryer to 375.
Pour some breadcrumbs in a bowl. Line a baking sheet with parchment paper.
Take ⅛ cup or so of risotto and roll into a ball. Put in a little gorgonzola dolce in middle of ball and re-shape. Roll in breadcrumbs and place on cookie sheet.
Repeat with remaining risotto and gorgonzola dolce
Put into fridge til ready to fry or fry right away.
Put 4 balls into oil and allow to cook for about 3-4 minutes or until deep golden and heated through.
Remove and put on a plate lined with paper towels.
Repeat until done and place into warming oven until ready to eat or eat right away