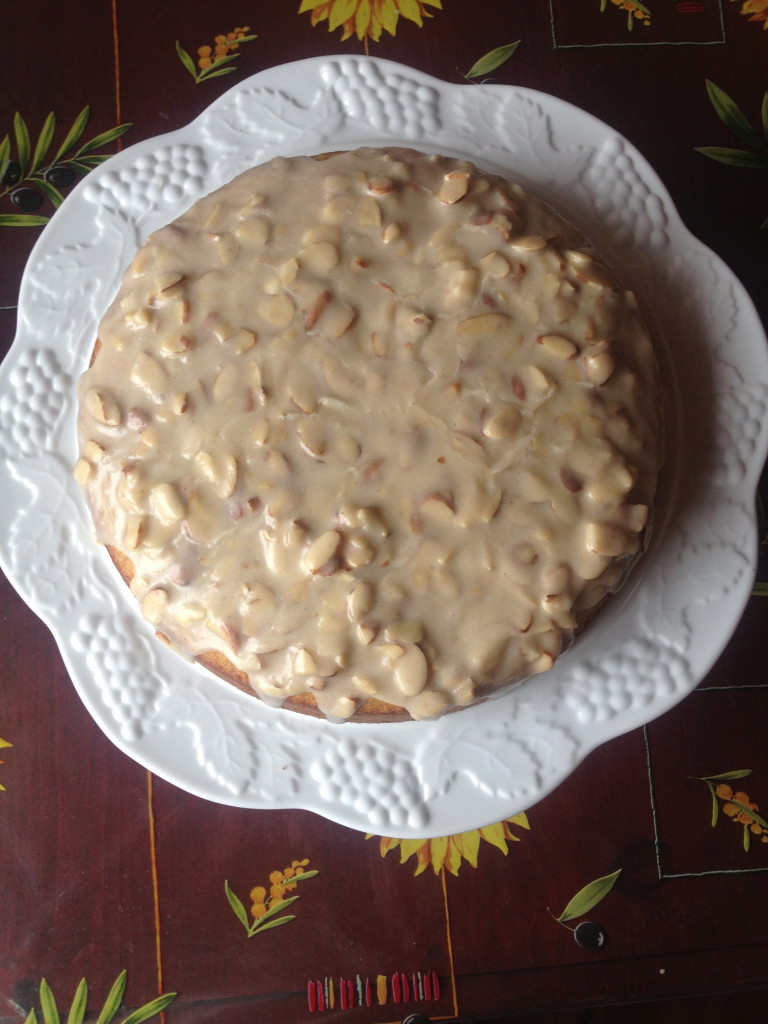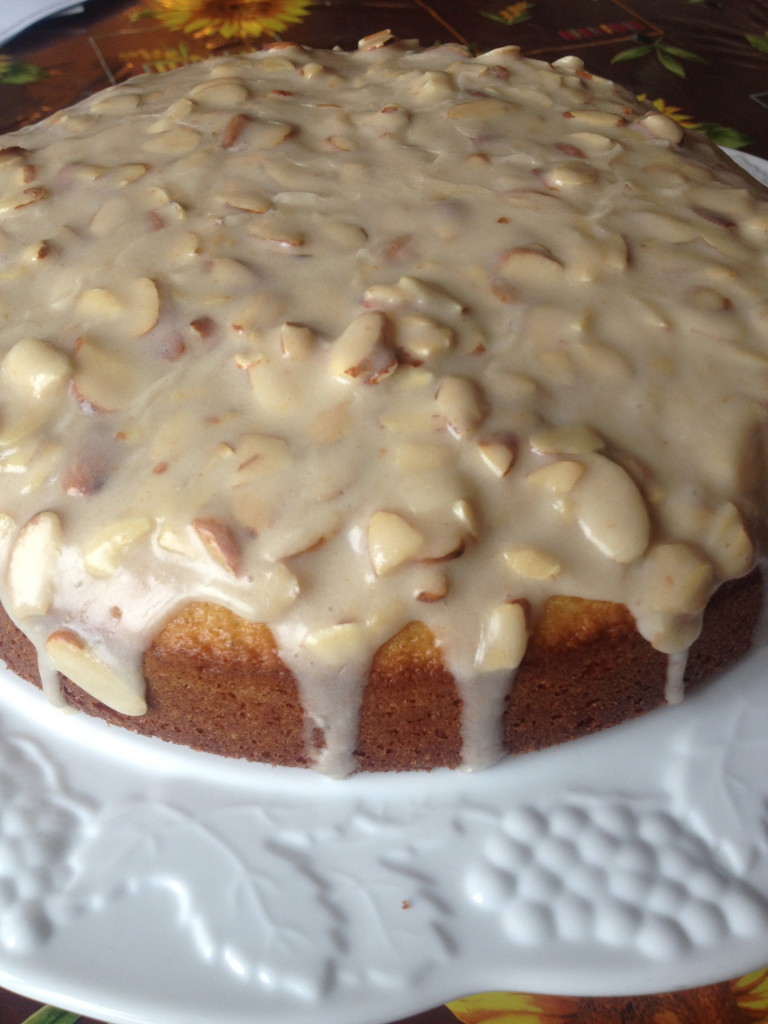 Olive oil cake is probably my most favorite of all, it's moist and dense and the texture is divine….now add some almond and a brown butter glaze and that is as close to dessert heaven as it gets in my book!
When I first saw olive oil cake on the menu in Italy, I thought it would be an overwhelming amount of oil coupled with a strong taste that I wasn't sure of but ……could I have been more wrong? Why and how could I doubt the masters of my favorite cuisine? For a moment I did, at least until I trusted the waiter and placed my order with a vin santo to wash it down.
It arrived and as classically true to Italian sweets, it was a simple cake and presented on a ceramic dish with a sprig of rosemary along the side. I thought to myself, this is fairly non-descript but I sliced through it with my fork and in went the first bite (I honestly wasn't expecting much) and then came the myriad of flavors, olive oil, orange, and almond. The simplicity of the preparation allowed all those familiar pairings to come together perfectly. I followed it up with a sip of the divine vin santo and just allowed my senses to dance. It was a beautiful surprise and one that lingered with me throughout my vacation.
Because of that first encounter, I often make olive oil cake and recently came across this recipe of almond olive oil cake with brown butter glaze and KNEW I needed to experiment. The end product delivered and met my expectation of divinity….and best of all my mouth got to dance again just like that first evening we met back in Italy.

Almond Olive Oil Cake with Brown Butter Glaze
Author:
Michelle Michelotti-Martinez adapted from Blogging Over Thyme
Ingredients
Almond Olive Oil Cake:
1 cup all-purpose flour
½ cup almond meal
1½ tsp. baking powder
½ tsp. salt
3 large eggs room temperature
¾ cup sugar
½ cup extra virgin olive oil
¼ tsp almond extract
½ tsp vanilla
½ cup milk or orange juice
zest of one orange
Brown Butter Glaze:
2 T unsalted butter
1 cup powdered sugar
3 T milk
few drops of lemon juice
½ cup honey glazed almond sliced or blanched sliced almonds
Instructions
Prepare Cake:
Preheat oven to 350
Grease and flour a 8 inch cake pan or springform pan
In a bowl, mix together the flour, almond meal, baking powder, and salt
In a mixer, put in eggs and sugar and mix well. Pour in the olive oil and mix until combined and add milk (or orange juice), zest, and both extracts.
Slowly add the dry ingredients to the wet ingredients, until combined.
Pour cake batter into cake pan and bake for 30-40 minutes (until toothpick comes out clean)
Allow cake to cool on rack for 10 minutes before taking out of pan and then allow to cool completely
Brown Butter Glaze:
Heat butter in small saucepan over medium heat. Cook butter, until it is golden brown in color. Remove from heat immediately (it will continue to darken), set aside and cool to room temperature
In a separate bowl, mix together powdered sugar and milk. Add cooled butter and lemon and stir. Stir in almonds.
Place rack over lined baking sheet and pour and spread glaze evenly on top allowing it to drizzle over the side. Let glaze set before serving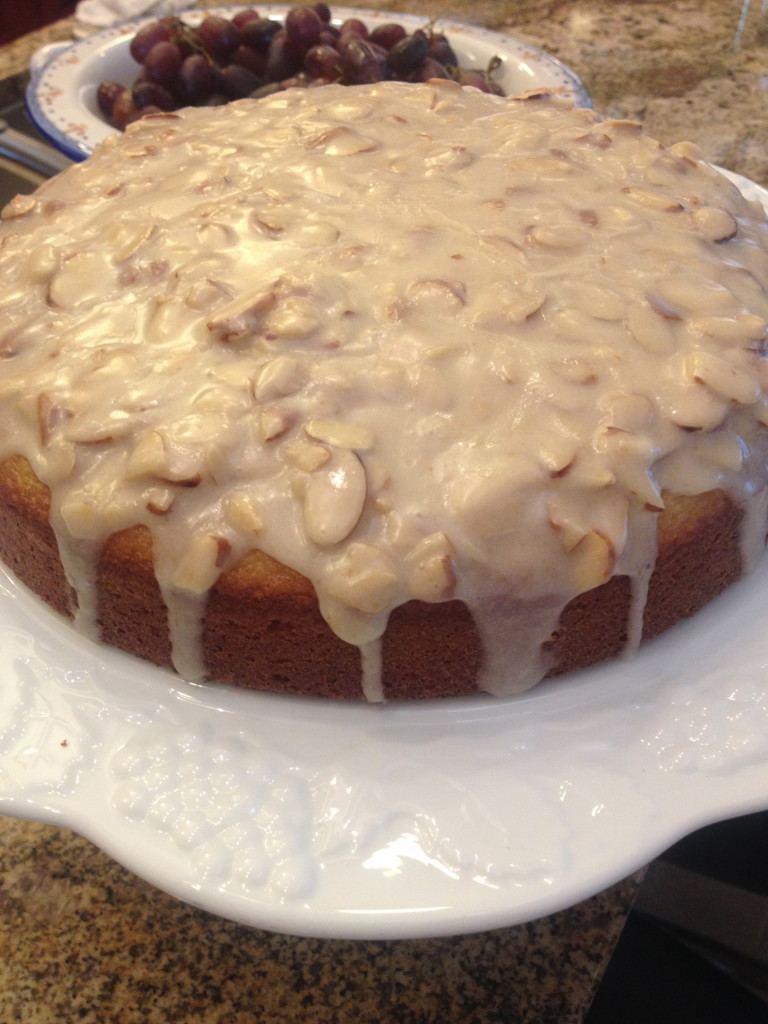 Related posts you like: