Scallops + Basil Pistou = Simple + Divine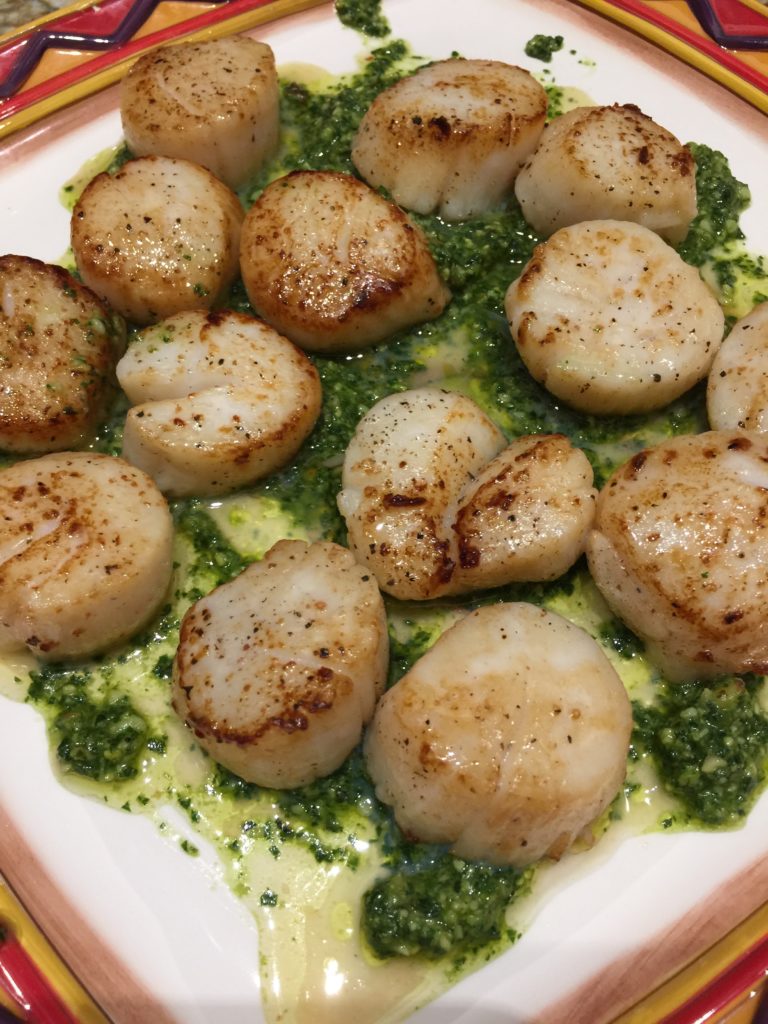 It really is as easy as that, really. Scallops are one of those decadent wonders that when paired with a simple accompaniment, makes anyone look like a 5 star chef……after all, who wouldn't want THAT?
I have two members of my family who are scallops freaks, seriously, head over heels about these little meaty, sweet wonders from the sea. They LOVE them and each could devour 15-20 on a daily basis, honestly 15-20.  I often think to myself, why couldn't they have chosen something a LITTLE less costly, I mean really???
Recently on a trip up north I KNEW I had better create some dish that had scallops or I might not be welcomed back. Anyone who has been north (meaning Montana) in the DEAD of winter KNOWS that fresh scallops are a bit difficult to come by……just a little….okay friggin IMPOSSIBLE! Sure enough as luck would have it, guess when I was going to be there… WINTER!!!
I can't begin to express my gratitude for my buddy, the fishmonger who I sought out about 7 years ago. He bails me out all the time by keeping some of these little "gems" frozen in his stash for desperate cooks on a mission of pleasure. 🙂
So when I was up north a couple of weeks ago, I  meandered into his little shop for my usual request and asked (with desperation in my voice) if he had his "stash" for me to raid? He went a bit pale as he was sure he had sold the last of the lot to a chef in town. I could feel my heart stop and my eyes fill with tears (a bit dramatic, I know) but he panicked enough to make a trip to the back of the shop and  now it was my turn to hope for a miracle.  Sure enough, after about 15 minutes, he found me the last of the scallop "stash", hidden beneath a newly frozen salmon.
I jumped up, kissed him, and bid him farewell as I made my way off to create my scallop wonder and to become the favorite of the family……once again.

Seared Scallops with Basil Pistou
Author:
Michelle Michelotti-Martinez
Ingredients
For the Scallops:
1 to 1¼ pounds dry sea scallops, approximately 16
2 teaspoons unsalted butter
2 teaspoons olive oil
Kosher salt
Freshly ground black pepper
For the Pistou:
1 tablespoon crushed garlic
1 teaspoon kosher salt
4½ cups basil leaves, torn into pieces (2 ounces)
¼ cup coarsely grated plum tomatoes
¼ cup extra-virgin olive oil
1 cup finely grated Mimolette or Parmigiano
Instructions
For the Scallops:
Remove the small side muscle from the scallops, rinse with cold water and thoroughly pat dry.
Add the butter and oil to a 12 to 14-inch saute pan on high heat. Salt and pepper the scallops. Once the fat begins to smoke, gently add the scallops, making sure they are not touching each other. Sear the scallops for 1½ minutes on each side. The scallops should have a ¼-inch golden crust on each side while still being translucent in the center. Serve immediately with pistol.
For the Pistou:
In a large mortar, pound the garlic with the salt to a paste. Add the basil by the handful and grind the leaves against the side of the mortar until almost smooth. Stir in the tomatoes, then gradually stir in the olive oil until it's incorporated. Stir in the cheese and refrigerate until ready to serve.