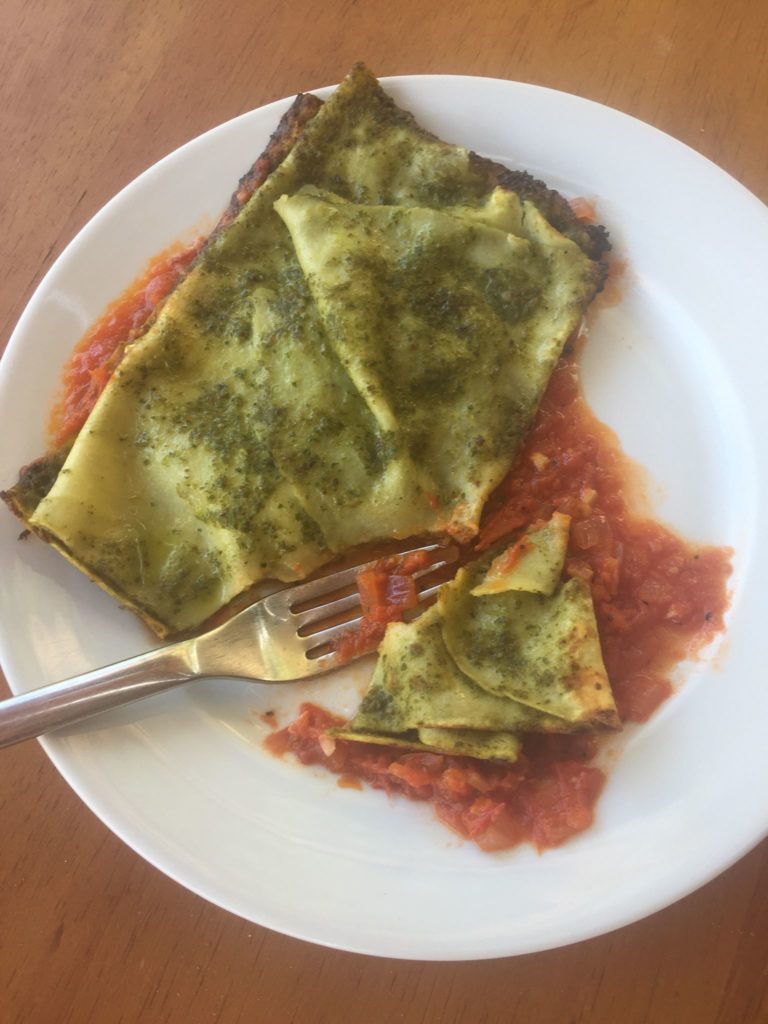 If you have read ANY of my other posts, you clearly see that homemade ricotta + pasta = HEAVEN in my book, absolute HEAVEN.
That simple combination is EXACTLY what makes this recipe a serious delight….top it off with dipping into pesto and a beautiful marinara sauce and I am not sure there is much more in the world better than that single bite of yumminess to satisfy ALL the senses. In fact, I am fairly convinced there isn't, at least when it comes to comfort food bliss.
I became inspired to create this recipe because of my sheer obsession with ravioli. I wanted to do something "ravioli like" but more carefree and not too structured but also not too close to lasagna. Sounds like a LOT of "not too this" and "not too that" (really carefree right?). Well, such is the life of a pasta maker.
Okay, back to the post…..it doesn't seem to matter the time of year for me as I find that I love pesto married with marinara ANYTIME. It can be pizza, it can be pasta, I honestly don't care, my taste buds just simply love the two whenever I can get them.
Since I am a girl who cherishes seasonal goods, this love affair means I have to prepare at harvest time to satisfy these cravings during winter. I put up pesto in my freezer and marinara in my jars for those winter days when I desire these tastes and want to make a really colorful and pretty dish. Besides, half the work is done and all that is left is to make some yummy ricotta (which is never a BAD thing) and roll out some pasta. I know that some of you might think these last 2 items sound like some serious work but I promise the extra effort is well worth it.
So here is to the venture of "not too this" and "not too that"……. I think it turned out "just right".

Ricotta-Filled Handkerchief Pasta with Pesto and Marinara
Author:
Michelle Michelotti-Martinez
Ingredients
For the Pasta:
3 ½ cups of all-purpose flour or "00" flour (found in specialty markets or on-line)
4-5 large eggs
2 T water (more, if needed)
For the Marinara:
2 - 28 ounces cans of peeled whole tomato, preferably San Marzano
1 big onion, slice
1 head of garlic, peeled but whole
fresh basil, big handful
pepper
⅓ cup olive oil
For the Pesto:
1½ cups blanched almonds
4 garlic cloves
1¼ cups extra-virgin olive oil, more if needed
4 cups basil leaves
1 cups freshly grated Parmigiano-Reggiano cheese (6 ounces), plus more for garnish
⅓ cup mascarpone cheese
kosher salt
Instructions
For the Pasta:
Make a well in center of flour and put eggs, basil, and 2 T of water. With a fork, whisk together and then begin to move around the rim of the well, scooping a thin layer of flour to the egg mixture and whisk together. Continue this until you have a thick mixture and then fold in the rest of the flour.
Once the flour is roughly mixed with the eggs, begin to knead the dough. Work with the palm of your hands and if the dough feels dry, make a small well again and add water, 1 T at a time, and work through. The dough should be slightly sticky.
Lightly flour the surface and continue to knead the dough 5-10 minutes or until the dough feels "silky and smooth". It should be very elastic in texture. Cover the dough with plastic wrap than let rest for 30 minutes.
When ready to roll out, cut dough in 4 pieces and cover the other 3 with damp cloth or plastic wrap. Flatten the piece you are working with into a ½ inch burger shape. Using the machine, start with the roller on the largest setting and pass through the machine. Fold in thirds, turn direction, pass through again. Do this 3 more times then pass through 5 more times. Move to the next setting and pass through 3 times. Move to next setting and pass through 2 times. Move to next setting and pass through 2 times. Move to next setting and pass through 2 times. Move to next setting (should be #6 on roller) and pass through 1 time. LIGHTLY FLOUR each side of the sheet and set aside to dry. Repeat process with remaining dough.
When ready to cook, bring 6 quarts of water to a boil and add 3 T of sea salt (salty as the sea!). Add pasta and cook for 2-3 minutes or until al-dente.
For the Marinara:
Put all the ingredients above in a big dutch oven. Cook for about 1 ½ hours or until you press garlic along side pan and it smashes.
Put through food mill to combine.
Keep warm
For the Pesto:
In a food processor, pulse the almonds with the garlic until smooth. Add the basil and pulse until finely chopped. Add the parmigiano and the mascarpone and pulse until smooth. Slowly add the olive oil. Season the pesto with salt and scrape into a large bowl.
To Assemble:
Meanwhile, preheat the oven to 450°. Line 2 rimmed baking sheets with parchment paper. In a very large pot of salted boiling water, cook 2 pasta sheets until al dente, about 3 minutes. Using a slotted spoon, lift out the pasta sheets and let them drain slightly, then turn gently in the pesto to coat. Lay one of the pasta sheets on a prepared baking sheet and dollop ¼ cup of the ricotta near one end. Fold one-third of the pasta sheet over the ricotta, then fold the rest of the sheet over onto itself. Repeat to fill the second pesto-coated sheet, then repeat the entire process with the remaining pasta sheets, pesto and ricotta. Cover the folded handkerchief pasta with foil and bake for 10 minutes, until hot throughout.
Spoon the marinara sauce into shallow bowls. Top with the stuffed pasta handkerchiefs, garnish with parmigiano and serve.