Did someone say, Sweet Potato-Ricotta Cavatelli?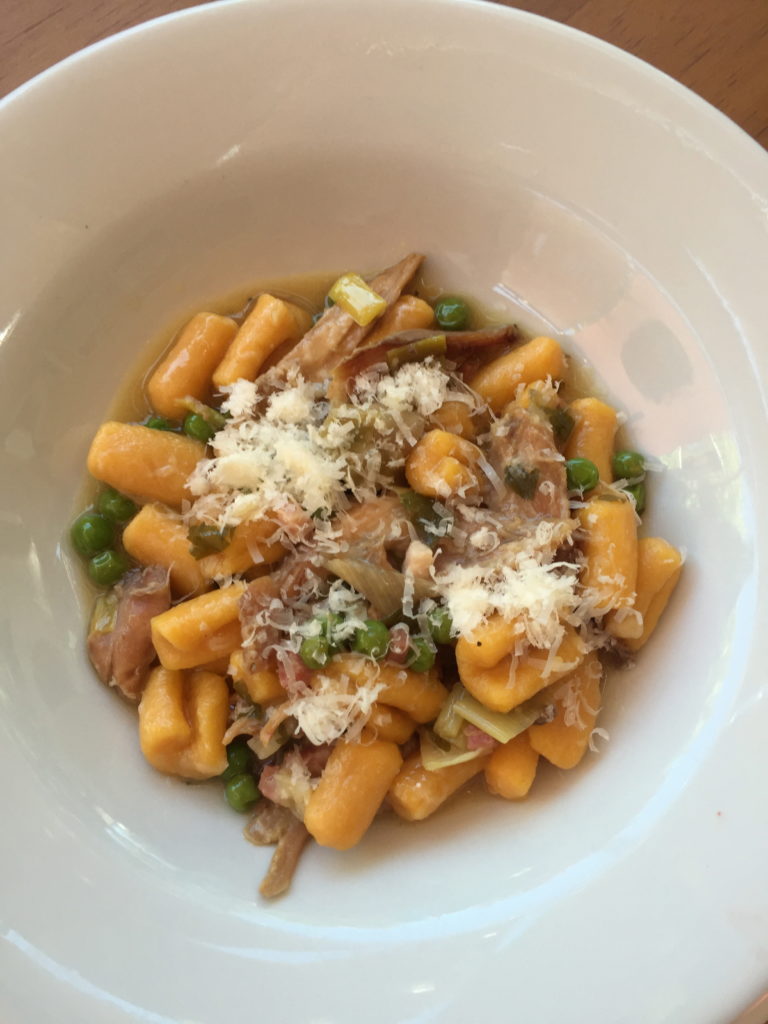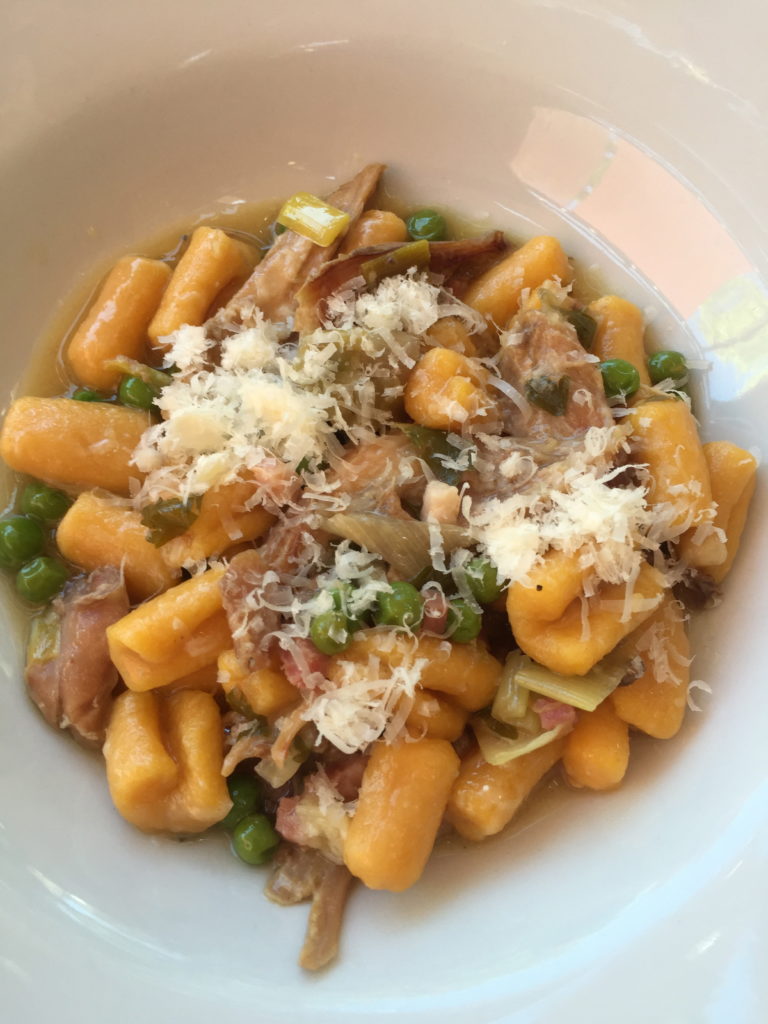 Yes, yes, that someone is ME! Something in my being simply calls me to make pasta and to make it often, in fact, to make it as often as possible.
A BIG obsession for me is ricotta cavatelli, its texture and shape just work with my taste buds….now go and mix it up with some seasonal yummies and it easily becomes the perfect food in my world, easily.
Ricotta Cavatelli was a staple when I was growing up. My Nonna would make it at least every Sunday and sometimes during the week if any of us did something extraordinary or just asked (isn't that how it works with grandbabies?). I'm thinking the latter happened much more often than the former….
Now back to the cavatelli story. For her, she kept the sauces simple, Bolognese or butter, it just didn't get much fancier than that and it didn't need to. Honestly, any pasta she made was sensational and frankly, I ate more of it raw than anything (which completely made her crazy but secretly, she really loved it).
Nonna always started with making the ricotta, I am sure it had a lot to do with hovering grandkids waiting impatiently to be fed and acting completely starved to death…..Solution? Easy, triple the batch, make crostini, and let us go to town (and out from under her feet, literally) so she could crank out her cavatelli treasures.
I loved that the air was always filled with fresh cheese and the aroma of her infamous Bolognese sauce, which conveniently simmered all day and comatosed us while we waited for the feast of deliciousness!
Finally, I was old enough to make pasta in my own house and when I first branched out from the traditional and into the "variations", I was sure I would need a pasta confessional and ask my Nonna for continuous forgiveness but, when I was able to create one I knew she would approve of, I felt redeemed!
I never got the opportunity to make her my sweet potato – ricotta cavatelli but the memory of those days comes to me every time I venture out and make them or any variation……and I never forget to start with the ricotta and crostini…….here's to you Nonna….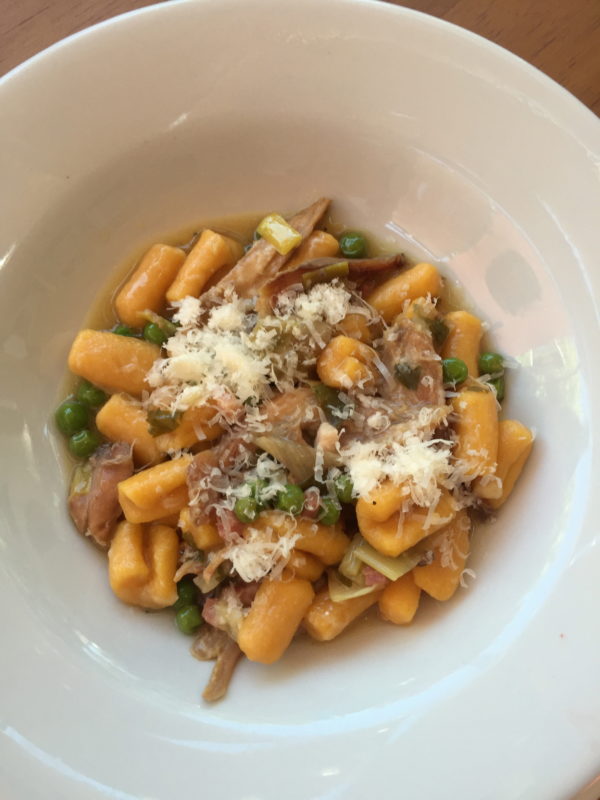 White Wine Braised Chicken Sauce
| | |
| --- | --- |
| White Wine Braised Chicken Sauce | |
Preheat oven to 350. Pearce sweet potatoes all over and place on a baking sheet. Cook for 30-40 min or until soft. Pull out of oven and peel and pass through a food mill or ricer into a bowl. Cool completely.

Combine cooled sweet potatoes, ricotta, egg, and salt

Place flour on kneading board. Make a well and add the above ingredients. Mix to combine

Keep kneading until the dough comes together and has a smooth consistency. If sticky, add some flour. Don't over knead dough or it will become too tough.

Cut off a small chunk and roll it into a rope about ½″ thick.

Roll rope in some flour before cutting in 1 inch pieces. With a gnocchi board, start at the top and press each piece to make and indentation and then roll down the board. (If you want, you can go one step easier and forget the gnocchi board, just roll out some dough into a ½ inch thick rope, indent a line down the middle and cut in 1 inch segments).

Toss with flour and put on cookie sheets. Apply more flour if they are a bit "sticky". Let rest and dry about 2 hours.
In a saucepan over medium heat, add all ingredients and let come to a light boil. Cook for 15 minutes as the liquid and solid separate. Remove from heat and pour into a fine mesh strainer over a bowl and let drain until all liquid is gone.
White Wine Braised Chicken Sauce
Season the chicken legs on both sides with salt and pepper and in a very large saute pan on high heat with olive oil sear them until they are brown on all sides.

Once they are brown remove them from the pan and place in a cassoulet baking dish.

Add the onions, carrots, celery and garlic into the hot pan where the chicken legs were and caramelize.

Once they are brown, add in the flour

Next, pour in the wine and reduce it by ½, then add in the the rand chicken stock and cook for 30 minutes. Season with salt and pepper.

Pour the entire mixture into the dish with the legs and add the thyme bundle and bake on 300° for 2-3 hours.

After they are cooked, remove the chicken and strain the sauce into a pot and cook until it is reduced by ½ and keep warm. Shred chicken and put back into sauce.

In a bowl combined the chopped herbs and set aside.

Cook pasta in large pot with salted water for 7-8 minutes or until al dente. Drain and reserve 1 cup pasta water. Toss pasta with sauce, herbs, and pasta water, if needed. Top with parmigano reggiano and serve immediately.