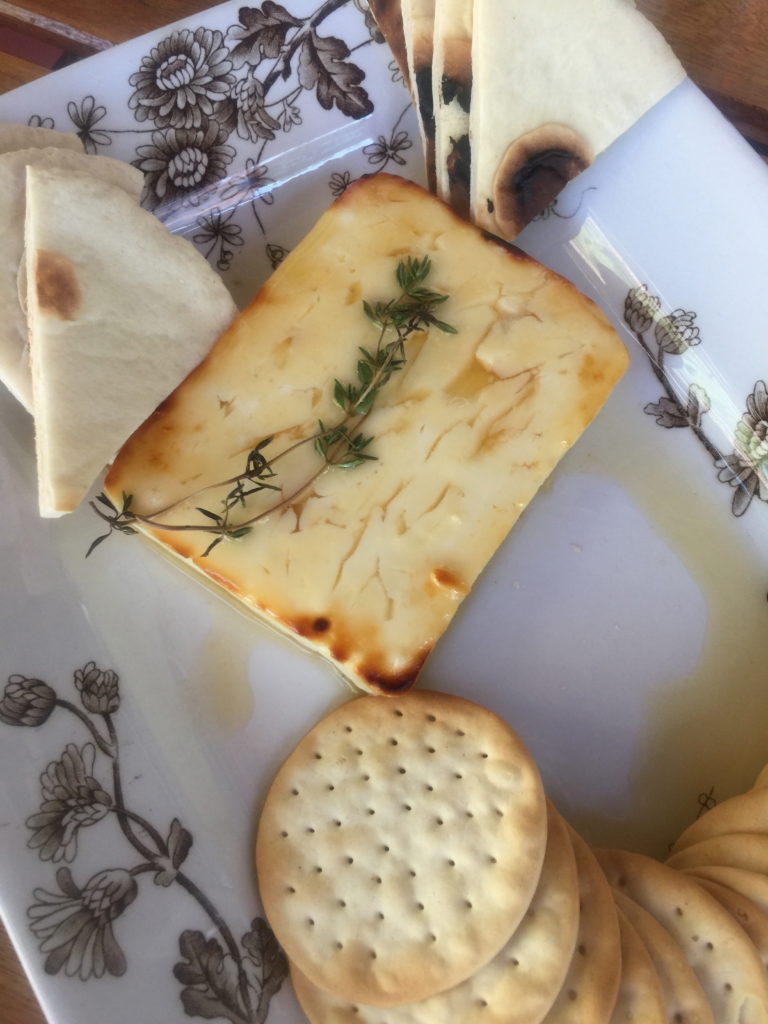 Simply Divine…..
Whenever I start a post, I first think about WHERE in this big wide world I experienced the dish I am writing about and then my mood is set and I happy dance my way through the blog post all the while I transport back in time.
Since it is going to hit about 94 degrees today , my traveling day dream took me right to Greece, the island of Santorini to be exact, and my blissful moment with honey baked feta and warm flatbread.
We had just returned from a day of exploration on the sandy white beaches of the island and were making our way up the windy cobblestone roads, pressing between the bleach white buildings with cobalt blue awnings and windows draped with magenta and purple flowers filling the air with floral perfume.
We had a quaint rooftop room, which opened to the sea, and each morning and evening we would scan the horizon only to be entranced by the vastness of the unseen border. Magical does nothing to describe the moment.
Because we longed each day to drink in the view, we opted to "splurge" and enjoy a pre-meal nosh with a crisp glass of local Greek white wine. The first evening we encountered Pietro, the boy who was in charge of delivering us our evening delights. He made his way through the tiny opening and onto the balcony with a tray of 2 glasses and a small plate of honeyed warm feta and homemade flatbread. He explained that his family owned a farm out in the country and each week this uncle would deliver fresh sheep feta and honey. His mother would prepare flatbread, warm from the oven, and slather it with the fresh feta and finish it with a dollop of the honey whose hue was golden and fragrant with the flowers from the local hillside. He proceeded to continue explaining not only the simplicity of the dish but also the magnificence of all the accentuating flavors. By the time Pietro left, we were so entranced that all we could do was and envisioned the preparation.
As the sun started to lower over the horizon and the breeze blew against our faces with the slight mist of the sea water, we opened our eyes and bit into the flatbread whose texture was soft and chewy making the perfect platform for the melted feta dripping with honey. We glanced at each other and looked back out over the water. We both smiled and lifted our glasses in honor of the artisans whose love of the craft created a blissful moment in time and a memory of a lifetime.

Honey Baked Feta
Author:
Michelle Michelotti-Martinez
Ingredients
1 chunk of fresh sheep feta
2-3 T of warm honey
2 sprigs of thyme
fresh warm flatbread or crackers
Instructions
Preheat broiler on low. On a sheet pan lined with parchment paper, put feta. Heat honey on stove with a little water until spreadable. With a spoon or brush, cover feta with honey and place 2 sprigs of thyme. Put under broiler and watch until browns around edges. Remove and place on plate with flatbread or crackers. Serve immediately