Who doesn't love artichokes + tomatoes + olive oil + garlic? I know I do, I really do.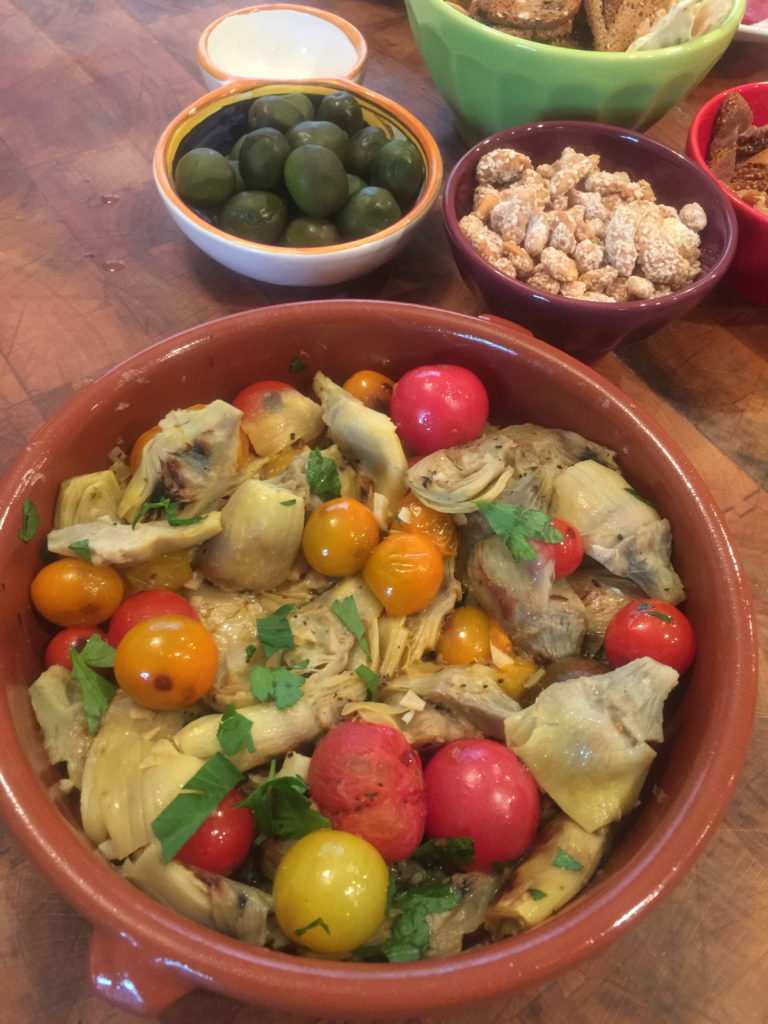 But first, I have this story to tell you. About 2 months ago, I got this AMAZING butcher block from my friend, I mean AMAZING butcher block. It is an antique, about 30x30x14 with a GORGEOUS dove-tail pattern and beautiful carved wooden legs with wheels I can move around. It sits smack dab in the middle of our kitchen for the world to see and everyday I ask myself one simple question, "What I HONESTLY did without it for all my life? What???"
So, I came to the conclusion that I truly can't answer those particular questions but I do know one thing…..I am OVER THE MOON that I have it now!!!! OMG LIKE OVER THE MOON!!!! Thank you to my sister chick Kelly!
Now you are probably thinking to yourself "Why is she explaining this to me? What on God's green earth does this have to do with artichokes, tomatoes, olive oil, and garlic? What does this have to do with anything?" LOL…..Well, let me explain.
The reason is simple…..since this butcher block is in the middle of my kitchen floor it has quickly become my gathering table to serve EVERYONE who comes over! We eat, we talk, we hang out. Beside all those awesome bonuses, everything LOOKS prettier on my new block so now we eat, gather, talk, and look good (including the food)….I'd say that life just stepped up a notch on the scale of awesomeness!
Okay back to the other reason for this post well really should be the main reason for this post which is the recipe of "artichokes al ajillo or artichokes cooked in garlic. " This is one of the EASIEST and TASTIEST tapas you can make. It plays off the traditional shrimp cooked in garlic which is also completely delicious but much more common. Switching it up using the basic sauce just creates something everyone thinks is new AND will think you are a creative genuis (isn't that what we want anyway?) LOL
Now there really isn't a trick to this recipe other than whether you purchase a frozen pack of artichokes, a can, or fresh (when in season) just make sure you grill them and be sure to blister the tomatoes. The charred flavor of the artichokes and the smoky flavor of the tomatoes brings such depth to this dish that the layers of flavor are simply magical.
With summer rapidly approaching at warp speed, one of the MOST FUN gatherings you can do is a tapa party…put out about 5-10 different ones (depending on how many people) along with some homemade sangria and Spanish music and WAMMO a night in Spain will surely become memorable!

Artichokes Al Ajillo
Author:
Michelle Michelotti-Martinez
Recipe type:
Appetizer/Tapa
Ingredients
¼ cup virgin olive oil
2 tablespoons butter
1 bulb garlic, peeled and minced
10 cherry tomatoes cut in half
2 tablespoon dry white wine
chicken broth
1 package of artichoke hearts (about 2 cups)
Freshly cracked pepper
Sea salt
Instructions
In a small bowl put artichokes and toss with olive oil, salt, and pepper. Turn on grill and heat up. In a griddle pan, put artichokes in a single layer and grill until slightly charred. Remove.
In a small sauté pan, add tomatoes on medium and cook until blistered with some black spots. Remove from heat.
In a small sauté pan, heat olive oil and butter and turn heat to medium
Add garlic and cook stirring often for 2 minutes. If garlic is turning brown too quickly turn heat to low
Add tomatoes and cook stirring for 2 minutes
Add wine and cook down for 2 minutes
Add artichoke hearts and cook for 5 minutes.
Add a little chicken broth
Add pepper and salt to taste
Garnish with rosemary sprig (optional)
Serve with rustic bread