Sometimes you just need a simple variation to a favorite classic.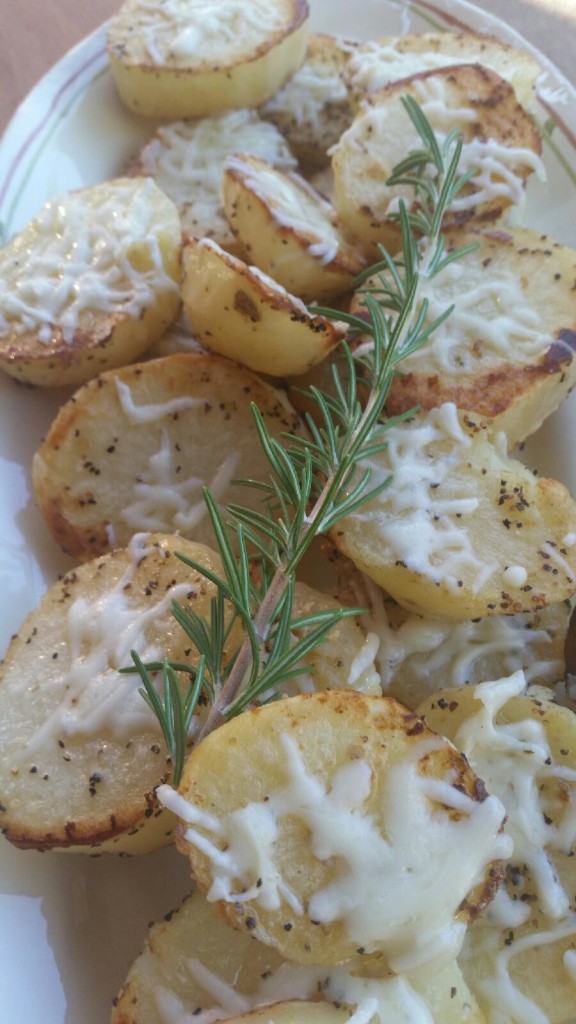 Oven roasted potatoes bring me straight back to my childhood. My great grandmother made them EVERY Sunday (probably because she could feed a lot of mouths inexpensively and that way key in those days). I just remember how much I loved them especially RIGHT out of the oven (even if they burnt my tongue a little!) They were crispy on outside, soft on inside, and made with a ton of love….best ingredient out there.
A part of me hesitated posting this because it is so incredibly simple but even a few tweaks to a classic can freshen it up and make a meal memorable. I know at least once a week I look for some inspiration that doesn't require 20 ingredients and 6 hours to prepare. We all need some simple standby's tucked away in our recipe corner and this one is easily one of those.
One of my favorite way to cook these is in some duck fat as it has INCREDIBLE flavor and creates a whole other dimension! Then when I top it with fontina (or if you have another favorite cheese)  it gives that crispy texture some creaminess and reminds me of eating an upscale, healthier version of cheese fries! Oh Yeah!!!
I made these just last weekend with a whole roasted chicken and grilled asparagus and a the week before with braised short ribs…guess what??? No one knew I served the same potatoes twice! Now that is culinary success in my world!
If you end up making these and create a different version, post your success so I can tuck a new idea into my goto recipe file!

Oven Roasted Potatoes with Fontana Cheese
Author:
Michelle Michelotti-Martinez
Ingredients
4 Russet Potatoes, peeled and sliced into ½" pieces
Olive Oil or Duck Fat
Salt and Pepper
Fontina Cheese
Instructions
Heat oven to 400 degrees
Peel and slice potatoes and soak in water for 30 min
Drain and pat dry. Salt and pepper both sides
In a cast iron skillet (2 if you need them), heat olive oil or duck fat until smoking
Add slices of potato and cook until golden brown. Flip over and place in oven for 10 minutes. Add fontina and cook 5 minutes longer.
Serve with protein and veggie of your choice!