Don't diet yet, seriously. I mean, I am not a big diet fan because it equals deprivation somehow in my mind so I like to say "moderation"; yeah that's it, moderation. Better.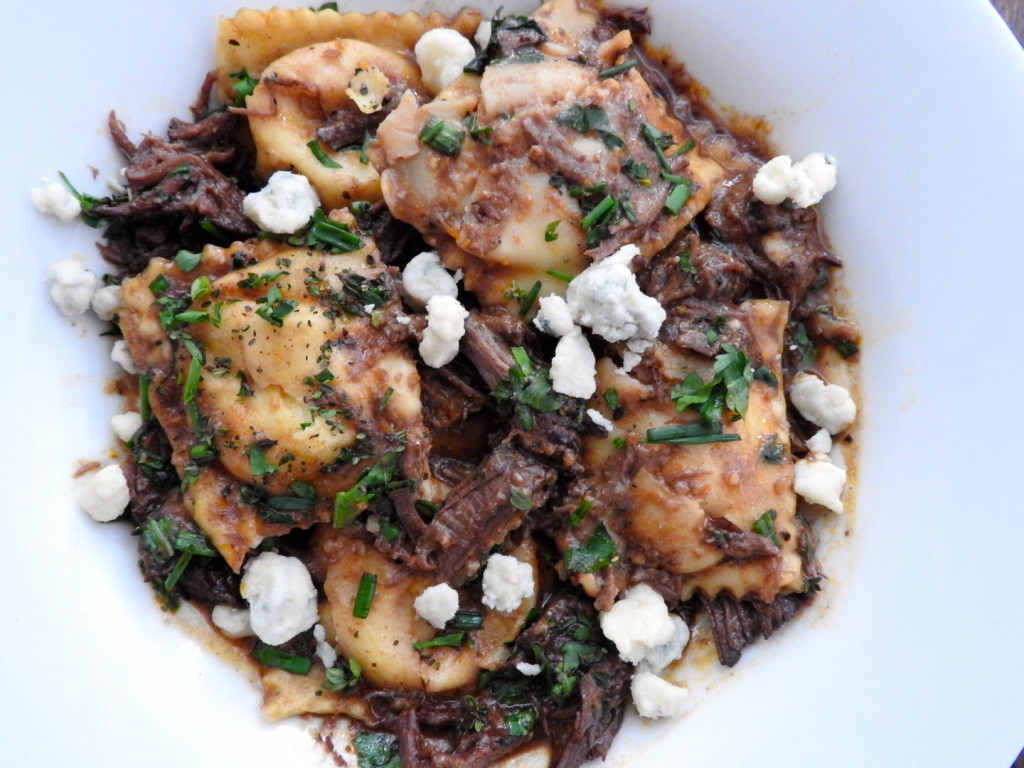 Okay so now that we got that issue out of the way, let's talk about some seriously delicious ravioli. I think maybe these broke the bank on flavor, in fact, I know they did. The combination of gorgonzola cheese melted into polenta and then stuffed into a yummy dough and then topped with a short rib wine demi-glace is just on this side of heaven.
These babies take some time but totally worth it because time here is key. The sauce needs time, the raviolis take time, and you need to spend some time savoring this hard earned accomplishment. So the bottom line, time is your best buddy.
Start with the polenta because it needs to chill in order to fill the ravioli. Polenta is simple but patience is needed to stir it while it cooks and absorbs the liquid. It has a tendency to "splatter" so find that sweet spot on the stove for the heat. Once the polenta is finished, fold in the Gorgonzola and just a little pepper. No need to salt it because of the salt in the cheese but everyone is different so if you feel the need, go for it!
Next make the pasta dough because it has to rest to release the gluten into the dough and make it pliable and workable. Best to rest for at least 30 minutes and the sauce will take you that long to get going….
Now start that yummo sauce. I used boneless short ribs but rib on is good too, I just needed to maximize meat for lots of guests. As usual, after you salt and pepper, sear those babies and then remove them and continue on with the recipe. Another key is to make sure and reduce the sauce where it says to reduce, don't skip this step a lot of flavor happens here so (as the Nike ad says…just do it!)
While the short ribs braise in the oven for about 4 hours, you have loads of time to make the raviolis. It will be your choice on thickness; everyone likes their dough thickness different. I personally enjoy mine silky and not chewy so I roll it out to the number 6 setting on my pasta maker (this number might be different on your machine so go for 3rd to last setting). Don't forget that you place another layer on the backside of filling so if the pasta is rolled thicker; the ravioli are too doughy but again, your choice! If you aren't sure, do a sample, boil it and taste test before making them all….
I have a ravioli tray that allows me to do about 12 at a time and is a lifesaver because it helps to get the "air" out of the ravioli….ravioli are delicate and if there is ANY air, they will break when cooked (there will always be a few that break but the yummy filling gets mixed into the sauce so don't fret)! These can be done free hand or with a single stamp so use what is convenient just promise to get the air out!
Place the finished raviolis on a parchment lined baking sheet in an individual layer and stick into the freezer. Let them freeze up as it makes it easier to remove from tray and they stay together.
After ribs are done, remove from sauce and shred up. Strain the sauce of all the solids and return the shredded meat, keep warm.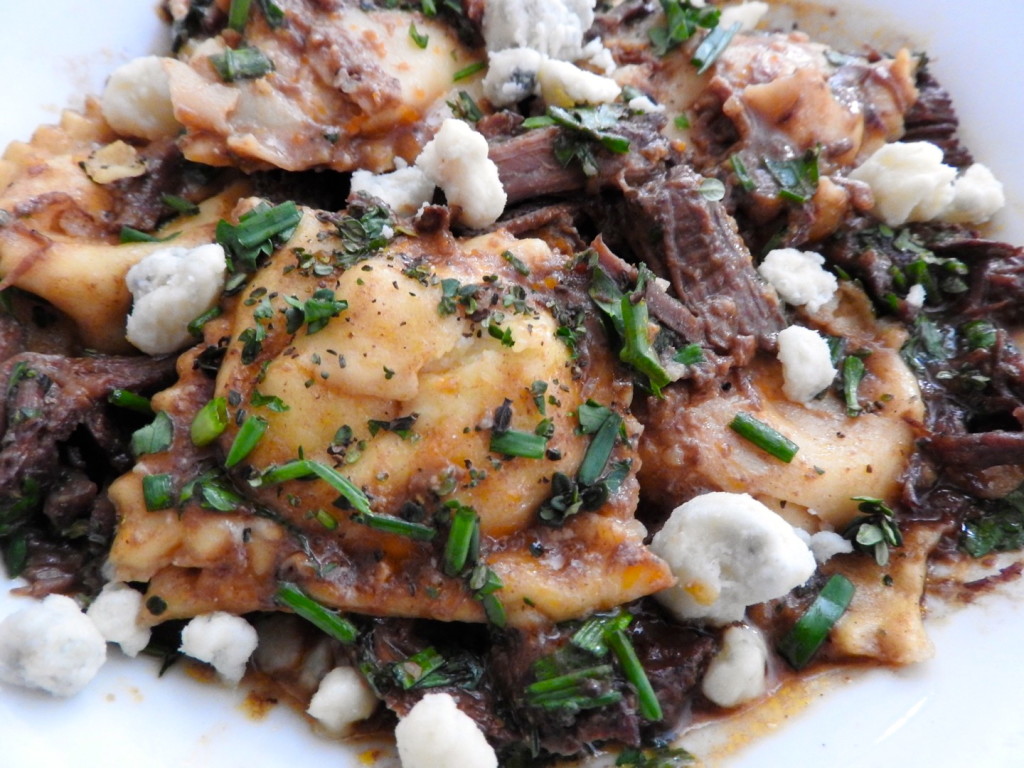 To serve, cook ravioli for 2 minutes in a LARGE pot (they need room and don't crowd or they get mad!) then with slotted spoon, remove and put into sauce and cook for remaining 2 minutes. Plate and garnish with herbs and more Gorgonzola and plenty of demi-glace!
Whew…..that was more to write than I thought so, it's cold, it's time to be in, and make these…we all need something to do after the holiday bliss!

Gorgonzola Polenta Filled Ravioli with Short Rib Red Wine Demi-Glace
Author:
Michelle Michelotti-Martinez
Ingredients
For the Ravioli:
4 cups of semola rimacinata flour + more for dusting (can substitute 00 flour; both can get through amazon)
4-5 eggs
a little water
pinch of Kosher salt
For the Polenta Filling:
5 cups of chicken broth
1 cup of course ground corn meal
3 tablespoons of olive oil
Kosher salt to taste
2 ounces of unsalted butter
2 ounces of gorgonzola + more for garnish
For the Short Ribs and Demi-Glace:
1 teaspoon of olive oil
1 roughly chopped small yellow onion
3 chopped carrot
3 chopped stalk of celery
5 cloves of garlic
10 sprigs of fresh thyme, wrapped in kitchen twine to hold together
4 tablespoons of tomato paste
4 tablespoons of flour
1 bottle of Cabernet Sauvignon
2 pounds of bone in or boneless beef short ribs
4 cups of reduced veal stock
1 cup of espresso or coffee
Kosher salt and fresh cracked pepper to taste
1 tablespoon of chopped fresh thyme
1 tablespoon of chopped fresh parsley
1 tablespoon of chopped fresh chives
Instructions
Instructions
Filling: Bring the broth, oil and salt to a boil in a large pot. Once boiling whisk in the corn meal and constantly stir until the corn meal is cooked the mixture is thick, about 20 to 25 minutes. Next, whisk in the butter and gorgonzola until combined and chill.
Ravioli:
To Make Fresh Pasta:
Make a mound of the flour in the center of a large wooden cutting board or in a bowl, whichever is more comfortable to you. Make a well in the middle of the flour and add the eggs and salt. Using a fork, beat together the eggs and begin to incorporate the flour starting with the inner rim of the well. As you expand the well, keep pushing the flour up to retain the well shape. Do not worry that this initial phase looks messy. The dough will come together when ½ of the flour is incorporated. If using a bowl, turn out onto a wooden cutting board now and start kneading the dough with both hands, using the palms of your hands primarily. Once you have a dough ball, remove its rom the board and scrape up any left over crusty bits. Lightly flour the board and continue kneading for 3 more minutes. If dry, add 1 T of water at a time and incorporate. The dough should be elastic and a little sticky. Continue to knead for another 3 minutes, remembering to dust your board when necessary. Wrap the dough in plastic and allow to rest for 30 minutes at room temperature. Note: do not skip the kneading or resting portion of this recipe, they are essential for a light pasta.
To cut pasta:
With a hand crank machine or kitchen aide attachment start with setting 1. Cut off ¼ of the ball and flatten out. Dust with flour as to not let it stick while passing through machine (you may have to do this periodically). Pass through once and then fold in thirds, turn and pass again. Do this 2 more times and then pass it straight through an additional 2 times. Put on setting 2 and pass through twice. Repeat with setting 3, 4, and 5. When you get to setting 6, put through once and set sheet aside and repeat with remaining dough. cut in half and place one half over a ravioli mold and place a small amount of cold blue cheese polenta into each ravioli mold.
Next, whisk together the egg yolk and brush around the stuffing all over the dough.
Place the other ½ of the rolled out dough on top of the stuffed dough and seal by rolling over with a rolling pin. Place each ravioli on a sheet pan lined with parchment paper and put in freezer.
Cook them by placing them in a large pot of boiling salted water. They are done cooking when they float at the top.
Short Ribs:
Season the short ribs on all sides with salt and pepper and in a very large saute pan on high heat with olive oil sear them until they are brown on all sides.
Once they are brown remove them from the pan and place in a cassoulet baking dish.
Add the onions, carrots, celery and garlic into the hot pan where the short ribs were and caramelize.
Once they are brown, add in the tomato paste and flour until it becomes a dark rust color.
Next, pour in the wine and reduce it by ½, then add in the the reduced veal stock and coffee and cook for 30 minutes. Season with salt and pepper.
Pour the entire mixture into the dish with the ribs and add the thyme bundle and bake on 300° for 4 hours.
After they are cooked, remove the beef and strain the sauce into a pot and cook until it is reduced by ½ and keep warm.
In a bowl combined the chopped herbs and set aside.
To serve: Place t6 pieces of cooked ravioli on a plate along side some pulled meat from the short rib. Pour 3 to 4 ounces of the demi-glace over the top and garnish with the chopped herbs fine and gorgonzola crumbles.