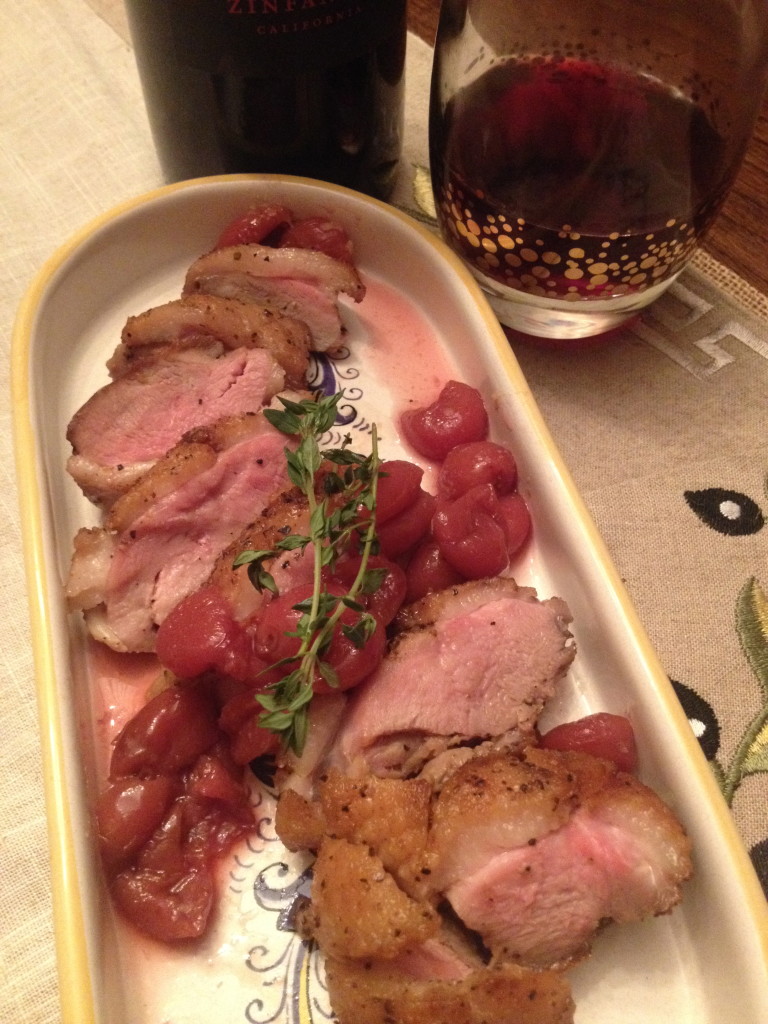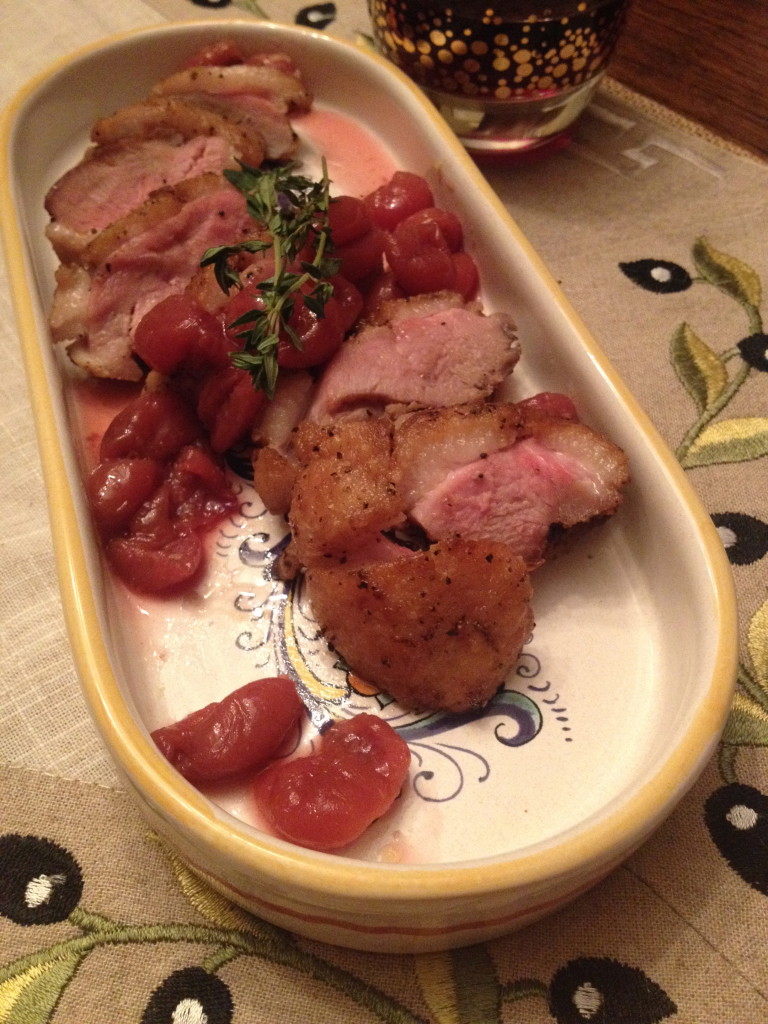 OHHHH it's finally fall…I fight the transition, I really do; not QUITE ready to let those lazy summer days go but then bounty kicks in, harvest keeps me busy and from one day to the next I am full on into it, FULL ON and then as the days get shorter and the air crisper I dream of making all those fall comfy foods that make us all happy….
Okay enough about transition because we have seared duck breasts to chat about today! Yep duck breasts. You might have thought I was leading into some more comfy type foods (I have all fall and winter to do that)…besides I have a party this weekend and I need to do some WOWING (is that a word?)
Anyway, not only does seared duck breasts sound really like a sexy and fancy main dish, I plan on serving a delicious rosemary cherry sauce to serve on top. Seriously, I think we all know that duck and cherries are like two peas in a pod, they just make each other super happy.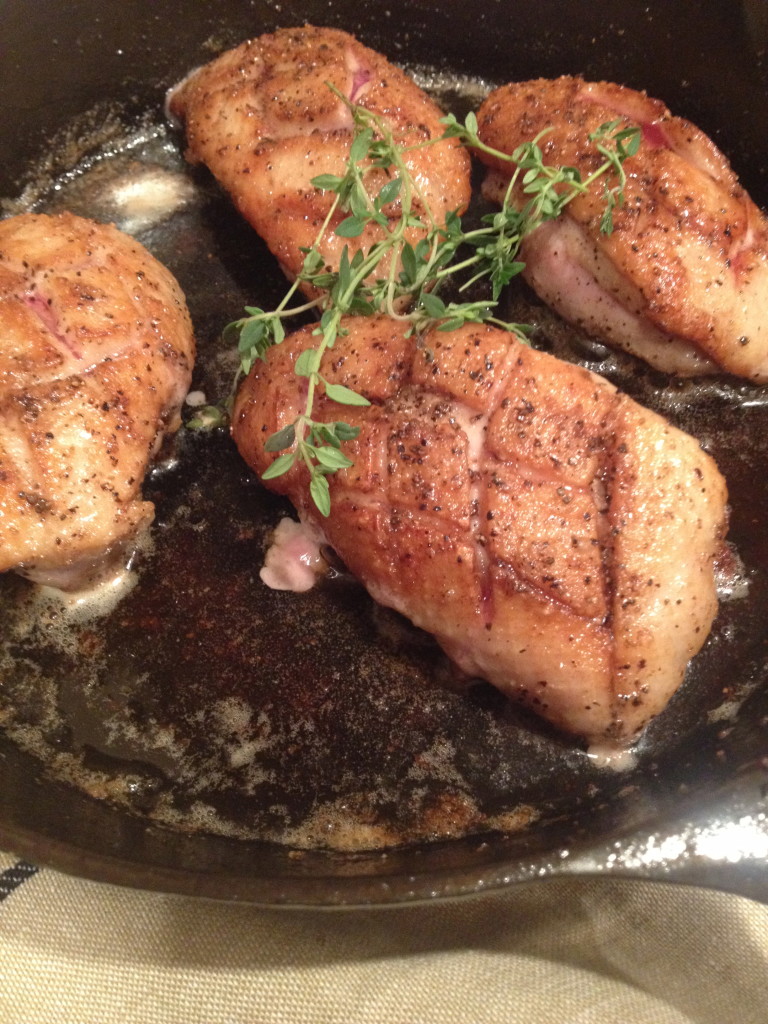 The most difficult part of this recipe is that you have to "score" the skin of the duck breast. I don't mean rate it like in a literally score but have to cut a crisscross pattern into the skin (Please don't cut the meat at all) so that the fat near the skin can render and become super yummy crispy!
As for the fancy cherry sauce, it is super simple too and if you don't have access to fresh cherries (it's sorta past season in fall unless you are a nut case like me and have some that have been canned) just use frozen, they are a super substitute.
So back to the duck breasts. After you score them, season with salt and pepper and put in a nicely heated cast iron skillet (if you have one) with the butter and sear away (leave it until there is a nice browned skin and super crispy). When you turn them over, turn it down to medium and finish up.
Now the magic rosemary cherry sauce! You will use the same skillet cuz there is some yummo goodness in that pan. There are only 4 ingredients (seriously good 4 ingredients) and they all cook together, reduce, and create a tart-sweet sauce to drizzle or drench (your total preference) over the duck breast.
The last tidbit of info to make your guests think you are over the top awesome is to thinly slice the duck breast, fan them onto a pretty plate and put the cherry sauce over the top and whoa la…there is nothing more to say!

Seared Duck Breast with Rosemary Cherry Sauce
Author:
Michelle Michelotti-Martinez
Ingredients
4 duck breasts
4 tablespoons butter, divided
1 cup halved pitted sweet red cherries, fresh or frozen, thawed
¼ cup good red wine
4 T tablespoons honey
2 T chopped rosemary
Instructions
Take the duck breasts and using sharp knife, score skin in ¾-inch diamond pattern (do not cut into flesh).
Melt 2 tablespoon butter in heavy large skillet over medium-high heat. Sprinkle duck with salt and pepper. Add duck, skin side down, to skillet and cook until skin is browned and crisp, about 5 minutes. Turn duck breasts over, reduce heat to medium, and cook until browned and cooked to desired doneness, about 4 minutes longer for small breasts and 8 minutes longer for large breast for medium-rare. Transfer to work surface, tent with foil to keep warm, and let rest 10 minutes.
Meanwhile, pour off all but 2 tablespoons drippings from skillet. Add cherries, wine, rosemary and honey. Increase heat to high and boil until sauce is reduced to glaze, stirring often, about 3 minutes. Whisk in 1 tablespoon cold butter. Season sauce to taste with salt and pepper.
Thinly slice duck. Fan slices out on plates. Spoon sauce over and serve.