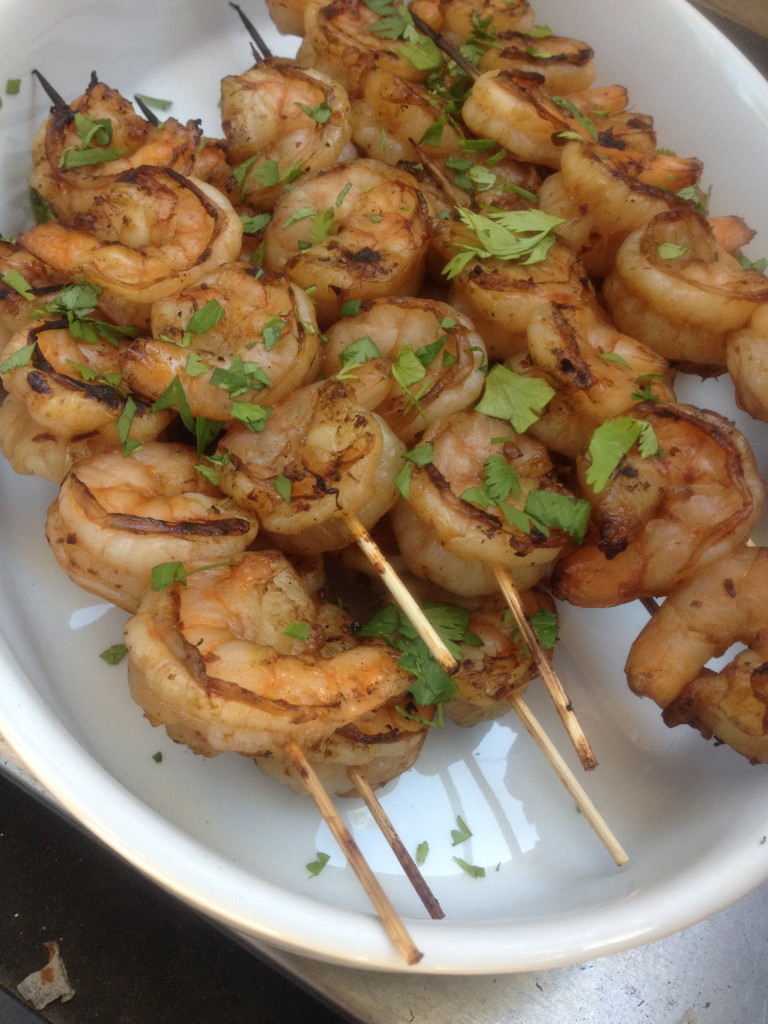 I don't know if there is an easier or more delicious seafood than shrimp, seriously. In less than 30 minutes you can grill, bake, sauté, or boil and add to a sauce (or not) of your choice and whoala, insta din din….I am certain you can easily claim chef-hood after any preparation of shrimp….that is, if it matters to you.
In our casa, we have it once a week (at least) and this simple preparation of honey chipotle grilled shrimp ROCKS, especially in the summer served with a guacamole greek yogurt dip as a side (or pop them into your mouth right off the grill like we do!) This way, who needs to even bother with the dipping sauce, just replace it with a crisp white or rose wine and you won't notice.
Whatever you do, don't let the soaking of the skewers deter you and if it does, just don't use them…. instead grill in a metal pan with holes or use metal skewers. I promise these little gems taste the same whether on a skewer or on a grill pan, they are the simply the star of the show.
If you don't like spice you will love these, the balance of chipotle and honey is perfection. You wouldn't think a dish with 5 simple ingredients could be so decadent but it is and if you need a quick app, this is a sure winner. I don't know anyone who doesn't adore shrimp and if they don't, maybe you need to question your friends…
So this weekend while the weather is warm and fall is just beginning, break out your favorite wine, fire up the grill, and enjoy these as a starter or a main…you'll thank me later.

Honey Chipotle Grilled Shrimp Skewers
Author:
Michelle Michelotti-Martinez Adapted from Eat and Relish
Recipe type:
Appetizer or Main
Ingredients
Shrimp Skewers
1 lb peeled and deveined shrimp
2 chipotles in adobo sauce, minced
2 generous spoonfuls of the adobo sauce
1 Tbsp olive oil
1 Tbsp honey
bunch of cilantro, chopped
wooden skewers
Instructions
First, marinate the shrimp and soak the skewers in water. Combine the minced chilis, the adobo sauce, olive oil, and honey in a large bowl, and whisk to combine. Add the peeled and deveined shrimp, and marinate in the refrigerator for 30 minutes, tossing occasionally.
After the shrimp has marinated 30 minutes, thread the shrimp on the skewers, about 4 per skewer, making sure that the skewer pierces through the tail and head portions – this will help ensure that they do not swivel around when grilling. Heat your grill (or grill pan) to high heat, and grill the skewers, flipping halfway through cooking time, until the shrimp are slightly charred on the outside and are just barely opaque on the inside, about 2 minutes per side. Be careful not to overcook the shrimp, and remember they will continue to cook for a minute or so after you pull them off the grill.
Top with cilantro and serve right away!