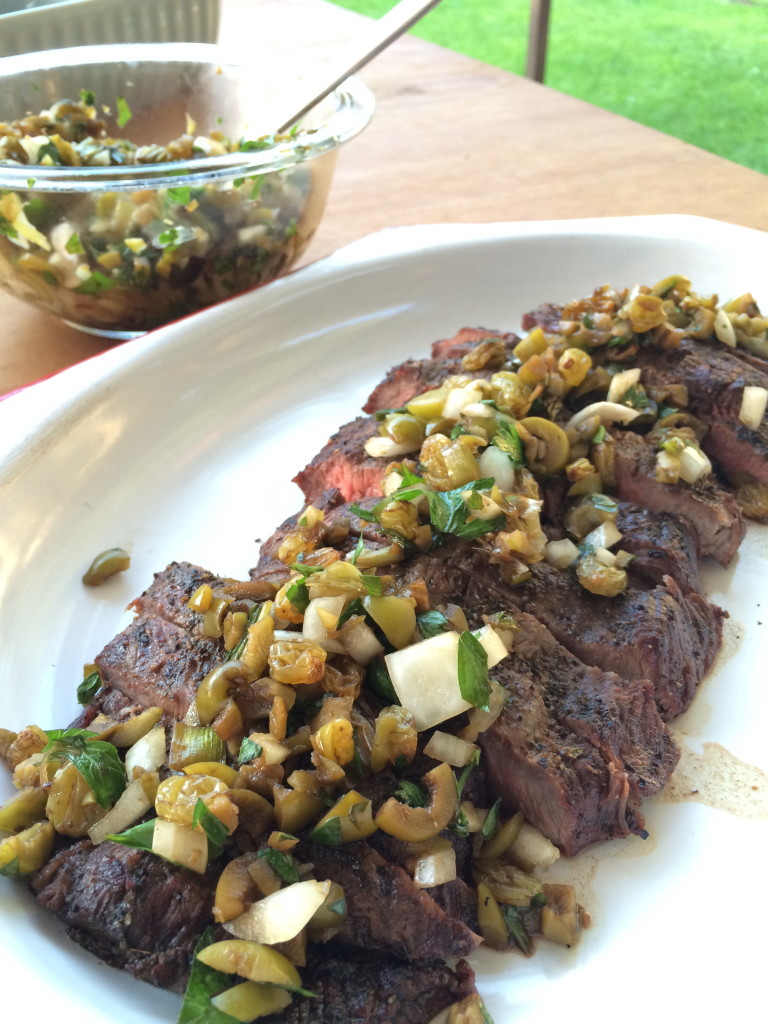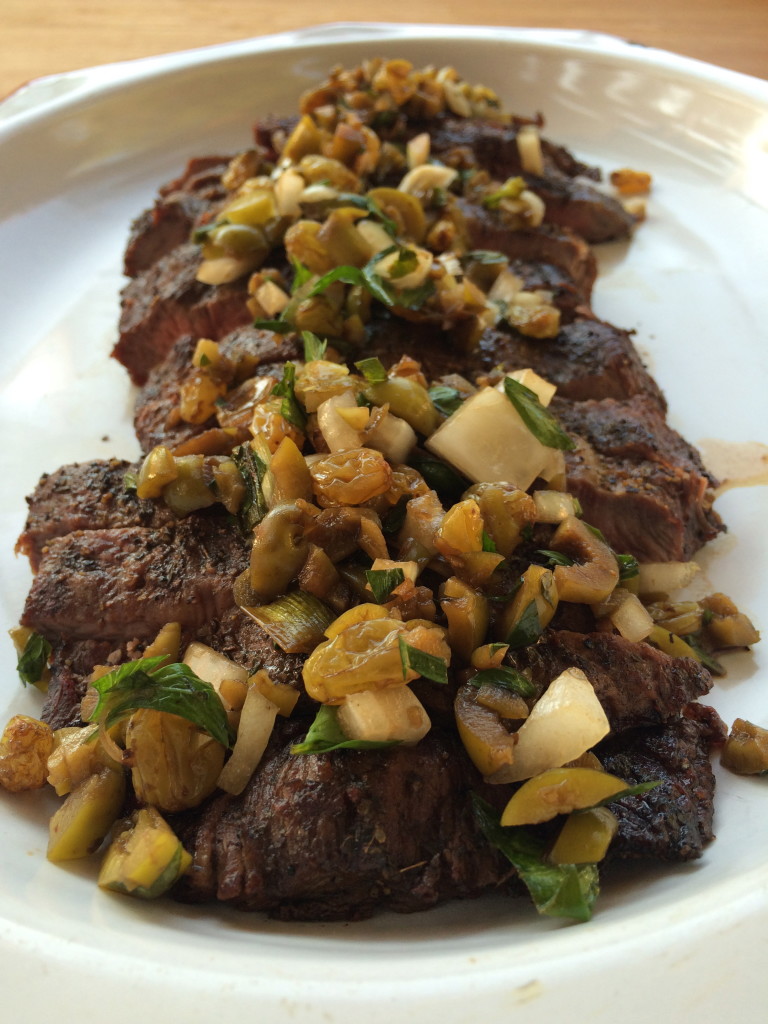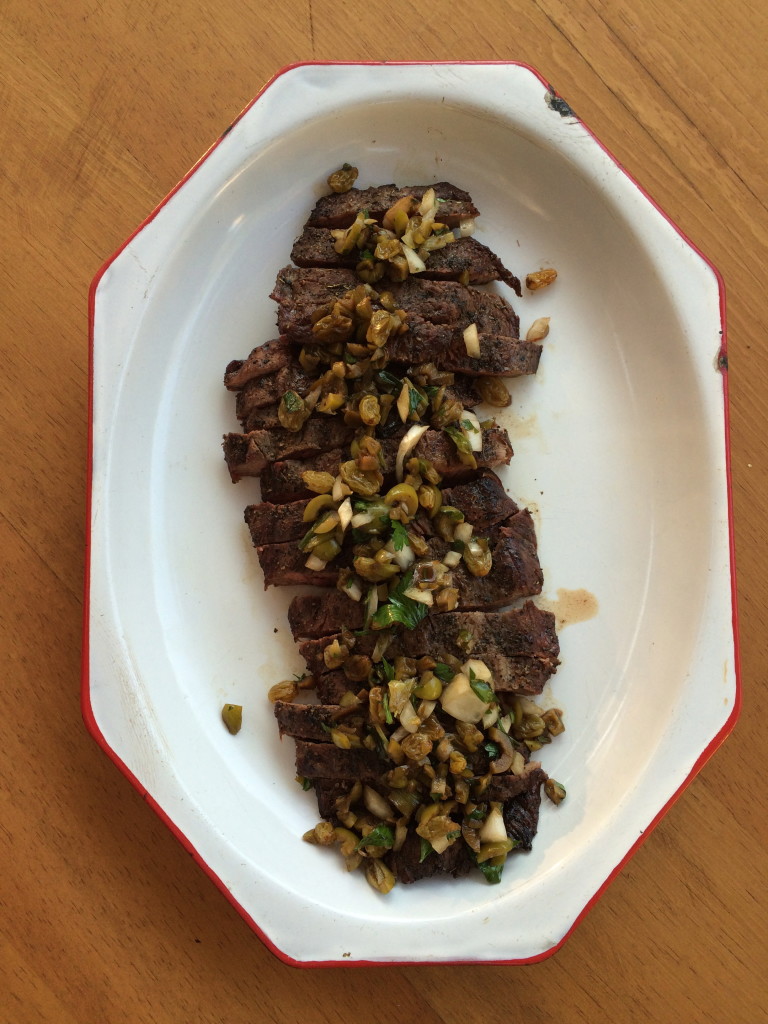 Who doesn't LOVE the grilling season? I know for us, we do it 5 of the 7 nights of the week and make it a long evening of ritual and enjoyment.
While the grill heats, we usually check out the garden, talk about what is working and growing…..then we ewww and awww over the new flowers, herbs, and sprouts. I usually fill the bird feeder so we can hear the songs of chatter amongst them as they "frenzy" around the feeding tube while we peruse the backyard. We have such a lush oasis in the high desert of New Mexico and it just rocks.
Okay, now back to the food which is our evening highlight and one of our favorites is to grill iron steak marinated in a dry rub and serve it with a balsamic soaked raisin and green olive salsa, the perfect marriage of sweet, acid, and salt.
Years ago, cuts like flank, iron, or skirt were considered the cheaper cuts and not really prized for any type of gourmet experience but now in the world of culinary diversion and experimentation, chefs and home cooks from around the globe have reignited these cuts with dry or wet rubs accompanied with salsas, sauces, pesto's, and the like….they are still fairly inexpensive and totally fill our "grill cravings"!
So if you are looking for something really easy and delish, this dish is divine! We always double the salsa recipe and put out some fresh grilled corn tortillas to munch on while we wonder the oasis…….

Grilled Iron Steak with Balsamic Soaked Raisin and Green Olive Salsa
Author:
Michelle Michelotti-Martinez
Ingredients
Iron Steak Rub:
1-2 tablespoons chili powder
1 tablespoon dark brown sugar or coconut palm sugar
1½ teaspoons ground cumin
1½ teaspoon dried oregano
1 teaspoon ground coriander
1 teaspoon garlic powder
1 teaspoon sea salt
1 teaspoon fresh cracked pepper
2 lbs iron steak brought to room temperature
1 tablespoon olive oil
Balsamic Soaked Raisins and Green Olive Salsa:
3 tablespoons cilantro, chopped
3 tablespoons chopped white onion
⅓ cup green olives, chopped
2 tablespoons raisins
½ cup balsamic vinegar
Instructions
Iron Steak Rub:
Mix all ingredients in a bowl.
About 2-3 hours before grilling, sprinkle steak with spice rub on both sides, cover and put in fridge. Remove from fridge 30 minutes before grilling.
Turn grill onto medium high heat. Cook steaks for about 15-20 or until medium rare. Remove from grill and let rest 10 minutes and then slice.
How to Make Balsamic Soaked Raisins and Green Olive Salsa:
Put raisins and balsamic vinegar in a small saucepan. Heat, then reduce to low and simmer until balsamic is reduced by at least half and raisin are plumped. Remove raisins with a slotted spoon, letting the reduced balsamic drip out, and put them in a bowl with the olives, cilantro, and chopped onion.