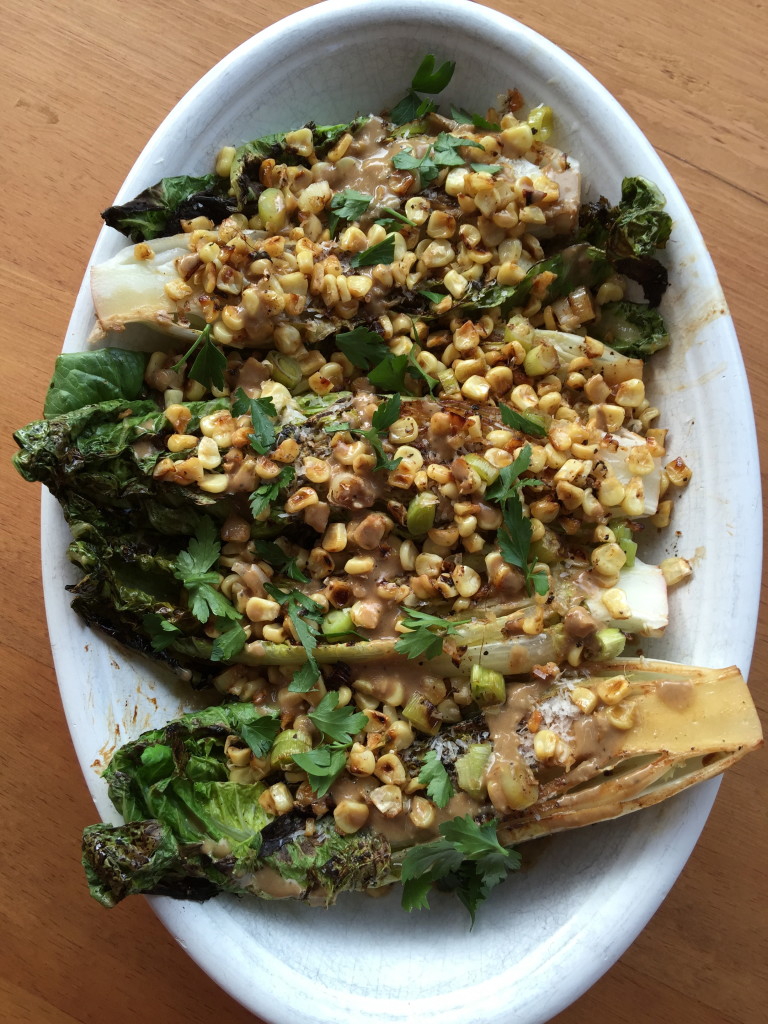 One of the most forgotten flavors for me is grilled romaine. How could I forget it should remain one of lifes 's serious questions because it is SO AWESOME… not to mention super simple to prep for dinner as a yummy side to some grilled meat and veggies. This recipe for grilled romaine with corn, leek, and anchovy dressing inspired from Dash and Bella rocks. I think it is my new fav.
The dressing is super "anchovy" so if you aren't a fan, I am sure you could go with a simple balsamic with mustard and it would be equally as delish but I happen to dig anchovies like nobody's business so, I add in a few extra.
The first time I made this recipe of grilled romaine with corn, leek, and anchovy dressing it was for a picnic at the beginning of summer. I served it with a grilled skirt steak and chimichurri sauce and a caprese salad. Now this is the way to kick off summer right….it was so good that every time I entertain, it makes the menu.
With corn at the height of its harvest time, make this…seriously. Tweak it however you want but make it and then make it again. Summer isn't forever and in my book, sweet corn is one of Earth's BEST creations.

Grilled Romaine with Corn, Leeks, and Anchovy Vinaigrette
Author:
Michelle Michelotti-Martinez Adapted from Dash and Bella
Recipe type:
Salad or Side
Ingredients
2 romaine spears, halved and reddish part of bottom cut off
1 corn on cob, shucked and removed from cob
½ leek, thinly sliced
freshly grated parmigiano-reggiano
2 tablespoons butter, divided (half for the romaine and half for the corn)
Handful parsley leaves, coarsely chopped, for garnish
For Dressing:
2 cloves garlic, peeled and rough chop
4 to 6 anchovy fillets, packed in oil
2 teaspoons lemon juice
1 teaspoon lemon zest
1 tablespoon sherry vinegar
2 teaspoon Dijon mustard (I like Grey Poupon)
Splash Worcestershire sauce
A little good olive oil
¼ teaspoon plus ⅛ teaspoon kosher salt
2 tablespoon balsamic vinegar
Instructions
To Make Dressing:
In a small food processor, add garlic and anchovies and pulse. Add lemon juice/zest, vinegar, mustard, Worcestershire sauce, and a little olive oil. Taste and add salt and pepper if needed.
Halve the romaines hearts lengthwise.
Evenly sprinkle the cut sides with ¼ teaspoon salt. Set aside.
Put balsamic and 1 tablespoon butter in a large (9-inch or so) pan, preferably cast iron. . Crank the heat to high. Stir until the butter and balsamic melt together and thicken a bit (about a minute).
Press romaine halves cut-side down in the pan. Look after a minute or so. You want a nice dark color but you don't want them to burn.
Flip them over, add some parmigiano, and cook for one more minute. Remove and place on a serving platter.
Turn the heat down to medium. Add the remaining tablespoon of butter. Once it starts to brown, add leek and corn. Add the remaining salt. Turn off the heat. Taste. Adjust the seasoning.
Spoon cooked corn and leek over the grilled romaine.
Garnish with chopped parsley and drizzle with a little dressing