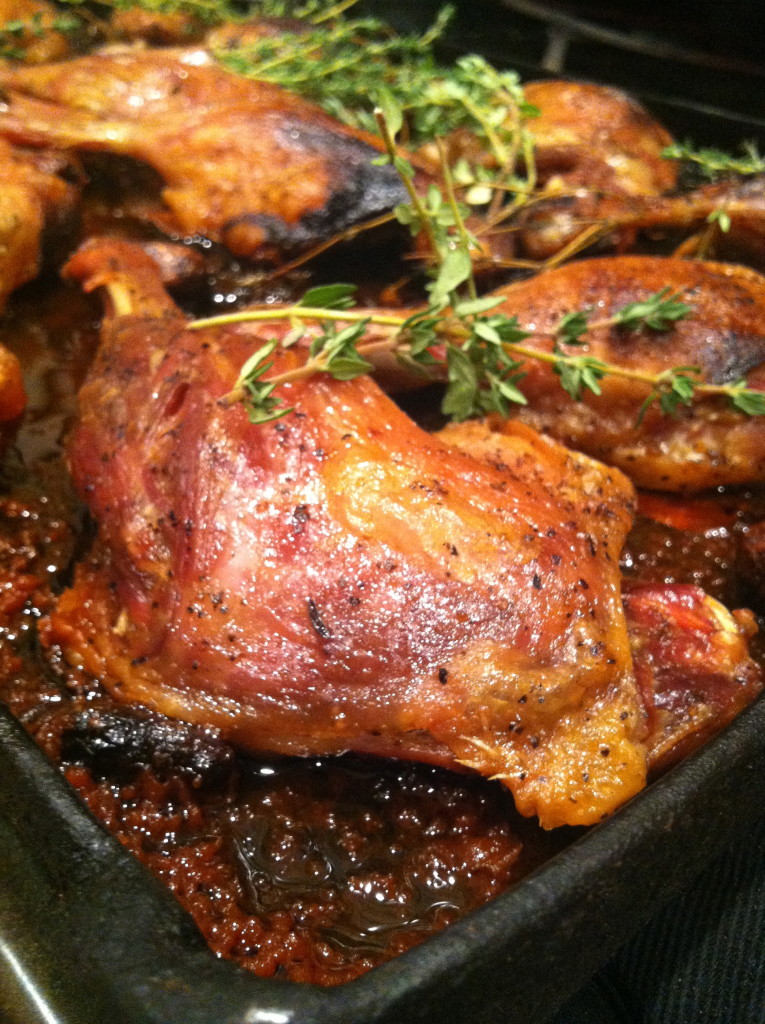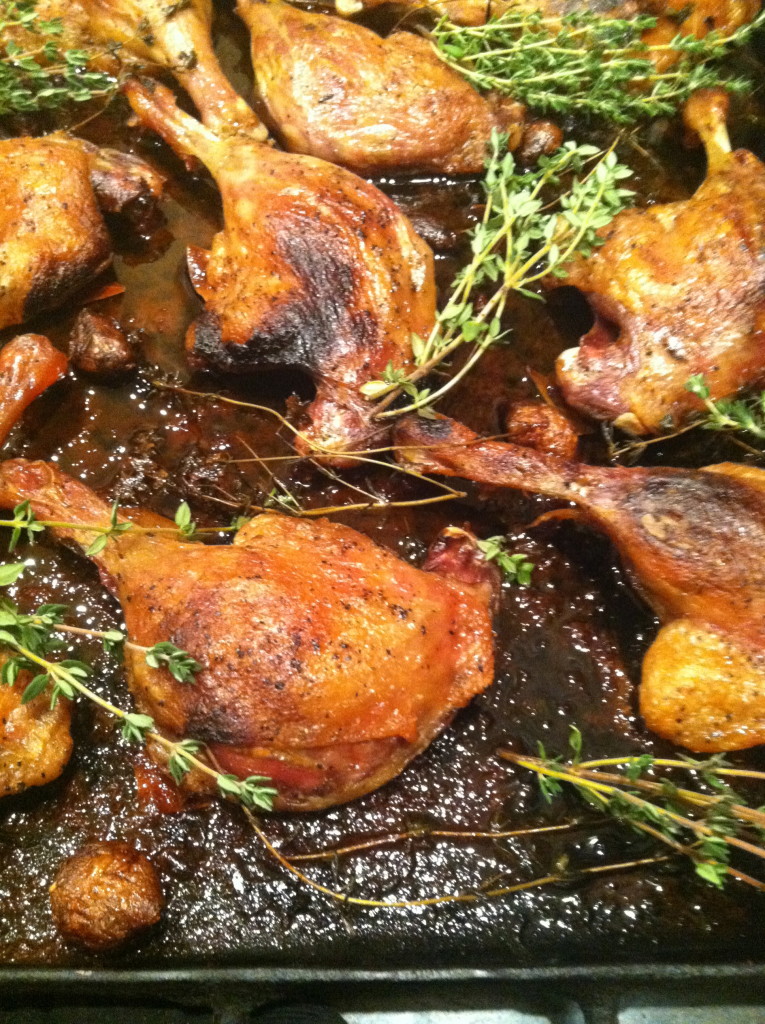 I know I have written about duck confit and my tales of where my obsession began but this version has a slight "twist", which I believe fills a completely different side of my culinary craze…
So, why mess with perfection? Why, Why, Why…..well, because that's what I love to do……PERFECT PERFECTION…..don't we all? Probably not sooooo, just call me crazy….
Anyway, Enrique LOVES duck legs, I mean he loves them and one weekend upon a request I decided to venture off, not to be defiant but because I was really was craving something a little more "crunchy and crispy" and my "go to" tender duck confit just wasn't what the palate was ordering, so I began researching to be inspired by a new idea.
During my perusing, I came across a lot of roasted duck recipes but that wasn't what I was yearning for BUT I did LOVE the idea of the crispy skin and moist and tender meat. Then, I remembered a restaurant we frequented in Santa Fe which seasonally offered crispy duck legs. OMG this was going to be my new creation, crispy "duck confit" legs….perfect!
Off I went to grab my duck legs and the simple curing ingredients and put them up for 24-hours. The next day I took out my favorite cast-iron skillet and seared the fat side of the duck until a gorgeous golden brown crust appeared, I then added some of my trusted, reserved duck fat to the pan, to help create a little "poaching" during first hour of cooking, covered them, and put them in the oven.
Nothing goes better than potatoes with duck and I still had some of the precious liquid so, I "smashed" some little red potatoes and added them to a pan and fried away until golden on each side, what a beautiful site! All they needed was a little salt, pepper, and fresh parsley. This was going to be delicious!
Off came the foil for the last 45 minutes of my crispy "duck confit" leg adventure and the smell that infiltrated the kitchen was heaven! I was so excited for Enrique to sample my latest adventure, I could hardly wait those last minutes.
I finished the plate off with some fresh green beans, quickly fried with sliced garlic. (Sounds like duck fat is the main course here but I promise it is simply for flavor and a little technique).
I didn't even have to create a fancy plate, the colors and smells were enough to compensate for any amature styling. We dove into the duck legs first and didn't speak for what seemed like eternity and then we looked up and over at each other and smiled with our lips glistening with the glorious liquid gold….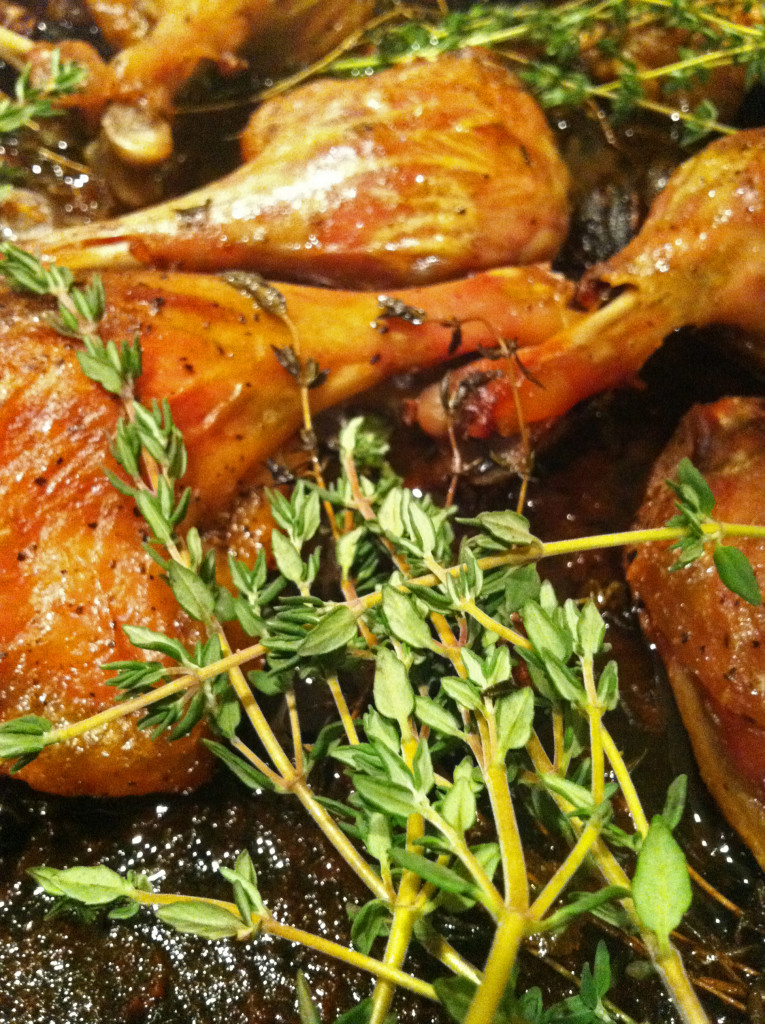 Crispy "Duck Confit" Legs
This NOT a traditional duck confit so, I won't call it that and instead I will call it crispy duck confit legs! These can be done, anyway of the week and are simply delicious!
Author:
Michelle Michelotti-Martinez adapted from Melissa Clark
Ingredients
½ teaspoons kosher salt
1 teaspoon freshly ground black pepper
½ teaspoon dried thyme
1 bay leaf, crumbled
8 moulard duck legs (about 4 pounds total), rinsed and patted dry but not trimmed
Instructions
In a small bowl, combine salt, pepper, thyme and bay leaf pieces. Sprinkle duck generously with mixture. Place duck legs in a pan in one layer. Cover tightly with plastic wrap and refrigerate for 24 hours. Note: Moulard duck legs can vary in size -- if yours are closer to 1 lb. each, instead of ½ lb., add an extra 6-12 hours to the curing time if possible, and increase the spice mix proportionally by weight. The next day, heat oven to 325 degrees. Place duck legs, fat side down, in a large ovenproof skillet, with legs fitting snugly in a single layer (you may have to use two skillets or cook them in batches). Heat duck legs over medium heat until fat starts to render. When there is about ¼ inch of rendered fat in pan, about 20 minutes, flip duck legs, add some olive oil to pan OR duck fat, if you have, cover pan with foil, and place it in oven. If you have used two pans, transfer duck and fat to a roasting pan, cover with foil and place in oven. Roast legs for 1 hours, then remove foil and continue roasting until duck is golden brown, about 40-45 minutes more. Remove duck from fat; reserve fat for other uses. Serve duck hot or warm, over roasted potatoes