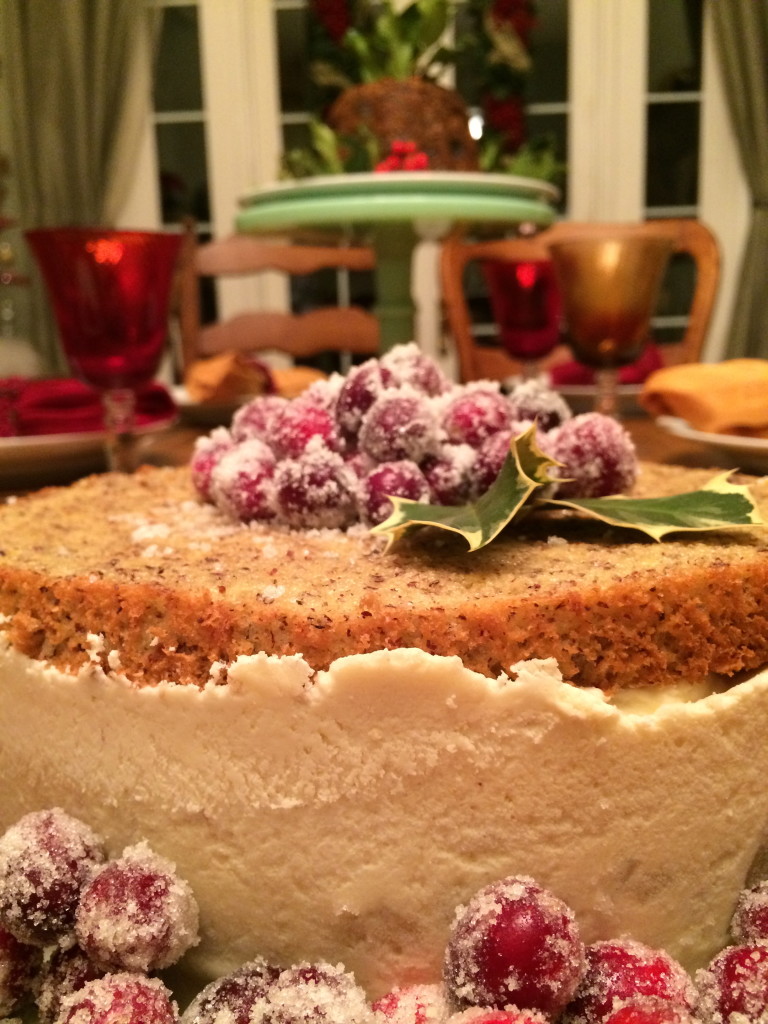 It was a rainy Saturday and I wasn't in the mood to clean, (who ever is?) and so often my solution is to dream up a new recipe and whisk myself away in creativity for a few hours, it definitely helps my soul and eases my guilty conscious.
On this particular day, I decided try my hand at a gluten-free dessert. There is only one problem, I LOVE cake and normally cake needs that one minor ingredient, flour and that one minor ingredient isn't gluten-free….at least the cakes I love. Dang, maybe my dessert with be glutton-free instead since I don't feel guilty about being a glutton……now that could be a new trend, GLUTTON-FREE DESSERTS! Brilliant!
Okay, back on focus…..so time to think of some other type of flour.  I thought about all the various kinds of nuts I love, which is all of them, but I particularly love hazelnuts, I mean I LOVE them so I decided to grind up hazelnuts for my "cake flour". If your not as obsessed with hazelnuts, this cake would be equally amazing with ground up almonds or cashews, just fire up your imagination.
Now that I figured my cake out, I wanted to make a "filling" that would mimic something between semifreddo and gelato, how can you go wrong with that desire? I make a delicious homemade ricotta and since pears were in season  I decided to combine pears, homemade ricotta cheese, whip cream, pear brandy, and sugar together and created a creamy filling that should have been illegal! It ROCKED! Seriously, it was a miracle of flavors.
The last step that needed to happen was to take the two cake layers, gob this yummy creamy filling in between, stick it in the freezer, and cross my fingers that it "sets up". If this worked, I was sure to eat the whole thing.
I'm not sure if that was a blessing or a curse as I really didn't need to promise myself an entire dessert, after all I was blowing off cleaning, probably shouldn't reward that or should I? Anyway, it worked and it worked beautifully! Good thing the bet was to myself and not someone else who would love to see me eat a whole cake into oblivion…..
So here's a New Years cheer to indulgence, days without cleaning, and glutton-free desserts….

Hazelnut Ricotta Pear Cake
Author:
Michelle Michelotti-Martinez
Ingredients
For the cake:
2 Cups whole hazelnuts, finely ground
6 Large eggs
⅔ Cup sugar
7 Tbsp butter, melted
For the pears:
2 Bartlett or William pears, peeled, cored, and diced or thinly sliced
½ Cup sugar
Juice of 1 lemon
2 tsp cornstarch
1 Tbsp pear brandy
For the syrup:
⅓ Cup sugar
3 Tbsp pear brandy
For the filling:
17 oz ricotta cheese, preferably homemade
1 cup sugar
1 Tbsp pure vanilla extract
1 cup heavy cream
For the ricotta cheese:
6 cups organic whole milk
2 cups organic heavy cream
1 tsp salt
3 T organic white wine vinegar
For cranberries:
1 bag cranberries
1 cup sugar
1 cup water
Instructions
Make the ricotta: In a saucepan on stove over medium heat, put in the milk, cream, salt, and vinegar. Bring to a medium heat and boil where it starts to separate. Put in a mesh colander over a bowl until liquid is drained
Make the cake: Preheat the oven to 350°F. Butter two 9 ½ -inch springform pans.
Grind the hazelnuts in a mini food processor until very fine.
In a large bowl, using an electric mixer with the whisk attachment, combine the eggs and sugar and beat on high speed for 15 minutes, until the mixture has quadrupled in volume. Gently fold in the hazelnuts and flour with a spatula until just combined. Then add in the butter. Divide the batter between the two prepared pans and bake for 10 to 12 minutes, until firm to the touch. Set aside.
Make the pears: In a small saucepan combine the pears, sugar, lemon juice, and cornstarch and simmer over medium-low heat until the pears are soft. Remove from the heat, stir in the brandy, and let cool to room temperature. Set aside.
Make the syrup: In a small saucepan, combine the sugar and ½ cup water and bring to a boil. Stir in brandy.
Make the filling: In a large bowl, using an electric mixer, beat the ricotta, sugar, and vanilla for at least 5 minutes, until creamy.
Meanwhile, beat the cream until firm peaks form. Using a spatula, gently fold the whipped cream into the ricotta mixture. Fold in the cooled pear mixture.
Assemble the dessert: Remove one of the cake layers from the pan and place on a serving platter large enough to hold the outer ring of the springform pan. Brush the cake with one-half of the syrup to moisten it. Pile the filling in the center of the cake and put the springform ring back over the cake.
Gently spread the filling to the edges and then top with the second layer of cake. Brush the remaining syrup over the top. Cover with plastic wrap and put in the freezer until set, about 2 hours. Remove the springform ring and refrigerate until ready to serve.
For cranberry decorations:
On stovetop in a saucepan, put sugar and water and heat until sugar is dissolved. Pull off and let rest 10 minutes. Put cranberries in a bowl and pour sugar/water mixture over the top. Cover and put in fridge for 2 hours. When ready to decorate, take cranberries out of mixture and roll in sugar to coat. This may take a few times and then let dry on a tray lined with parchment paper.