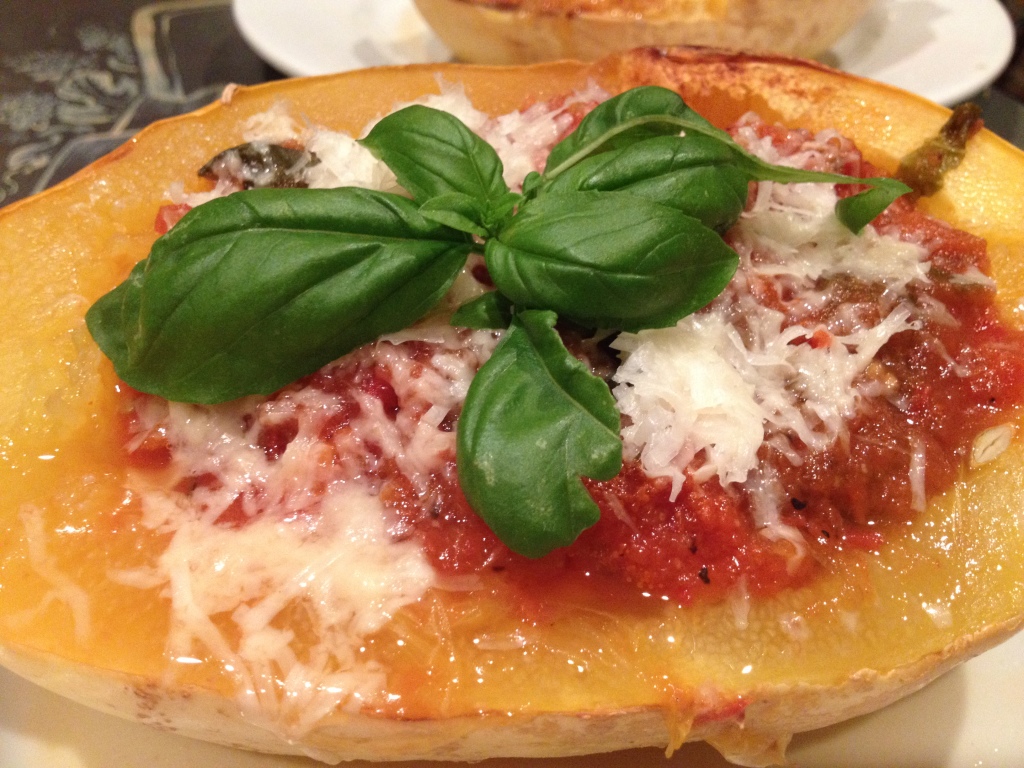 I do have to confess that the idea of eating spaghetti squash vs real pasta didn't excite my universe too much. My mom tried to pass it off as the same but when you are a kid, pasta is pasta, right? You know, gooey goodness of mac and cheese or lasagna, it's the best taste in the world, ever. How I am supposed to pretend that a stringy squash is gonna give me similar excitement and pleasure…NOT.
It didn't stop her tenacity and she was Italian so I pretty much had to hush up and eat it and like it. There wasn't a separate menu for those of us on the picket line, just a pass to our room on an empty stomach. She didn't worry too much if our tummy's growled or we dramatically entered out of our room before bed crying with hunger pains. Back then we either ate what was at dinner or waited until breakfast to see if we still were picketing or back into the land of the living. Anyone relate?
I do have to thank her diligence, no doubt because now I completely adore spaghetti squash. It's a weekly staple at our house for dinner and my favorite prep is a simple roasted tomato sauce with onions, garlic, and basil. All sourced out of our garden and canned…..savoring goodness all year long.
Thanks mom, tenacity pays…..

Spaghetti Squash Boat with Roasted Tomato Sauce
This is a simple weeknight delight that is both delicious and healthy. If you don't have fresh tomatoes, canned will work
Author:
Michelle Michelotti-Martinez
Ingredients
1 spaghetti squash, cut in half and placed face down on a cookie sheet
6 large tomatoes, placed on a cookie sheet lined with parchment to roast (can substitute 28 ounce can of diced tomatoes, preferably San Marzano or Pomi)
1 medium sweet onion, diced
4 garlic cloves, minced
3 T olive oil
Bunch of basil
Sea salt and fresh ground pepper to taste
Grated pecorino cheese for serving
Instructions
Heat oven to 350 and put in spaghetti squash and tomatoes, roast until done, about 30 min for tomatoes and 45 min for squash
When tomatoes are finished, place in blender or food processor and pulse until smooth
In a medium saucepan, put in 3 T olive oil and heat. Add onion and sauté until translucent and add garlic, cook for 1 minute.
Add tomatoes and cook for 15 minutes. Season with salt and pepper to taste.
Add basil and cook for another 5-10 minutes
When squash is done, turn over and scoop out seeds. Add marinara sauce and top with pecorino.
Serve immediately