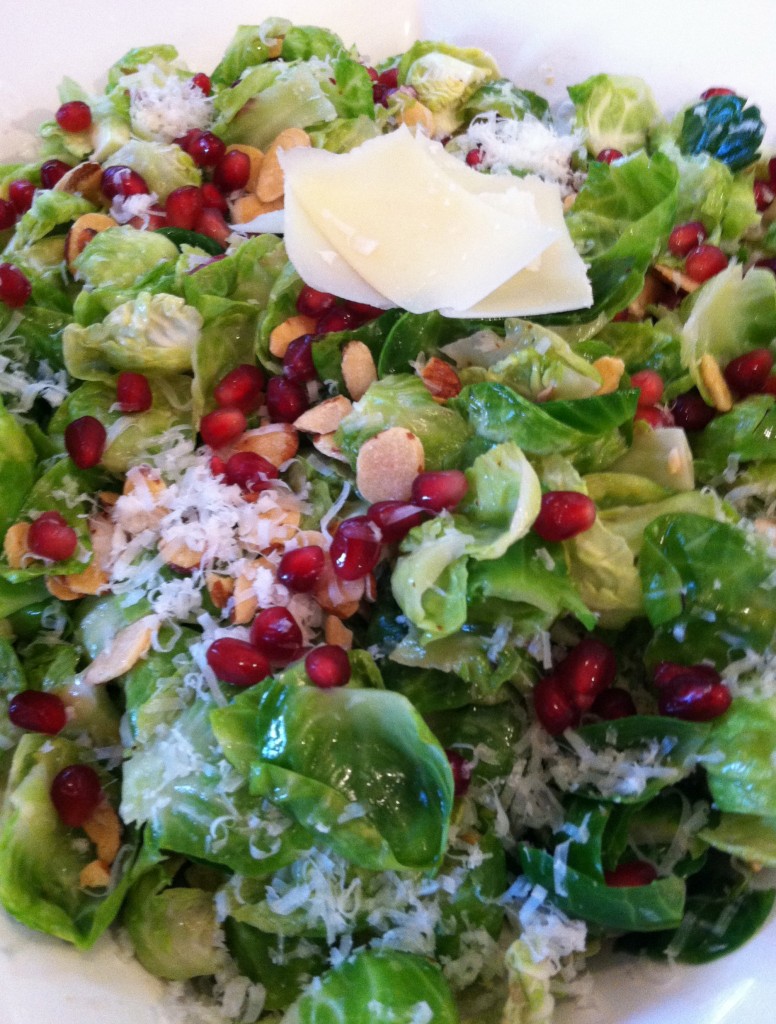 When I was growing up, I used to curl up my nose when my mom fixed us brussels sprouts. All I remember is they were boiled to oblivion, bitter, and served plain with a little butter, salt, and pepper.
Nothing about the baby looking cabbages was fashionable. They hadn't hit the gastronomic scene yet and it certainly didn't' put me on the "most desired house" list for Friday night slumber parties.
I'm sure your wondering what changed? Why the miraculous turn around to even remotely give them a chance? Could it be that the culinary scene became obsessed with them and I just couldn't allow myself not to be a part of the intrigue? Maybe……but nonetheless, I decided to venture out.
Before I knew it, I was a connoisseur. Ordering them roasted and combined with pancetta, shallots, and a mustard-vinegar dressing or blanched, cut in half, and blistered in a cast iron skillet with red pepper flakes, lemon, and a little honey. I was a forever fan.
Going from ordering to preparing was a natural passage. I experimented with so many marinades, ingredients, and seasonings along with various different preparation methods. I definitely have "honed" in on some favorites and this recipe is one of them; they even have become a staple on the Thanksgiving Menu…..a true "ode" to the brussels sprout.
Now that we are coming up on brussels sprout season where you find the monstrosity looking stocks with little cabbages dotting out from the sides, load up! First off, they are too fun look at and buy and secondly, when you push them around in your shopping cart, they are quite the conversation piece and rubber-neck starter.
On that note, this version a change from the traditional roasted, pan-seared, or blistered methods, it's fresh, bright, and accompanies any dish PLUS it's easily sold to any brussels sprout opponent…I promise, it is tried and tested.

Brussels Sprout Salad with Pomegranate Seeds, Pecorino Cheese, and Honey Roasted Almonds
my version of a salad not "raw" instead par-boiled and served with a fresh and light dressing, pomegranate seeds, pecorino cheese, and honey roasted almonds. While there is a bit of labor intensiveness in obtaining the leaves, this version converts even the "skeptic" Brussels sprout critic and is WELL WORTH the effort! Sure to please, anytime of year! Enjoy!!!!
Author:
Michelle Michelotti-Martinez
Ingredients
¼ cup extra-virgin olive oil
1 tablespoon honey
2 tablespoons champagne vinegar
1½ teaspoons fresh lemon juice
¼ teaspoon grated lemon zest
1 teaspoon whole-grain mustard
1 small clove garlic, minced
Kosher salt and freshly ground pepper
For the Salad:
½ pound Brussels sprouts, blanched and leaves only (3½ cups leaves)
½ cup pomegranate seeds
2 tablespoons honey roasted shaved almonds
pecorino, shaved
Instructions
Make the dressing: Whisk the olive oil in a small bowl. In a large bowl, whisk the honey, vinegar, lemon juice, lemon zest, mustard, garlic, ½ teaspoon salt and a pinch of pepper.
Slowly whisk the oil mixture into the vinegar mixture until combined. Refrigerate at least 1 hour; store in an airtight container up to 1 week.
Make the salad: Blanch the brussels sprout leaves for 5 minutes and immediately put in ice water to stop cooking. Peel leaves off and put in a bowl.
Toss the Brussels sprout leaves, pomegranate seeds, almonds and ¼ cup dressing in a large bowl. Pile the salad onto a plate. Top with the pecorino and season with pepper.