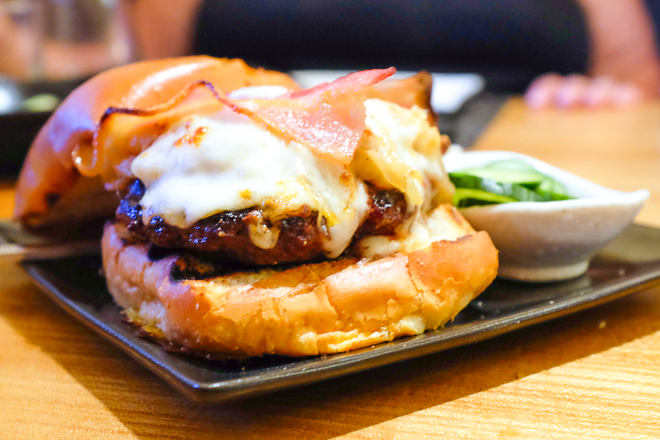 One of the wonderful things about working for yourself AND with your husband, is spontaneous afternoon lunches on a gorgeous Spring Day! Today our venture lead us to a true treasure tucked away in the wonderful hills surrounding Santa Fe. The spa has been an icon for many years and the oasis in the desert for many, both local and tourists. Now, comes a much WELCOMED addition, IZANAMI, the restaurant at Ten Thousand Waves. Getting rave reviews, we decided to make our adventure there.
The building nestles in above the spa and is in the signature Japanese architecture and style. Its serene surroundings allows you to know you are wondering into a special experience. Bright, open, and welcoming,  the restaurant overlooks the gorgeous pines and vast views of the southwest magic.
We arrived about 3pm which was ideal as we understand the popularity of the new jewel is reflective of its crowds, especially during peak hours. Besides, we were looking for a leisurely afternoon and didn't wanted to feel the lunch hour "rush". We immediately found ourselves in one of the comfortable booths, next to the open window, drinking in the spectacular view. As you peruse the menu, you won't find "traditional" japanese cuisine  as this is "Izakaya" dining, no sushi or fish to be found as a culinary option. Izakaya is tavern-style dining in Japan which offers sweet and savory creations of small plates, tapa style, with the focus being on the extensive sake selection. You can go for a "light" bite or for a full meal, it is your preference which makes the continuous hours a real attraction (11pm – 10pm). The menu is 95% organic and local ingredients ranging from beef to chicken, to fresh greens and vegetables. There are daily delights which add a slight "variation" for both the chef and the frequent diner.
I decided on the "preset" menu, the special for restaurant week in Santa Fe and Enrique opted for the local beef burger, yes burger in a japanese restaurant, remember it is tavern-style and locally focused ingredients, and the fresh beet salad with pickled apples and baby bitter greens. We added the special grilled mushrooms with peanut sauce for a starter and of course, sake. The quaint experience of picking your own sake cup began the intimate experience and then the food flowed out systematically as it was prepared to order. We dined and savored every MORSAL, enthralled at the taste that ensued each dish with such depth and vitality. We finished with the delicious homemade ricotta cheesecake and green tea ice cream while contemplating our favorite dishes. All we could conclude was EVERYTHING!
The Chef has definitely brought their best talent forward! If you haven't been, we URGE you to go. If fresh and organic is important, this is second to none. If adventure and quaintness is your style, this is the place. If culture and sustainability is where your heart lies, this is sure NOT to disappoint!
Website – http://www.izanamisantafe.com/izanami/home.html